Report: Bulls to pursue Steve Nash, Jason Kidd while retaining core
The Bulls are interested in adding Steve Nash or Jason Kidd in free agency this summer.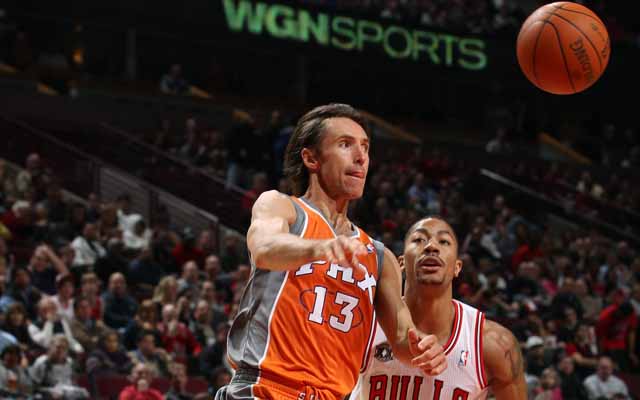 The Bulls reportedly want the former 2-time MVP.
(Getty Images)
When you're a team on the cusp like Chicago, the pressure is actually higher than if you're a mid-seed or a lottery team. You're so close, you need to go bonkers trying to get over that hump. That's the thought process. The
Bulls
are in a bit of a different situation because of the injury to
Derrick Rose
, but most people had questions about their ability to make it through the
NBA
's playoffs anyway. 
And apparently the team is at least entertaining the idea of going after that final component. CSN Chicago reports that the Bulls are interested in both Jason Kidd and Steve Nash in free agency, and that they will pay what they have to in order to keep the core together:
While the front office may seek out minimum-salary veterans at several positions, including point guard, a source tells CSNChicago.com that the Bulls will take a run at future Hall of Famers Steve Nash and Jason Kidd in free agency, trying to convince the former All-Stars that they will have an opportunity to win a championship, of which Kidd has one, from last season with the Mavericks, and Nash has none, in Chicago.

According to the same source, the rest of the team's "core"--starters Rose, Deng, Hamilton, center Joakim Noah and power forward Carlos Boozer, as well as reserve big men Taj Gibson and Omer Asik, the latter of whom is a restricted free agent this summer, though the Bulls are likely to match any offers for him from opposing teams--is "safe," though team management will surely at least listen to trade offers.
via Rose making progress, Bulls thinking big?.

Kidd fits the backup role at his age and will be wanting to play for a contender on what is likely his last contract. Nash, on the other hadn is still vey much a starter caliber point gaurd. How would he work with Rose? The Bulls could employ a dual-point-guard tactic that has worked throughout the league this year, with Rose and Nash both operating as initiators/playmakers while Luol Deng handles the toughest perimeter cover.

The issue comes in with the luxury tax. Just re-signing Omer Asik is going to likely take the Bulls into luxury tax territory. The Bulls, despite being one of if not the most profitable NBA franchise have always resisted the luxury tax. Owner Jerry Reinsdorf has made public comments about considering it. Actually doing it will be a bit of a surprise. And they'd need to, well before landing Kidd or Nash, who may not want to play for the veteran minimum.

It would also be interesting to see how coach Tom Thibodeau deals with the fallout from having to cover for Nash's problems defensively, most of which stem from his back condition and not a matter of effort. He manages to mask Carlos Boozer well. Putting Nash and Boozer on the floor at the same time and still producing a top ten defense would be simply stunning.  
We've got all the scores, highlights and news for Thursday night

The Sixers big man got his first All-Star selection -- and maybe some revenge -- on Thursd...

It appears some players are not entirely taking the All-Star voting process seriously
There were some weird discrepancies between the fan, media and player votes

LeBron and Steph will be the captains for the 2018 NBA All-Star Game

Arron Afflalo was involved in an altercation with Timberwolves big man Nemanja Bjelica on...