Reports: Raptors' deal with Kyle Lowry 'good as done'
Near All-Star point guard reportedly set to return to Toronto after career season.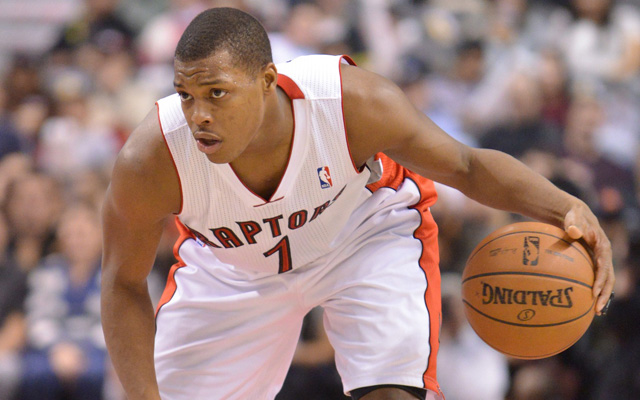 Update 10:50 p.m.: Yahoo Sports reports that a previous tweet indicating a $14.5 million per year offer for Kyle Lowry is incorrect.  
Received a scam text from someone posing as Raptors front office member.There is no offer on the table paying $14M.Apologize for the mistake

— Marc J. Spears (@SpearsNBAYahoo) July 1, 2014
Last I heard, Lowry was asking for four years and $50-million. A deal starting at $14.5 would either be front-loaded or shorter term.

— Bruce Arthur (@bruce_arthur) July 1, 2014
I heard Raps' offer to Kyle Lowry will start at $12 million annually. @SpearsNBAYahoo just reported Raptors' pitch will open at $14.5 mil

— Marc Stein (@ESPNSteinLine) July 1, 2014
If the Raptors really do throw the bank at Lowry, they'll keep their star but lock up their cap space significantly, keeping them from being able to improve significantly in the future without trading younger All-Star DeMar Derozan. Are the Raps really one piece away? That appears to be the gamble they're set to make.
---
Sportsnet.ca and ESPN are reporting that while terms are not yet known, the Raptors are thought to be all but have formally locked up a deal with free-agent-to-be Kyle Lowry, before he hits the market Monday night. 
"I think that deal is as good as done," Michael Grange of Sportsnet.ca says. "I'll be shocked if he doesn't remain with the Raptors."
RE: rumbles Raptors already on verge of locking up Kyle Lowry ... all I can pass along is undeniable confidence from Raps about keeping him

— Marc Stein (@ESPNSteinLine) June 30, 2014
Miami's interest in Lowry is undeniable, but keep hearing Raps feel good about their chances with offer poised to start in $12 mil range

— Marc Stein (@ESPNSteinLine) June 30, 2014
Lowry averaged 17.9 points, 4.7 rebounds and 7.4 assists last season in a career year with Toronto. 
It's a bit surprising that GM Masai Ujiri, with a chance to truly rebuild the team after taking over last year would want to commit to $12 million per year for Lowry, who was an All-Star worthy point guard but unlikely to be the best player on a championship team. But Lowry does ensure the Raptors will be good for the duration of Lowry's stay. 
In Denver, Ujrii built a team that was good, with the potential to get better. That appears to be his plan in Toronto as well. The Raptors will be slightly cap strapped, even after trading John Salmons to Atlanta. They also will likely have trouble re-signing Greivis Vasquez and Patrick Patterson. But the core of Lowry, DeMar DeRozan, Jonas Valanciunas, and Terrence Ross will at least give them a playoff team with upside to improve. 
The Raptors aren't rebuilding. They're retooling, with their eye on big improvements down the line, and it looks at this point like the center of that plan is Kyle Lowry. 
Vince Carter is destined for a Raptors reunion; he doesn't know when it'll happen

Thomas has a target date for his return, and with the Cavaliers scorching, this could be h...

LeBron James once again is using his platform to be socially active
Not many games, but still plenty of action and intrigue Sunday in the Association

Kobe Bryant had a solid piece of advice for back in 2016 when he left OKC for Golden State

An old rivalry is reignited between LeBron James and the Cavaliers and John Wall and the W...