Timberwolves waive Darko Milicic with amnesty clause
The Minnesota Timberwolves have used the amnesty clause on center Darko Milicic.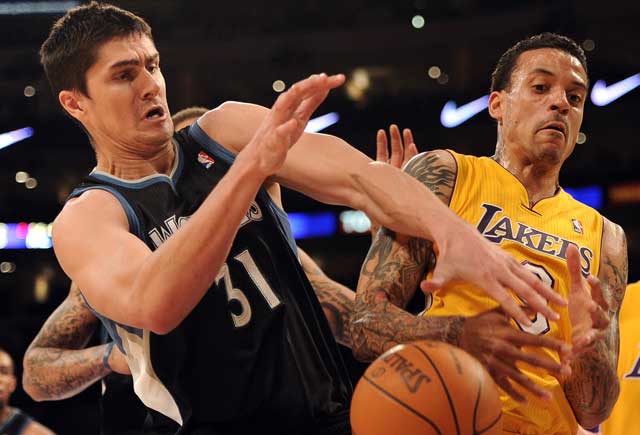 Darko Milicic

has been waived using the amnesty clause by the Minnesota Timberwolves.
(Getty Images)
Has anyone fallen from "manna from heaven" to the amnesty clause cut line in two short years before?
The Minnesota Timberwolves are expected to waive center Darko Milicic using their amnesty clause, according to ESPN.com and SI.com. The Timberwolves officially announced the move later Thursday, removing Darko's salary from their cap and any potential luxury tax payments.
The Timberwolves are looking to create cap space in order to make an offer sheet to Portland Trail Blazers restricted free agent forward Nicolas Batum. Last week, word surfaced that Minnesota was prepared to offer Batum a 4-year contract worth $45-50 million, however no offer has been officially extended as of Thursday morning.
Darko has been a punchline for seemingly his entire NBA career, as he was selected with the No. 2 pick in the 2003 NBA Draft, ahead of the likes of Carmelo Anthony, Dwyane Wade and Chris Bosh. He was, however, a favorite of Timberwolves president David Kahn, who memorably said in a 2010 television interview that Darko was like "manna from heaven."
Darko, 27, averaged 4.6 points and 3.3 rebounds per game for the Timberwolves last season.
As with any amnestied player, Darko will enter a waiver claim process in which teams that are under the cap could bid to take on the remaining portion of his contract, which pays him $5.2 million in 2012-13 and a partially-guaranteed $5.7 million in 2013-14. If no teams place bids, he would become an unrestricted free agent. 
Batum, 23, averaged 13.9 points and 4.6 rebounds for the Blazers last season and is currently preparing for the London Olympics with the French national team.
Minnesota and Portland have reportedly been engaged in sign-and-trade discussions regarding Batum in recent days but Blazers GM Neil Olshey said Wednesday that his team planned to match any offer sheets made to Batum.
A look at the context of the schedule and who plays who when, and how far they travel during...

Durant took on rapper Lil Dicky and actually might have lost

A report that James would once again be leaving Cleveland made the rounds on Wednesday
Known for his 'take that for data' rant, the Grizzlies coach touched on a number of important...

Wade's days with the Chicago Bulls appear to be numbered

Misty Suri will reportedly keep his job with the New Orleans Pelicans