2014 NFL Draft: Seven sleepers who will go higher than projected
The highly touted prospects have been analyzed every which way, but a handful of players -- like East Carolina TE Justin Jones -- will surprise the experts when they get picked.
• 7 min read
More NFL offseason: Mock Drafts | Prospect Rankings | Pro days | Top free agents
So much time and energy is devoted each spring to picking college football players apart. They are dissected and prodded; they become vehicles, through no fault of their own in many cases, for some in the NFL and the media to project their own stereotypes and biases out into the public via anonymous statements.
The process of going about applying for work in the league, via the draft, isn't always clean and above board. The amount of over-analysis, faux-psychology and misinformation only seems to grow with the actual draft itself now taking place in May. Too much time to spend opining about hand size and head size and test scores and making assertions about the character and inner-workings of young men who in most cases those making the assertions know very little about.
But this time of year isn't solely about tearing kids down.
Every year there are athletes who end up going higher than anyone expected, who despite little to no attention from the media and despite playing at the tiniest of schools, end up getting the opportunity of a lifetime in the NFL. They are overlooked in many cases by the combine and the college all-star games, but rather than fall completely through the cracks they ended up getting drafted in the mid rounds, or signed quickly as priority college free agents directly after the draft, and go on to impact rosters and help teams win.
Many of the smartest organizations are using this time -- with most of their front office and coaching staffs in final draft meetings and setting their draft boards -- to hone precisely this kind of overlooked talent, to set up last-minute workouts and meetings with kids projected to go anywhere but the first few rounds of the draft. Those top 100 players or so have already been pulled apart and much of the information on them is the same from one front office to the next. Finding those under-valued assets -- kids coming off major injuries or with less-documented backgrounds and stories -- could be more efficient in this final week before the draft, with teams already completing their 30 in-facility visits with draft prospects.
Here are a few of those deep sleepers who, based on conversations with scouts and decisions makers, could end up doing pretty well come draft weekend:
Justin Jones, TE, East Carolina
Jones hasn't played a college football game since 2012 after becoming academically ineligible before last season. From what NFL teams tell me, his coaches at ECU haven't been giving him ringing endorsements, but he has the kind of raw but potentially freakish size and ability that teams cannot overlook.
Having had the opportunity to spend a little time around him, I find Jones very difficult not to like and root for. Jones spent the season working at a Jos. A Bank in the Atlanta area, working out relentlessly, and hoping he might get a workout or two. At 6-foot-8, 275 pounds, and with a 37-inch vertical leap he showed off for scouts at the regional combine in Detroit two weeks ago, plenty of NFL eyes were opened. He only played a few years of college football, yet 12 of his 52 career receptions were touchdowns, he has some unique red-zone possibilities and even as a situational pass catcher, there is talent to be developed.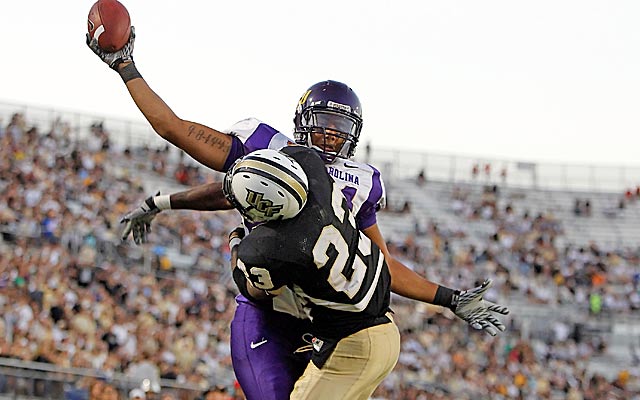 A few months ago I would have called him a priority free agent in all likelihood, but given the NFL attention from teams like the Chiefs, Falcons, Eagles, Giants and Patriots, and conversations with scouts, I believe he gets drafted and I bet he does whatever he can to make an NFL roster.
His speed is not ideal, but a creative coordinator can find ways to get him on the field in certain tight situations, where jump balls mean much more than yards after the catch.
Jordan Love, CB, Towson
Love wasn't getting much love from NFL scouts prior to Towson's pro day in early April. He wasn't invited to the combine but knew darn well that with his teammate, running back Terrance West, set to attract attention from most teams in the league at Towson's pro day, Love would have an opportunity to make a statement, too.
When he produced a 37-inch vertical leap, everyone standing in that modest weight room took notice, and there were some audible oohs and ahs. Several teams went back to do more work on him after he ran well and displayed requisite athleticism. The Falcons gave him a workout and put him on that plate machine -- you know the force-measuring device that got all the attention when they tested Jadeveon Clowney last week -- and I'm told Love scored better on it than any other corner Atlanta measured this spring.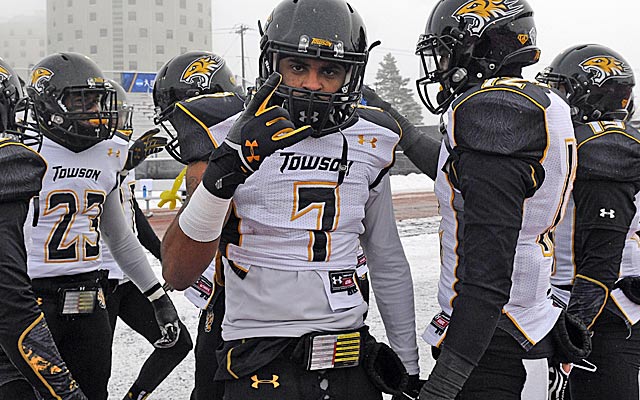 He performed very well at a private workout for the Patriots as well, and if he doesn't go late in the draft I certainly expect him to get signed somewhere regardless. He has good pedigree with his father and stepbrother both playing in the league. Love played at Georgia before transferring to Towson, an FCS school. Towson offensive lineman Eric Pike could end up going on the third day of the draft as well.
Josh Walker, G, Middle Tennessee State
All Walker did was start every game for all four years, never getting hurt, and perform at a very high level. He looks the part, at 6-5, 320 pounds. Yet he was not invited to the combine or to any all-star games, but from what I am hearing could end up going in the fourth round and there is no lack of interest in him. Nearly the entire league was at his pro day and the Colts, Ravens and Patriots are among those taking a much closer look.
A year ago I was championing running back Benny Cunningham from this same school, and he ended up having a fine rookie season for the Rams as he overcame a long-term absence due to injury. Walker is well positioned to make a name for himself in 2014.
Laurent Duvernay-Tardif, T, McGill
Yeah, you read that correctly, McGill. As in the Harvard of Canada, or something like that. Tardif is an exceptional athlete, but he didn't even make the switch to offensive line until two years ago, played at a very low level given the state of Canadian college football and had to sacrifice so much valuable practice and development time as a medical student. Yes, he is working to become a doctor and given his heavy academic requirements, only practiced one day a week.
After a strong performance in the East-West Shrine game, all of a sudden NFL teams were on to him, and he's no longer being viewed as a long-shot free agent. The fourth round is a possibility with the Colts, Packers, Dolphins, Chiefs, 49ers, Cardinals, Seahawks and Bills spending time with him through visits and/or workouts. Nine teams went up to Montreal for his "pro day" and the Quebec native is devoted 100 percent to football at this point, putting medical school on hold. Teams love his intellect and character on top of his physical potential.
Caraun Reid, DL, Princeton
No Princeton Tiger has been drafted in the first five rounds since 1966, but that's about to change. Heck, can you name a single Princeton player, ever, other than Jason Garrett? Not sure I can. Anyway, Reid has had a tremendous offseason and continued to impress teams. His best fit at the pro level is a 3-technique in a 4-3 scheme and the Buccaneers, Cowboys and Bears are among those who have liked what they have seen thus far.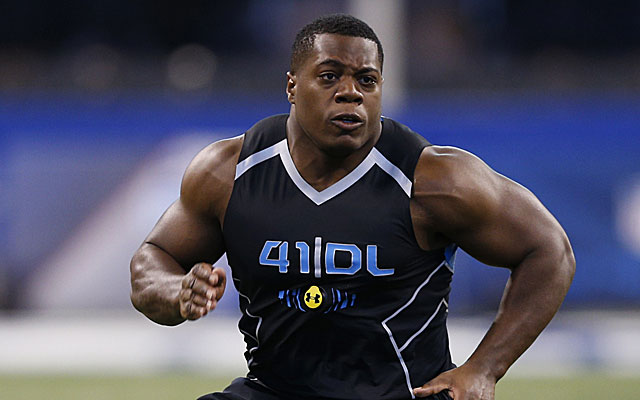 I wouldn't be shocked if he got nabbed in the third round. He plays with a sufficient violent streak and absolutely dominated the Ivy League.
Robert Herron, WR, Wyoming
There is much talk about the depth of the receivers in this draft and plenty of things written and said about a good number of the pass catchers about to be selected. You don't see much about this kid, but scouts I talked to believe that while months ago he may have had a sixth-round grade, he is likely to go higher. He has legit straight line speed and while his hands have improved over time, he's not a finished product yet.
Either way, his selection on the second day of the draft wouldn't be an upset after what he showed teams during the lead-up to the draft. He played his high school football in a very competitive part of Los Angeles and scouts who have spent time with him love him as a person. He blew the doors off his pro day, running exceptionally fast, and if he sneaked into the second round I wouldn't be shocked.
Cornelius Lucas, T, Kansas State
Lucas missed the combine because of a stress fracture in his foot, but was cleared medically last week and took part in a workout before NFL scouts this week. The Chargers and Raiders have paid particular attention to him, and have a strong enough grade on him. His health puts him behind the game in terms of what he was able to do leading up the draft. Lucas is a mountain of a man -- 6-8, 330 pounds -- and the kind of arm reach scouts drool over. Sure, this is a nice deep draft for tackles, but the physical gifts Lucas possesses in the end will lead him to go higher than you find him on most projections.
We all deal with devastation in different ways

It doesn't matter if he was a special teams player, Hester was the best player at his position...

There are apparently some people within the Packers who are worried about him playing
Reports of Tom Brady's demise are premature

Emory Hunt has his finger on the pulse of the Boys and locked in a strong pick for 'Sunday...

Larry Hartstein has his finger on the pulse of the Bears and has a strong pick for Bears-Lions...