Colts cut suspended WR LaVon Brazill
The Colts have released wide receiver LaVon Brazill. The move comes just one week after the NFL suspended Brazill for the entire 2014 season.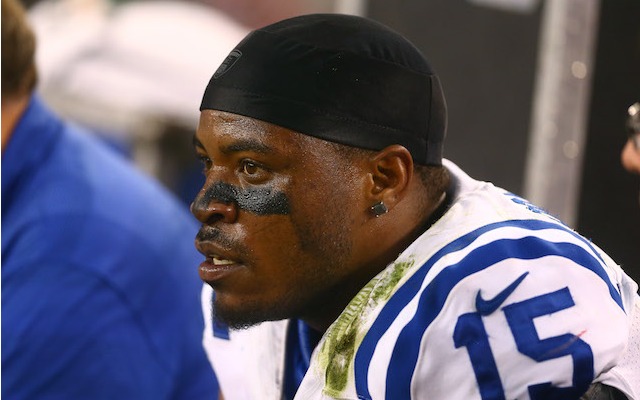 Things have gone from bad to worse for Colts wide receiver LaVon Brazill. On July 3, the NFL announced that Brazill would have to sit out the entire 2014 season for violating the league's substance-abuse policy.
On Friday, the Colts announced that Brazill is no longer a Colt. The team waived Brazill just eight days after the NFL announced his suspension. 
The year-long suspension was the second of Brazill's two-year career. The 25-year-old was also suspended for the first four games of the 2013 season. 
The 2012 sixth-round pick out of Ohio University played in a total of 25 games over two seasons with Indianapolis. Brazill caught 23 passes for 347 yards and three touchdowns in his two-year career with the Colts. However, Brazill won't be adding anything to those career numbers until 2015 at the earliest. 
The open roster spot left by Brazill's departure went to wide receiver Aaron Burks, who was signed by the team on Friday. Burks is a former Boise State receiver who went undrafted in 2014 and spent a month with the Buccaneers before being released by Tampa Bay in June. 
Can Aaron Rodgers get the Packers to the postseason? Even if they win out, they'll need he...

The NFL is going to have to look for a new commissioner

The Washington Redhawks are not an actual thing
CBS All Access allows viewers to stream every NFL game on CBS in their local market

CBS All Access allows viewers to stream every NFL game on CBS in their local market

CBS All Access allows viewers to stream every NFL game on CBS game in their local market