There are many rules designed by the NFL intended to increase player safety and sportsmanship on the field. Perhaps there's some misunderstanding about how on- versus off-field punishment is meted out, but if we're going to compare apples to apples, there's no doubt there is a level of absurdity between how various things are punished.
Put another way: the NFL on-field fine system looks broken. During Week 6's win over the Ravens, Giants wide receiver Odell Beckham caught a touchdown pass, sprinted into the end zone and then after the play was over, removed his helmet and started screaming.
He was flagged and then he was later fined, docked $24,309 by the NFL.
There are several problems with this fine. For starters, the reason Beckham was fined, according to numbers based on the NFL's 2016 fine schedule, was "Impermissible Use of Helmet (including launching)." This is built in for when someone takes a helmet and swings it at another player or launches themselves helmet first into another player. This is not for someone taking their helmet off after a touchdown. The NFL appears to have used the helmet factor in an extremely liberal fashion here.
The bigger problem is the juxtaposition of this fine against what players who are being tagged for dangerous on-field, in-action plays are getting. As Michael David Smith of Pro Football Talk noted on Saturday, Fletcher Cox has been fined each of the last two weeks for illegal hits on quarterbacks. Those two fines totaled $18,320, with the cost of a late hit being $9,115.
Redskins tight end Vernon Davis celebrated after scoring a touchdown against the Eagles on Sunday and purposely attempted to not draw a flag for excessive celebration by shooting a jump shot.
He was flagged because his celebration violated NFL rules. And he was fined $12,000 for the celebration. How can that be worse than a late hit? The money docked to Davis says shooting a football like a basketball after a touchdown is worse than a late hit on another player. That flies in the face of player safety.
Earlier in the year, Darian Stewart levied a huge shot on Cam Newton in the Broncos Week 1 win over the Panthers.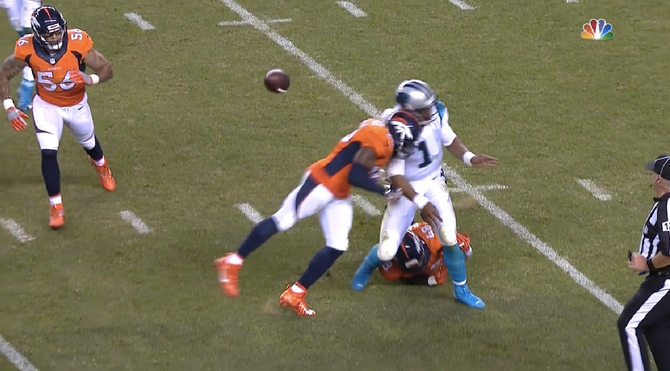 Stewart was flagged for that play and would be fined $18,321 for the vicious hit. Brandon Marshall had an extremely dangerous-looking hit on Newton too and would be fined $24,309.
That's the same number as Beckham who pulled his helmet off and ran to the sideline.
The only thing predictable about the NFL fine system is that whatever fines are levied, they won't make sense.