Prisco: The NFL's best young assistant coaches under 40
Who are the rising stars in NFL coaching circles? CBSSports.com's Pete Prisco names the top 10 assistants under the age of 40.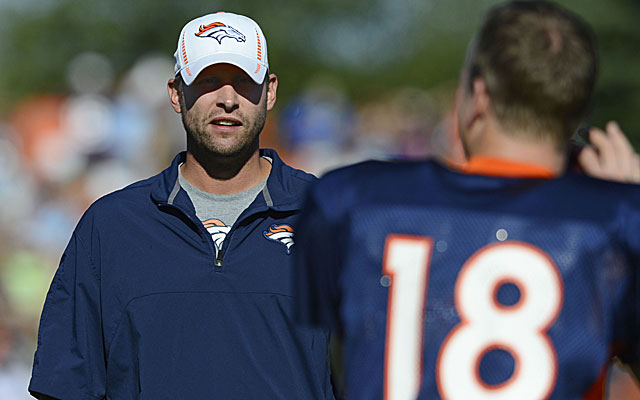 Who are the best NFL assistant coaches under the age of 40?
I am always looking for young coaches on the rise, assistants who could be on their way to being a head coach soon. So I wanted to come up with a list of the top assistants under the age of 40.
By using 40 as the cutoff date, it left off some guys whom I think would otherwise be on any list of the best young assistants -- younger, impressive coaches who could be head coaches down the road.
Among those just missing out are San Francisco 49ers offensive coordinator Greg Roman (40), Tampa Bay Buccaneers quarterbacks coach John McNulty (45) and Green Bay Packers receivers coach Edgar Bennett (44).
Some of the 10 names below will go on to have successful stints as head coaches. Others, as we have seen before, will fizzle out and never get their shots. All those below are interesting young coaches.
Adam Gase, offensive coordinator, Broncos
The 34-year-old was promoted to coordinator this year when Mike McCoy was named the head coach of the Chargers. Gase was the quarterbacks coach the past two seasons after spending two years as the Denver receivers coach. He has already earned the respect of Peyton Manning, who is one of the great offensive minds in the game, and happens to be three years older than Gase.
Speaking with Gase this summer, I could sense his love of the game as he talked about his many influences over the years -- including Nick Saban, whom he worked for at Michigan State and LSU, and Mike Martz, whom he worked for with the Lions. For a guy who never played college football because he said he wasn't good enough, Gase is on the fast track to a top job. If the Broncos win the Super Bowl this season, it could possibly happen next year.
Pep Hamilton, offensive coordinator, Colts
This 38-year-old spent the past two seasons running the offense for the Stanford Cardinal, which means he will reunite with Andrew Luck in Indianapolis. Hamilton has worked in the NFL with the Bears, 49ers and Jets. He is a former college quarterback at Howard and has also coached receivers in his career. He will bring a power running game to the Colts, which they needed last year. Think Stanford with Luck at quarterback.
Matt Patricia, defensive coordinator, Patriots
Patricia, 38, has been calling the defenses in New England since 2009, even though he wasn't given the title of coordinator until 2012. He has learned defense at the foot of Bill Belichick, one of the great defensive coordinators of all time. Patricia has also coached on the offensive side of the ball, which could be helpful down the road. When he got into coaching, he was considering a career as an aeronautical engineer. Says something about his smarts -- or at least we think it does.
Brendan Daly, defensive line, Vikings
When I was in Minnesota for their minicamp, I watched Daly conducting drills with his defensive linemen. I saw a passion that you want from a coach. I asked around about him, and he is a rising coach in the league. Working on a staff with a bright defensive mind like Leslie Frazier and with a good pass-rushing line helps. He was an assistant with the Vikings from 2006-08 and then was the defensive line coach of the Rams 2009-11 before returning to the Vikings. He started his career as a high school coach in Florida.
Jedd Fisch, offensive coordinator, Jaguars
He never played a down of high school or college football but pestered Florida coach Steve Spurrier enough as a student to hire him as a student assistant coach. Then he became a graduate assistant, and his career was off. He had stops in the NFL in Houston, Baltimore, Denver and Seattle. He was also the offensive coordinator at both the University of Minnesota and the University of Miami. At 36, he has already impressed the Jaguars with his work with Blaine Gabbert. He is an aggressive coach who won't lack innovation and creativity.
In 2003, he had surgery to repair an aortic dissection. The artery was 90-percent torn; if completely torn, the outcome is likely death. Fisch has overcome a lot to get to this spot, and he could be a head coach candidate in a couple of years.
Kyle Shanahan, offensive coordinator, Redskins
Can you believe he's only 33? He has been an offensive coordinator at two spots, first with Houston and now under his dad in Washington. I think he has been a tad overrated at times, and there have been coaches who have worked with him who say he had a sense of entitlement, but I have to give him credit for what he did with Robert Griffin III last season. He was creative with the design. I want to see the wrinkles that he brings to the offense now that RG3 is coming off a second ACL surgery.
Brian Schottenheimer, offensive coordinator, Rams
He is also a son of a current or former NFL head coach and has been around for a while. Now 39, he has interviewed for a lot of head coaching jobs but hasn't landed one yet. He has sometimes been too conservative in his approach, which is not unlike his father, so that could be holding him back. It will be interesting to see how he handles Sam Bradford this year. Then again, he is working for a run-first coach in Jeff Fisher. It's time that he opens things up. If he does and the Rams have success, he might finally land that top job next season.
Dowell Loggains, offensive coordinator, Titans
Loggains, 32, took over as coordinator in late November last season when the team fired Chris Palmer. It's hard to evaluate him on what he did after that, but he is considered a bright offensive mind. He is now in his sixth season with the Titans, but this will be his first as coordinator. His big task is to get Jake Locker to show major improvement. The Titans have done some things to help that, but Loggains' future as a coordinator could be tied to Locker.
Nathaniel Hackett, offensive coordinator, Bills
The 33-year-old son of longtime NFL coach Paul Hackett will be in his first season as an NFL coordinator. He was the offensive coordinator at Syracuse for Bills coach Doug Marrone. He did a nice job with quarterback Ryan Nassib and the up-tempo offense. He previously worked as a quality control coach for the Bills in 2008-09.
Rocky Seto, passing-game coordinator-secondary, Seahawks
This 37-year-old is a former defensive coordinator at USC who worked for Pete Carroll. He is considered a bright, young mind. Before coming to the Seahawks in 2010, he turned down a chance to be the Bills' secondary coach in 2008. In 2010, he was set to become the defensive coordinator at UCLA. But when he leaked the news, there was backlash from the Bruins fans and the offer was rescinded. Seto's secondary is one of the best in the NFL.
SportsLine's Mike McClure, a DFS pro with more than $1M in winnings, gives optimal lineup...

Check here for the latest news, rumors and updates for NFL coaching changes and searches

The Titans have tapped Texans defensive coordinator Mike Vrabel to take over as head coach
The government shutdown has come at a horrible time for NFL fans in the U.S. military

Bengals owner Mike Brown seems to be a huge fan of continuity

Our computer model simulated the AFC and NFC title games 10,000 times with surprising resu...