Rex Ryan, Jets agree to multiyear contract extension
Jets coach Rex Ryan earned the right to keep his job after the 2013 season, and now, he reportedly has more years on his contract.
• 2 min read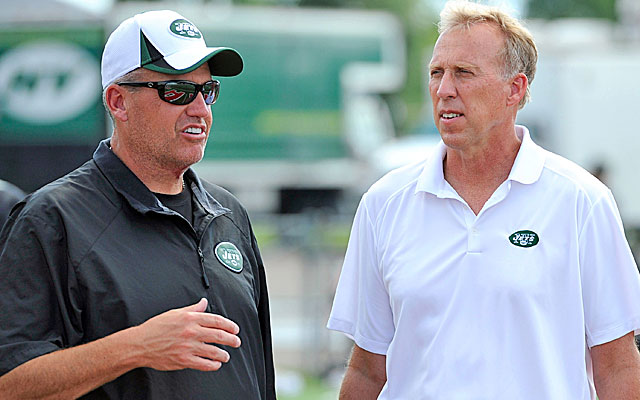 More NFL coaches news: Coaching change tracker | Latest news
At the start of the season, if you would have predicted that not only would coach Rex Ryan lead the Jets to an 8-8 record and receive a multi-year extension, well, you probably were in the minority. 
But that's exactly what has happened.
The team announced on Thursday that they've signed Ryan to a multi-year contract extension. According to ESPN New York, the new deal is "heavily incentivized based on postseason wins." Ryan's previous contract was worth about $3 million per season.
This comes a few weeks after Jets general manager John Idzik announced in the locker room after the Jets' final win of the season that Ryan would return, leading to pandemonium (the good kind).
Ryan most certainly earned the right to keep his job, especially if you look at the dearth of roster talent on offense and the fact he had to play a rookie at quarterback all season. That the Jets beat the Patriots and the Saints was, at the time, almost mind-blowing.
Ryan had wanted a extension, as no coach who wants to stay on with the team wants to go into the final year of his contract without some kind of assurance that he would last beyond the end of the season, mostly because of team and coaching staff stability, but Idzik and the team reportedly balked at that idea originally.
But now Ryan has that assurance of a job (or at least a paycheck) beyond the 2014 season. Unless, of course, New York doesn't build off its surprising 2013 campaign. 
The Jets are protected, and, in the short term, Rex is not a lame duck for 2014. Quells Idzik/Ryan rift stuff. Smart move for the team

— Jason La Canfora (@JasonLaCanfora) January 16, 2014
Bottom line on Rex Ryan extending his contract, as ESPN 1st reported - Jets could still make change in yr or 2 w/o a major financial hit

— Jason La Canfora (@JasonLaCanfora) January 16, 2014
In his five seasons coaching the Jets, Ryan has compiled a 42-38 record and led the team to the postseason twice, in 2009 and 2010. But it may have been the team's win vs. rival Miami that knocked the Dolphins out of the playoffs that was the icing on the cake. 
Cromartie on if he thinks Rex Ryan would have been back if Jets lost in Miami in Wk 17: "Honestly, I don't know.... I don't think so" #nyj

— Manish Mehta (@MMehtaNYDN) January 15, 2014
CBS All Access allows viewers to stream every NFL on CBS game in their local market

CBS All Access allows viewers to stream every NFL on CBS game in their local market

Two NFC East divisional foes face off this weekend in a big battle for both teams
Owners and CEOs from several teams released statements in response to Trump's remarks in A...

Nick Kostos won big on Monday nights last season and gives his best 3-team NFL parlay for Week...

CBS All Access allows viewers to stream every NFL on CBS game in their local market