Twitter users react to the NFL's ban on dunking on the goal post
The NFL banned another touchdown celebration: Dunking the ball over the goal post. Twitter users reacted with hilarious jokes, photos, and GIFs.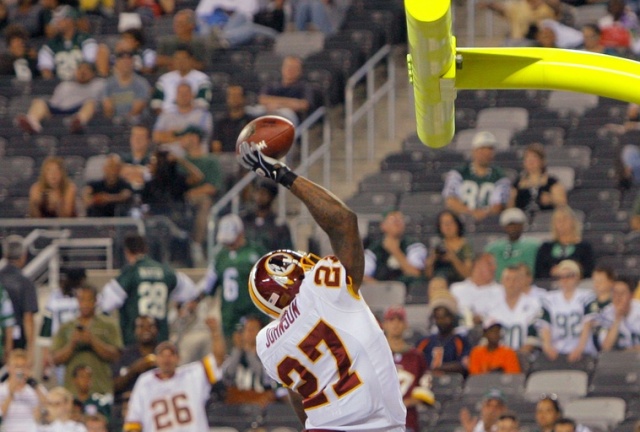 The NFL Head of Officials Dean Blandino told The Dan Patrick Show that dunking the ball over the goal posts will be penalized next season. Twitter users, of course, reacted in the only way they know how: jokes, photos and GIFs proving just how ridiculous this new rule is.
The NFL says no more dunking over the goalpost. This one I don't understand. Looks like I got out just in time.

— Tony Gonzalez (@TonyGonzalez88) March 25, 2014
Unfortunate, or maybe fortunate that #Seahawks Malcom Smith will be the last legal NFL dunk over the goal post. pic.twitter.com/R7v3wQ9Xjd

— Tim Williams (@realtimwilliams) March 25, 2014
R.I.P. Fat Lineman Dunks (via @WorldofIsaac)
NFL makes dunking ball over goalpost a penalty a few minutes after Tony Gonzalez retires. This league can be baffling.

— Joe Posnanski (@JPosnanski) March 25, 2014
The NFL won't listen to the fans' opinion on celebrations until they try and outlaw the Lambeau Leap. Then all hell will break loose.

— Peyton's Head (@PeytonsHead) March 25, 2014
Good to see the NFL finally listed to millions of fans offended by guys dunking footballs over goal posts. ENOUGH WITH THESE SHENANIGANS!!!

— Sam Mellinger (@mellinger) March 25, 2014
Oh hey, it's the NFL rules committee chairman. pic.twitter.com/sVrw2fLlxA

— Matt Ufford (@mattufford) March 25, 2014
When is Roger Goodell gonna outlaw touchdowns

— Andrew Sharp (@andrewsharp) March 25, 2014
I hope this leads to Richard Sherman trash-talking goalposts. "YOU CALL THAT A RIGHT ANGLE?! I DON'T SEE 90 DEGREES, SON!"

— Bobby Big Wheel (@BobbyBigWheel) March 25, 2014
The NFL should be more concerned about its officials using the rule book and replay monitors as props.

— Andy Glockner (@AndyGlockner) March 25, 2014
Of course, what constitutes dunking for that penalty? Do you have to make contact with crossbar? Are lay ups and jump shots still OK?

— Mike Miller (@mwmiller20) March 25, 2014
The NFL would like to clarify that "kickers are still allowed to dunk if any of those nerds even want to try."

— Mark Ennis (@Mengus22) March 25, 2014
On a list of problems the NFL needed to fix, I'd have ranked post-TD goalpost-dunking somewhere in the 11,000s.

— Dan Graziano (@DanGrazianoESPN) March 25, 2014
The NFL player that tosses a ball through the uprights granny style will become my favorite.

— Ashley Burns (@MayorBurnsy) March 25, 2014
I'm assuming Roger Goodell is outlawing dunking as a means to avoiding promotion of Mark Cuban and the NBA.

— Peyton's Head (@PeytonsHead) March 25, 2014
Pretty huge that the NFL is ready to acknowledge the studies and issues related to goal post safety.

— Dan Rubenstein (@DanRubenstein) March 25, 2014
This is un-American. RT @PaulPabst: Just in. The NFL will not allow dunking the ball over the goal post next season. It will be a penalty.

— Richard Deitsch (@richarddeitsch) March 25, 2014
Don't dunk the ball in celebration! Or go to your knees! Or taunt! Or curse! Oh, pass interference? Yeah, we don't know what that is.

— Tom Pelissero (@TomPelissero) March 25, 2014
Manziel releases dunk video. NFL outlaws dunking. I see you, Goodell.

— Ben Swain (@TheBenSwain) March 25, 2014
Still legal (via Chris Burke):
Tickets are dirt cheap and very much still available for the TNF matchup

The Lions are being recognized after beating two popular preseason picks to make the playo...

Hernandez was 27 when he committed suicide in April 2017
Mowins is set to become the first female play-by-play announcer in NFL on CBS hisory

The Rams have struggled against the 49ers but that was during the Jeff Fisher era

The Cowboys' running back owns his mistake, says it was 'just bad effort'