Blackhawks rebuilding depth while working through salary cap crunch
The Chicago Blackhawks still have a lot of work to do to get under the salary cap, but they are still finding a way to restock the cupboard and rebulid their depth. They are mastering the art of winning in the NHL salary cap era.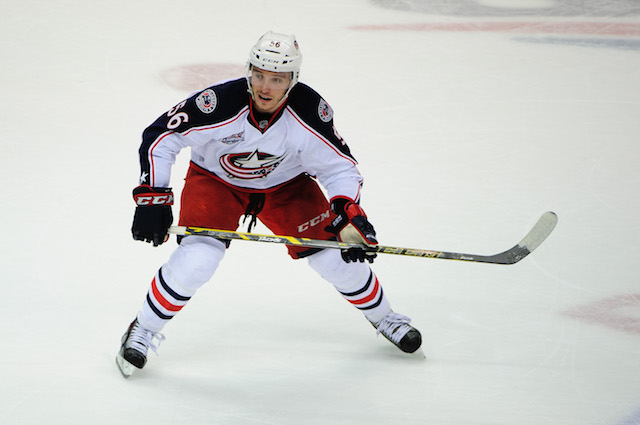 The Chicago Blackhawks weren't even finished with their Stanley Cup celebration when the reality started to set in that the roster that was on the ice for their Game 6 win against the Tampa Bay Lightning was going to be broken apart in the offseason. That is the price of success in the salary cap era. When a team assembles that much talent on one roster, and has so much money invested in its core players, it is eventually going to reach the point where financial limitations are going to send somebody packing. 
The Blackhawks have been through it before, being forced to dump Brian Campbell, Kris Versteeg, Dustin Byfuglien, Andrew Ladd and Antti Niemi from their 2010 Cup-winning team. This offseason was never going to see that much talent leaving Chicago, but it was still going to be significant.  
Already this offseason the team has traded a player who was at one time considered to be a franchise building block, restricted free agent Brandon Saad, due to cap restrictions. Saad ended up signing a $36 million contract over six years with the Columbus Blue Jackets following the seven-player trade, an offer the Blackhawks were never going to be able to reach given their cap situation. They've also lost second-line center Brad Richards (Detroit Red Wings) and playoff hero Antoine Vermette (back to the Arizona Coyotes) in free agency. 
They still have to re-sign restricted free agent Marcus Kruger, while their only free-agent addition at this point has been Viktor Tikhonov, a highly skilled forward (and former top pick in the NHL Draft) who spent the past six seasons playing in the KHL. 
Even with the trade of Saad and the departures of Richards and Vermette, the Blackhawks find themselves a little more than $400,000 over the $71.4 million salary cap for the upcoming season with only 20 players under contract, via General Fanager. They are allowed to exceed the cap by as much as 10 percent (a little more than $7 million over) in the offseason before needing to be cap compliant at the start of the season.
That means there is still some work to be done before they can finish completing their roster, especially on defense where the only have Duncan Keith, Brent Seabrook, Niklas Hjalmarsson and David Rundblad under contract for the upcoming season. Even if they go with players like Trevor van Riemsdyk or Stephen Johns on their entry level contracts to fill out the blue line they are still over the cap.
The Blackhawks are reportedly still interested in re-signing veteran Johnny Oduya, currently an unrestricted free agent, but are waiting to clear cap space before doing so. 
When it comes to clearing that cap space Patrick Sharp, Bryan Bickell and Versteeg are still the most likely -- and obvious -- names to be moved. They also present their own set of problems. When it comes to Sharp, you're not only dealing with a no-trade clause that can complicate things, but also the fact that some of the teams that would have been interested in a potential trade (Pittsburgh and Washington, for example) have already landed top-six wingers this offseason via trade, with the Penguins acquiring Phil Kessel from the Toronto Maple Leafs and the Capitals landing T.J. Oshie (as well as Justin Williams via unrestricted free agency). With Bickell, there is the issue of another team wanting to take on the remaining two years of his contract ($4 million per year in salary cap space) for a guy who has just 43 points in 139 games since signing that deal, which is almost certainly one of the most regretable ones they have at this point and is contributing to their cap issues. 
This was going to be a fascinating offseason for the Blackhawks as the closest thing the NHL has to a modern dynasty has to pick and choose which players to sacrifice, while also needing to rebuild depth around the core of superstars. And even though they still need to shed a sizable contract or two this summer, the most incredible thing about the Blackhawks' offseason to this point is they have still managed to start replenishing their depth and piecing together a roster that should feature their next wave of talent.
The Saad trade was a huge part of that. 
Let's be honest, the Blackhawks would have probably preferred to keep him. They drafted him, developed him and watched him grow into a top-line player on two of their past three Stanley Cup-winning teams.
But they also might have cashed in that asset at the exact right moment. 
Saad is fantastic. He is a wonderful two-way player who probably still has his best days ahead of him. But he was also reaching a point where his perceived value around the league may have been exceeding his value to the Blackhawks, especially if the asking price was going to be the $6 million per year he got with Columbus. Remember: This is a player that, for as hyped as he is, has never topped 23 goals in a season and has spent his entire career playing next to two future Hall of Famers. That is a perfect storm for everybody involved.  
He was also going to require a huge financial commitment from a team that already has Jonathan Toews, Patrick Kane, Duncan Keith, Corey Crawford and Marian Hossa signed long-term, and will soon need to re-sign Brent Seabrook. All of those players, with the possible exception of Crawford, are probably more important to their success than Saad. The threat of an offer sheet and losing him only for draft picks was very real. Teams were likely beating the down the doors trying to get him as opposed to the players the Blackhawks may have preferred to trade, such as Sharp, Bickell or Versteeg -- players that either represent poor values or have already played their best hockey.
So why not capitalize on that interest and sell high on Saad?
Rather than risk losing him for only draft picks, they moved him to the Columbus Blue Jackets for Artem Anisimov, Marko Dano, Jeremy Morin and Corey Tropp. On the surface, that might seem like an underwhelming return for a potential core player. But it may have actually helped them not only upgrade one major position on the team, but also add another potential core player to the mix. They were never going to get that type of return for Sharp, Bickell or Versteeg.
The two keys in that deal were Anisimov, a player the Blackhawks said they have been after for several years, and Dano, a 20-year-old forward who already had an impressive debut in the NHL this past season for the Blue Jackets.
In Anisimov, the Blackhawks not only have a replacement for Richards on their second line, but may have actually upgraded the position in terms of all-around play. Not only did the two put up nearly identical scoring numbers this past season (Richards had 12 goals and 37 points in 76 games, while Anisimov had seven goals and 25 points in only 52 games -- a difference of only .006 points per game), Anisimov did it while not having the luxury of playing alongside at least one of Kane or Sharp for most of the season as Richards did.
He also did it in significantly tougher situations.
While Richards had an offensive zone start percentage of 70 percent, Anisimov only started 45 percent of his shifts in the offensive zone. Anisimov also received less power play time (30 seconds less per game) and played more than two minutes per night on the penalty kill (Richards played just 1:37 on the penalty kill all season).
And then there is Dano, perhaps the most important player in the trade given his age, the fact he costs less than $1 million per year against the salary cap, and his potential. With limited experience playing in North America (he played in just 49 American Hockey League games before making his NHL debut this past season) he made a huge impact for the Blue Jackets in his first taste of NHL action, recording 21 points in 35 games while also posting a team-leading 54.1 percent Corsi percentage.
His 2.69 points per 60 minutes of 5-on-5 play was the sixth-best average among all NHL forwards (minimum 300 minutes). This is a legitimate prospect who has a chance to be an impact player in the NHL. Even though losing a player like Saad is a big blow to the Blackhawks, they used it as an opportunity to not only find an upgrade to their second-line center spot, but to also potentially find the next Brandon Saad. And if you think that's a stretch, Dano's age-20 season is almost identical to what Saad did at the same age (and it's worth noting that while Saad was playing next to Toews and Hossa in his age-20 season, Dano was playing mostly next to Scott Hartnell and Alexander Wennberg). 
Add Dano to Chicago's other rising star, Teuvo Teravainen, who also has two years of entry-level hockey ahead of him after showing flashes of stardom this past postseason, and they have what might be the perfect complements to their stars -- cheap talent able to make meaningful contributions and continue to get better.
And this is why the Blackhawks keep winning every single year no matter who they have to sacrifice from the roster due to cap restrictions. They identify their core players, keep them together even if it means taking up a significant chunk of their salary cap space, while always finding a way to have a steady stream of players that represent the next wave coming through their system. 
It seems they've found a way to do it again this offseason, even while dealing with what might be the toughest salary cap situation in the league. 
CBS Sports HQ Daily Newsletter
Get the best highlights and stories - yeah, just the good stuff handpicked by our team to start your day.
Please check the opt-in box to acknowledge that you would like to subscribe.
Thanks for signing up!
Keep an eye on your inbox for the latest sports news.
Sorry!
There was an error processing your subscription.
Emery, 35, spent time with the Senators, Flyers, Ducks and Blackhawks

The 33-year-old veteran goalie signed a three-year, $21 million extension to stay in Vegas

Chicago frees up immediate cap space to use in another deal, but it comes at a price
Hellebuyck, a restricted free agent, has a deal that will be worth $37 million

The new Maple Leafs star penned an essay explaining the struggle of making a decision in free...

The NHL star and skiing legend have made this their summer