Brian Burke joins another rebuilding effort with Flames
Brian Burke has been here before. Sorta. He's joining the Flames to take on a rebuild, albeit in a different role as Director of Hockey Ops.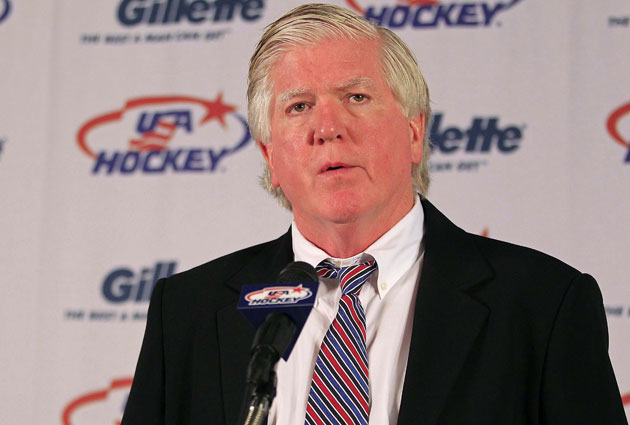 More NHL offseason: Rumors | Top 50 Free Agents | Buyout Tracker | Trades | Transactions
When the Calgary Flames introduced Brian Burke as their new director of hockey operations Thursday, the immediate question that came to mind is how active he will be in the impending rebuilding of the franchise. Or perhaps more appropriately, how active should he be?
There have hardly ever been front-office officials as controversial/noticeable as Burke. He's outspoken, daring and he has also had some success to go with his fair share of criticism. There's hardly a dull moment when Burke is involved and in that regard it will be excellent to have him back in the game in a more involved capacity. If you don't agree with that then you just haven't been keeping up with hockey over the years.
Burke insisted Thursday that he won't be continuing in that kind of role with Calgary, that he will take a lesser role. Presumably that means he'll speak with the media a lot less frequently (everybody will believe that when we don't see it). He also stressed that Jay Feaster is and will remain the general manager, but Burke will be overseeing Feaster and is there to help and advise. His experience will assist in the rebuilding of the franchise.
But should Calgary want him in that role? Is he the right guy to undergo oversee a makeover?
At the time Burke was being fired in Toronto you had to wonder if the answer was really yes. The Leafs had become stagnant and weren't making the playoffs. His biggest move was looking like a flop as he gave away two high first-round picks (Tyler Seguin and Dougie Hamilton) to get Phil Kessel who, while good, wasn't getting the Leafs where they wanted to go. Five years into a rebuild and the Leafs were still stuck out of the playoffs.
Now we have to view that in a different light, don't we? The Leafs, a team he built, took a big step forward this past season, easily making it into the postseason and nearly taking out the eventual Eastern Conference champion Bruins while Kessel has continued to blossom into an elite winger. The Leafs came to take on the image he sought in the team. While you can argue their success was done with smoke and mirrors this past season, it was hard to deny the Leafs were taking steps forward, especially with Burke's goalie James Reimer starting to come into his own.
Lest we forget that Burke did an OK job in Vancouver as well, helping that franchise get its base with the coup of getting both Daniel Sedin and Henrik Sedin in the draft. Indeed, Burke was helped out a bit by the Pittsburgh Model, or close to it, and was in the fortunate position to get high draft picks, but he still pulled a major move in getting both picks to select the Sedins.
Burke mentioned in Thursday's press conference that he has been able to turn teams around wherever he has gone, just that it took longer in some places than others (ahem: Toronto).
Now coming into Calgary, he could be in a familiar position with high draft picks looming. The Flames are going to be bad this season, very bad, and will be in the running for the top pick from the first puck drop of the season. There is plenty of work to be done before the Flames are good again.
This is not be foreign territory for Burke. When he went to Toronto he took over a team with fans that have high expectations, a team lacking center depth, impact defensemen and a quality, proven goaltender. Sounds kind of like Calgary at the moment, doesn't it? Burke eventually was able to get things turned in the right direction in Toronto. His crime was that it just took too long.
Will Calgary be in the mood for a patient approach to do it the right way? It has already been a lean few years, prolonging the misery, but if you want to see the light at the end of the tunnel, it might be the only way.
Then again, the Flames could take big steps next summer when they should have a boatload of space under the salary cap. Neither Burke nor Feaster is afraid to make a move so that could get really interesting. Oh who am I kidding, it's going to be interesting regardless with Burke around.
Another thing Burke wanted to make clear was that he feels Feaster has already done good work in getting the rebuild started. He lauded the Flames for having what he thought was the best draft of any team this year but as of now it is still a franchise that is barren in terms of prospects.
The most pressing and interesting issue to get cleared is how this working relationship will develop. Burke was clear many times in saying this is still Feaster's team but it's hard to imagine his fingerprints not being on the moves. He is essentially Feaster's boss now -- of course his input will matter. He mentioned the typical Burke-isms; he wants the team to get bigger and to play a physical, exciting brand of hockey. When you see the Flames getting those types of guys you'll know where the edict is coming from.
Surely it's going to make for an odd dynamic in Calgary with a few too many cooks in the kitchen. Perhaps they can ask Colorado how to best sort through that. However, the Flames could be in a worse spot than to have one of those cooks being Burke.
Stacia Robitaille says Donald Trump told her in an elevator that she was coming home with...

Vladislav Yeryomenko was the Teddy Bear Toss goal scorer for the Calgary Hitmen

The Golden Knights are finally getting their No. 1 goalie back after a 25-game absence
Washington has won four straight, and the Kings are also on a tear right behind the Lightn...

The NHL says it's only interested in expanding to Seattle, but here's a look at all the moving...

The NHL says it is only looking toward Seattle for the next expansion team