Elijah Johnson's emergence boosts Kansas
In the past seven games, Kansas junior Elijah Johnson is averaging 15.4 points and shooting 44.4 percent from 3-point range. He could play a major offensive role against Kentucky on Monday night.
• 2 min read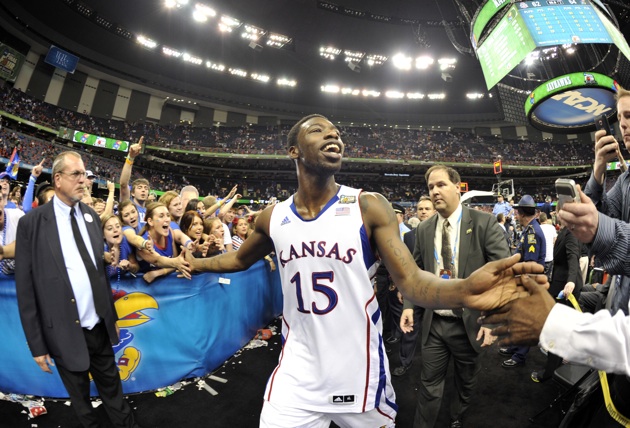 Elijah Johnson becoming a consistent offensive option could be a major factor on Monday against Kentucky. (US Presswire)
NEW ORLEANS – In December of 2010, it didn't look like Elijah Johnson would be part of a Final Four run at Kansas. Especially one occurring 18 months later.
Early last season, there were rampant rumors that Johnson was leaving the Jayhawks and transferring elsewhere. His playing time was fluctuating, and sources said Bill Self was frustrated and wasn't sure Johnson would last in Lawrence.
Johnson has done more than just last at Kansas. He's become a key facet in the Jayhawks' run to the national title game.
"I never paid the rumors any mind," Johnson said on Sunday. "It was during my sophomore year, when the rumors started about me leaving. I never wanted to leave Kansas.
"Coming to Kansas was big for me; the last thing I wanted to do was leave. The only way I was leaving Kansas was getting kicked out."
It's worked out well for both sides. When Kansas lost four starters and Josh Selby from last year's Elite Eight team, Johnson was inserted in the starting lineup before the season. He has started all but one game this year, playing the second-most minutes on the Jayhawks.
Johnson is tops on the team in steals and 3-pointers made, and also ranks third in points and second in assists.
In the past month, Johnson has stepped up in a major way. After scoring in double-figures 12 times in the first 31 games, Johnson has reached that threshold in seven consecutive contests. The 6-foot-4 junior from Las Vegas is averaging 15.4 points and shooting better than 44 percent from 3-point range during that stretch.
In fact, one can make the argument that Johnson has been the most consistent offensive player for Kansas during that stretch.
"Lately, Elijah has been the guy," Kansas head coach Bill Self said.
Against Ohio State on Saturday night, Johnson shot 6-for-9 from the field, finishing with 13 points and 10 rebounds.
Johnson emerging as a legitimate third option on the offensive end for Kansas has taken some of the pressure off of Tyshawn Taylor and Thomas Robinson, and has also allowed Jeff Withey to get less defensive attention.
"I felt like I just had to do whatever my team needed me to do to win the game," Johnson said. "I feel like we got the three people everybody is giving attention to: Thomas, Tyshawn and Jeff. If people wanted to overlook us, that was OK with us. It made us want to do our job even more because we knew we was helping the team roll."
Heading into Monday's national championship game against Kentucky, Johnson could be poised for a big role. Taylor is going to be the one guy Kentucky wants to limit in terms of facilitating the offense, while Anthony Davis is going to make life difficult for any opportunities at the rim for Withey and Robinson.
If Johnson can knock down shots from the perimeter and provide an offensive boost, Kansas will have a better chance at pulling the upset.
"For me, scoring the ball helped us," Johnson said. "I've been thinking of ways I can make it harder for them."   
After getting through a tumultuous two seasons at Kansas, one night in New Orleans seems easy by comparison. 
Gary Parrish and Matt Norlander discuss the latest in college basketball

The university also maintains that Pitino was appropriately fired

Price only made it nine games into his third season
The Wildcats won't play another currently ranked team until Jan. 10

The BC fan has a ton of apparel and gear headed his way after this putt

Durant's made a habit of making sure his alma mater is set with the latest customized gear