Georges St-Pierre vacates UFC welterweight title
Now-former UFC welterweight champion Georges St-Pierre will take a leave of absence and vacate his title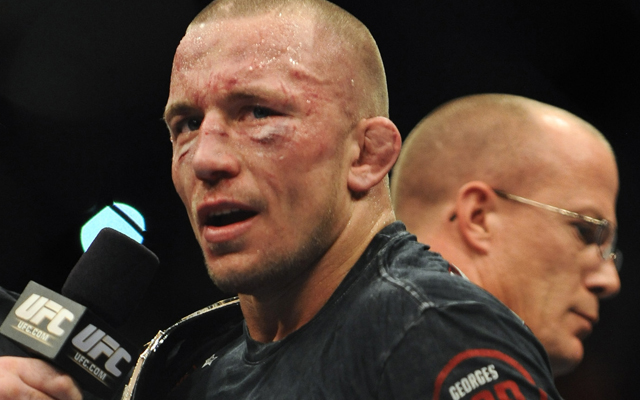 UFC welterweight champion Georges St-Pierre will be vacating his UFC welterweight title and taking an indefinite leave of absence, the now-former champion announced Friday during a media conference call.
"I've been fighting for a long time," said St-Pierre. "I have 22 fights in the UFC, and 15 were for a world title. I've been fighting a long time at a high level, a lot of pressure and criticizing. I've decided I needed to take some time off."
St-Pierre said he's physically 100 percent, but he needs time off to live a normal life away from the pressures of the UFC and the training camps. 
During the post-fight interview following his controversial split-decision victory last month over Johnny Hendricks, St-Pierre said he needed to step away from the sport, but he didn't specify why. During that press conference, UFC President Dana White made it clear he didn't agree with St-Pierre and that he wanted the champion to give Hendricks a rematch.
On Friday's call, however, White said he fully supported St-Pierre's decision.
"You have to be 100 percent mental, physical, emotional," said White. "If you're not you should get out. I think it's the right move."
Hendricks, who many, including White, thought won his fight against St-Pierre, will get another shot at the belt as he will face Robbie Lawler for the vacated welterweight championship on March 15 at UFC 171. 
St-Pierre said he is not retiring, but he has no immediate plans to come back.
"Definitely one day I will come back," said St-Pierre. "I'll be stronger when I do, but it has to be on my own terms."
Rowdy swept all three stages en route to his eighth NASCAR National Series victory of the...

NASCAR drivers had some fun with Kenny Wallace after he posted a 'crazy story' to his Twitter...

Martin Truex Jr. could clinch the NASCAR Cup Series regular-season title Saturday night
With three races to go, 13 drivers have secured a chance at a Monster Energy NASCAR Cup Series...

Wooldridge, who won gold for Australia in 2004 in Athens, took his own life

Kevin Plank is attempting to distance the sportswear giant from Trump's administration