Mayweather-Pacquiao breaking all limits, will be seen in space
Showtime, HBO, and NASA have worked together to deliver the full Fight of the Century to the American astronauts stationed aboard the International Space Station.
• 1 min read
For a few hours on Saturday night, the eyes of the boxing world were collectively centered on one location -- a relatively small arena, known as the MGM Grand, located in the heart of Las Vegas. Several thousand spectators were lucky enough to be able to afford tickets to the Fight of the Century. Millions of people purchased pay-per-view. And some just followed along via social media, where the majority of boxing fans gave their takes on each round in 140 characters or less.
For a few hours, the Fight of the Century was all that mattered to millions of people on the planet. But now, the fight won't just have the attention of those who actually live on Earth. Instead, it'll expand through the atmosphere and to the orbit of Earth. Because the Fight of the Century has officially reached space.
Both Showtime and HBO have worked with NASA to give the American astronauts onboard the International Space Station full access to the Fight of the Century. And now, they'll be able to watch it in its entirety. As expected, this is the first time a PPV fight will be viewable from space.
What they'll see is a vintage Mayweather performance.
For all 12 rounds, Mayweather danced and ducked his way around the speedy Pacquiao. Despite frequent roars from the pro-Pacquiao crowd, the underdog had a tough time landing blows. Mayweather, on the other hand, picked his moments and capitalized on his chosen opportunities. And, as the final seconds ticked down, Mayweather raised his fist in the air to celebrate his 48th straight win.
It was a unanimous decision for Mayweather on Saturday night. And now, even those stationed above Earth will have the ability to take it all in.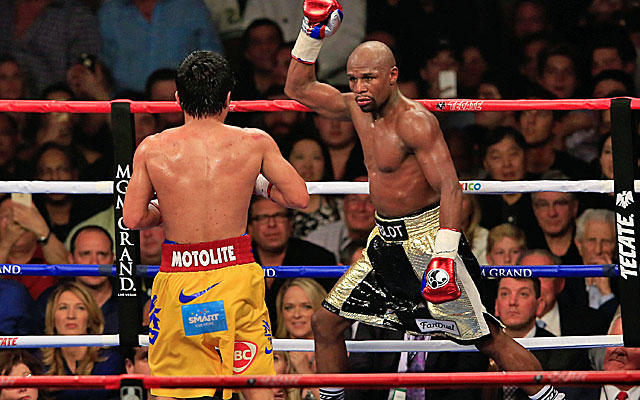 Denny Hamlin and Kevin Harvick will look to build off momentum in order to catch Martin Truex...

The team of children agreed among themselves to follow Colin Kaepernick's stand against in...

Did Elliott cheat to finish second in the NASCAR playoff opener? You be the judge
Kahne has been with Hendrick Motorsports since the 2012 season and is currently in contention...

After finishing second in the first playoff race of the season, can the 21-year-old son of...

Find out if you're as smart as you think you are