UFC 166 Preview: Velasquez and dos Santos complete the trilogy
After two very different fights in their first two encounters, Cain Velasquez and Junior dos Santos will square off again on Saturday, October 19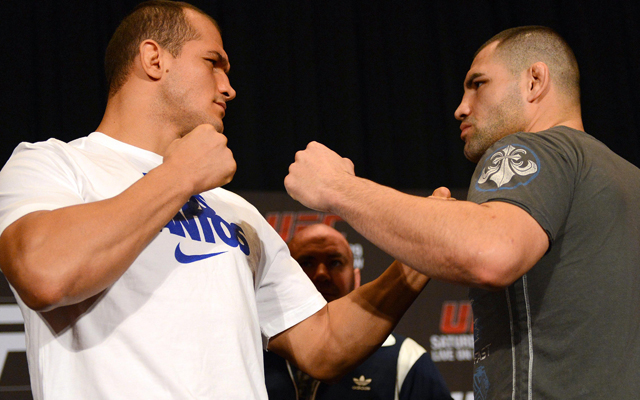 When Cain Velasquez and Junior dos Santos step into the Octagon on Saturday for their heavyweight title fight in the main event of UFC 166, it will be the third time in less than two years the two have squared off. This trilogy could join the ranks of other classic UFC trilogies like Liddell vs. Couture, Hughes vs. St. Pierre and Edgar vs. Maynard (hopefully not the ranks of Sylvia vs. Arlovski… yuck).

Velasquez, however, is not too concerned with the trilogy's place in history, as he shouldn't be. "We're two of the toughest guys out there in the division," Velasquez said during a UFC 166 media call. "It just so happens that we have to fight again. So, it is what it is. "
While the trilogy's historical significance may be lost on the champion, the magnitude of the fight itself surely isn't. "JDS is a great opponent. I'm excited for this matchup," the champ said. "There's a lot riding on this fight. He's one of the best out there."
Dos Santos appears to agree.
"It's an honor to be competing at such a high level with this guy," dos Santos said.
Their first fight, the main event on UFC's debut on FOX back in 2011, ended abruptly as dos Santos caught Velasquez with a punishing right that sent the champion tumbling to the ground and allowed dos Santos to swoop in and finish the fight after just 64 seconds to capture the UFC heavyweight championship.  The loss marked the first of Velasquez's career.
A lucky punch some called it. There's no such thing as lucky punches, though. Dos Santos, a supremely skilled and ferociously powerful striker, threw a punch with the intention to hit Velasquez. And hit him he did. And it won him the fight. You could point to Velasquez coming into the fight after a yearlong layoff following shoulder surgery or the rumors of a knee injury, which surfaced after the fight. I choose to believe dos Santos was just the better fighter on that night. No luck. Skill and power.
Regardless of luck, injuries or any other mitigating factors, after both men won their next fights, Velasquez making quick work of Antonio Silva and dos Santos defending his title against former champ Frank Mir, the stage was set for a rematch a little over a year after their original encounter. 
Their second clash, the main event at UFC 155 in December 2012, was a different story than their first meeting. From the start, Velasquez pushed the pace and kept the pressure on the champ. Although dos Santos was able to thwart some of Velasquez's early takedown attempts, the challenger's relentless motor and otherworldly cardio started wearing down the champion. Velasquez went on to punish dos Santos for 25 minutes, landing an impressive 11 takedowns, to earn a unanimous decision and re-capture the UFC heavyweight crown.
Now, 10 months later and with both men coming off victories once again (Velasquez a TKO win over Antonio Silva and dos Santos a knockout of Mark Hunt), the two top heavyweights in the world will complete their trilogy.
What kind of fight should we expect?
"The third fight is going to be completely different from the other fights," dos Santos said. "Because now Cain Velasquez knows more about me, I know more about him and I think we are more prepared to fight each other."
OK, well that doesn't tell us much. As for what fight I expect to see on Saturday? I suspect it will resemble the second fight much more than the first. Velasquez possesses an impressive blend of top-level wrestling (he's a former National Champion wrestler) and powerful, diverse striking (ask Brock Lesnar) and he backs it up with possibly the best cardio we've ever seen in the heavyweight division. Dos Santos is, again, a superb striker with devastating power (no, really, this guy knocked out Mark Hunt and did this to Gabriel Gonzaga) and his takedown defense is outstanding (he had only been taken down twice inside the Octagon prior to UFC 155). However, none of that seemed to matter in their previous fight as Velasquez imposed his will as he saw fit, and I don't see it any differently this time around.
My [imaginary] money is on Cain controlling this fight from start to finish, a finish that this time won't be left in the hands of the judges. Velasquez via TKO. 
Patrick and Stenhouse have called it quits after five years as a couple

John John Florence and Gabriel Medina will look to catch the wave to a championship

How to watch the Professional Rodeo Cowboys Association's 2017 National Finals Rodeo event
Froome was found to have double the legal limit of an asthma drug in a September doping te...

Jonah Keri talks to comedians Randy and Jason Sklar