2014 team preview: San Francisco Giants
The Giants disappointed and finished in third place in the NL West last season. What does 2014 have in store? Let's preview their season.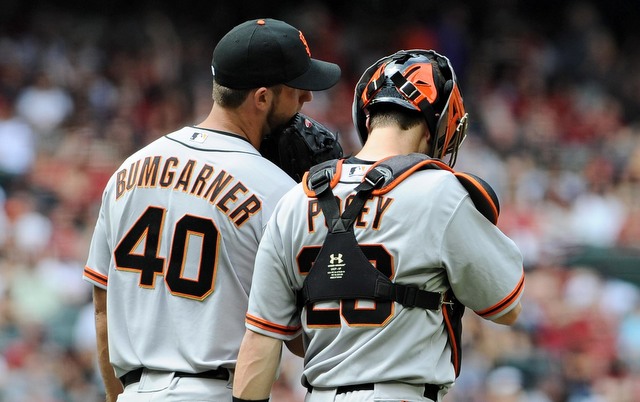 More: Likes, dislikes | Over/unders | All team previews | Spring training

Last season was a Murphy's law season for the Giants. They followed up their 2012 World Series title with a 76-86 record in 2013 that left them 14 games out of a playoff spot. GM Brian Sabean made a few moves over the winter but nothing huge, opting to keep his impressive and still young core together in hopes of another title run. Not a bad plan, in my book. Not a bad plan at all.
Probable lineup
Bench: C Hector Sanchez, IF Joaquin Arias, IF Tony Abreu, OF Gregor Blanco, OF Juan Perez
Due to lingering back trouble, there is a very real chance Scutaro will not be ready in time to start the season. Manager Bruce Bochy indicated the team will start exploring Plan Bs at second base (Arias, most likely) if Scutaro is unable to play by the end of this week.
Otherwise, the middle of the team's lineup is as strong as it's been in years. Belt broke out last year with 17 home runs and a 142 OPS+, Posey is one of the best players in the world, and Pence is coming off a 27-homer, 22-steal season. How much will slimmed down Sandoval and a fading Morse provide? They could be the difference between a good offense and a great offense.
Probable rotation
Bochy has already announced Bumgarner will be the team's opening day starter. Cain had the worst stretch of his career in the first half of 2013 but bounced back with a very Cain-ian second half. The other three guys are question marks for different reasons. Lincecum has a 72 ERA+ over the last two seasons, Hudson is returning from a catastrophic ankle injury, and Vogelsong was both hurt and ineffective last year.
Probable bullpen
Closer: RHP Sergio Romo
Setup men: RHP Santiago Casilla, LHP Javier Lopez, LHP Jeremy Affeldt
Middle men: RHP Jean Machi, RHP Heath Hembree
Long man: RHP Yusmeiro Petit
Hembree or Machi could lose their spot to RHP George Kontos, RHP Jake Dunning and/or LHP David Huff depending on how things shake out in camp, but that will be Bochy's bullpen, for the most part. Affeldt is an important cog in the 'pen because he's not a lefty specialist; he can typically be used against righties and lefties. He is coming off a rather serious groin injury, however.
Under-the-radar offseason transaction
I'm not really sure the Giants made anything that qualifies as an "under-the-radar" transaction this winter. They re-signed Pence, Lincecum and Lopez for top of the market dollars, signed Hudson to a two-year deal following his injury, and rolled the dice on Vogelsong and Morse coming off injury. Since I have to pick one, I'll go with Vogelsong's one-year, $5 million contract. A fluke finger injury suffered on a hit-by-pitch really sabotaged his season, but he was very good (115 ERA+) from 2011-12 and could regain that form now that he's had an offseason to rest.
Fantasy bust: Pablo Sandoval
"Time missed due to injury is an old story for Sandoval, and in 2013, it was foot and back issues that kept him off the field at times. He did play 141 games, his highest total since 2010, and he lost more than 40 pounds this offseason. Maybe that will help Sandoval to play more games this season, but even if it does, it doesn't mean he will reverse two seasons of disappointing power numbers. Sandoval has hit 20-plus homers in two out of his five full seasons, so he has the potential to repeat that feat, but with underwhelming production in the other three seasons, it's a big risk to bank on it. Because he doesn't strike out much, Sandoval has some Head-to-Head appeal, but that's limited due to playing time concerns, and in Rotisserie, the likelihood of moderate power and run production with no speed leaves him with minimal standard mixed league value." - Al Melchior [Full Giants fantasy preview]
Biggest strength
Homegrown core. The Giants have already won two World Series with this crew, yet of their recent homegrown products, Lincecum is the oldest at 29. Cain is about to enter his age-29 season while Belt, Posey and Crawford are 25, 26 and 27, respectively. Bumgarner won't turn 25 until August and he already has three and a half seasons worth of big league experience to his credit. All of those guys are under contract for at least another two seasons too. When you develop a core like that, you don't need to do much more add supplemental pieces like Hudson and Pagan through free agency. The homegrown players are still the stars of this show.
Biggest weakness
Rotation depth, though the Giants always seem to figure it out. When Vogelsong went down with the finger injury, Chad Gaudin stepped in with a 3.53 ERA in 12 starts. When Cain visited the DL after being hit by a comebacker, Petit had a 3.59 ERA in seven starts and nearly threw a perfect game. Lincecum, Hudson and Vogelsong are all risky for the reasons outlined earlier, and that's a lot of question marks for one rotation. Is Petit, a career journeyman, up to the task if pressed into a starting role for an extended period of time? What about young Mike Kickham?
Outlook
I think the Giants are much better than they showed last year, when injuries decimated their roster at times. The lineup is strong, the bullpen is deep, and Bumgarner and Cain form one of the better one-two rotation punches in the game. The bench and the back of the rotation are a bit of a concern, no doubt, but those are fixable problems.
The NL West is a pretty tough division, with the powerful Dodgers and improved Padres and Diamondbacks, but I still think San Francisco could settle in as the second best team behind Los Angeles and compete for a wild-card spot this year. I really do. The team seems to have a knack for big out-of-nowhere seasons (Andres Torres and Aubrey Huff in 2010, Pagan and post-deadline Scutaro in 2012) and it wouldn't surprise me if Morse was the next in line.
The Giants have a very solid, all-around team, and these guys all have experience playing in big games and in tight races. I value that. Bochy seems to transform into a master strategist in big games and Sabean always seems to make a shrewd pickup along the way. I'm not buying last year as the team's true talent level. That was just a bump in the road to me.
---
Coming on Wednesday: Arizona Diamondbacks
Several relievers have signed in the last two days

Several teams are interested in the switch-hitting first baseman

Neshek and the Phillies are closing on a two-year contract
And the team that first drafted Cole is interested

This scout was SUPER into Jeter

Stanton warned Marlins fans about the lean years that are forthcoming