A look inside A-Rod's ever-evolving inner circle
Amid allegations that Alex Rodriguez's camp leaked documents about other MLB players in the Biogenesis scandal, Jon Heyman looks at how it fits into A-Rod's history, and his current supporters.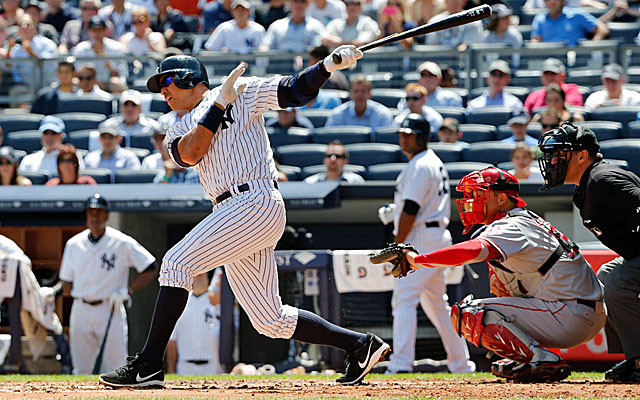 When Alex Rodriguez publicly threw out his cousin Yuri's name as the one who introduced him to steroids at Rodriguez's now infamous 2009 spring steroids press conference, it seemed like nothing more than an absent-minded mention.
It appeared like a regrettable slip of the tongue that drew a beloved but previously unknown family member into the fray. And maybe it was.
But now we can't be quite so certain how accidental it was.
Word came today via a 60 Minutes report that Rodriguez's inner circle leaked Biogenesis documents implicating Brewers superstar Ryan Braun and a couple of other players, even including his own Yankees teammate Francisco Cervelli, who at one time was said to be extremely close to A-Rod (though not nearly as close as cousin Yuri Sucart, who is said to have helped raise Rodriguez and became his trusty "advance man" in his entourage of flunkies and gofers).
David Cornwell, one of Rodriguez's many current lawyers, flatly denied to 60 Minutes its report that Rodriguez's inner circle leaked the documents to Yahoo. But, of course, A-Rod has employed many lawyers and many camp members, so it's hard to know how Cornwell can be certain exactly what everyone does.
In the meantime, we have to wonder whether this latest revelation fits a pattern for Rodriguez or his paid people to divert attention from A-Rod. Beyond the fact that it's just a lousy thing to do, leaking information and/or documents to media outlets that may implicate other players also happens to be a violation of Major League Baseball's collective bargaining agreement, as 60 Minutes noted.
Upon announcing Rodriguez's suspension through the 2014 season, MLB mentioned Rodriguez's intention to "obstruct" its investigation, and this story would certainly fit into that scenario. The claim has been advanced that A-Rod or his camp endeavored to obtain the Biogenesis documents, and before it could leak those documents they'd certainly have to acquire those documents.
What's more, in the case of Braun, the leak may have affected the outfielder's plight since his name originally arose in that second report, which came only days after the original Biogenesis scoop in the Miami New Times named Rodriguez and others. Without the leak, it's possible Braun may have been like Antonio Bastardo and the other two whose names never surfaced until penalties were levied.
Braun eventually agreed to a 65-game suspension related to his Biogenesis connection. One has to wonder whether it's possible that public pressure following his name being outed may have affected Braun's decision to accept the penalty.
What's hard to imagine is the real value of Braun's name becoming public to A-Rod's camp beyond some spreading of involvement and blame. Since nobody was going to trump the A-Rod name it didn't ultimately serve that purpose, anyway.
A person who knows Rodriguez suggests he was never especially close to Braun, a big star at the University of Miami, where Rodriguez's star was big even though he went straight from high school to the Seattle Mariners organization. The school was home base for the Miami product and also the beneficiary of his largesse (Rodriguez donated nearly $4 million to the university, which named its baseball field Alex Rodriguez Park).
Folks who know Rodriguez, though, say they would be shocked A-Rod had anything but warm feelings for teammate Cervelli, whose name also appeared in one of the documents reported to be leaked by A-Rod's camp. One must wonder whether Cervelli was merely collateral damage in a foolhardy scheme.
Owing to his history, A-Rod may react to this latest revelation either by hiring more lawyers or looking elsewhere for blame. Rodriguez has many, many lawyers, and in a way that makes sense since he always seems to have way more schemes going than anyone could possibly keep track of.
It's no wonder he started as an all-time hero and is winding up as a cartoonish anti-hero.
It's no wonder the A-Rod camp keeps evolving, too.
As for cousin Yuri (known throughout A-Rod circles as "Judy"), who gained unwanted infamy that spring day in 2009, he himself is no longer in the A-Rod camp. Sucart, like his cousin, now has his own life, and his own lawyer.
The cousin also appears to have a connection to Biogenesis, according to a player source, and MLB may still be investigating exactly what his role here was. (His lawyer, John Ruiz, couldn't be reached.)
But two people who know both Rodriguez and Sucart don't see Sucart as the instigator of A-Rod's original drug buy that wound up leading to his failed 2003 MLB survey test and triggered the infamous spring press conference in which Rodriguez challenged us to "judge me from this day forward."
In a word, at least at the start they suggest cousin Yuri was merely the mule.
"Yuri was a nice quiet guy who didn't speak English well and didn't have much confidence because of it," the person who used to be in A-Rod's circle recalled. "He was Alex's cousin or uncle depending on what day of the week it was. He was also Alex's gofer."
Sucart continued to remain in the A-Rod entourage long after Rodriguez fingered him, to the point where Rodriguez was questioned by MLB for this association, as if Yuri was the root of the problem. Cousin Yuri had lots of unwanted attention after that, and one person who knows both men said it's his belief cousin Yuri had trouble finding a job after his surprise mention.
That person said Sucart was part of the group that helped raise Rodriguez after his father left. First Sucart took care of him, then when Rodriguez became a rich superstar he took care of A-Rod's growing needs. Another person referred to Sucart as the "advance man," who arrived a day early in each city and helped set things up to A-Rod's liking.
"He drove him everywhere, then (Rodriguez) threw him under the bus," the former Rodriguez friend recalled, without irony.
Rodriguez is in a tough spot here, based on his history, even his own history with 60 Minutes.
Rodriguez could try to personally claim the 60 Minutes report just isn't true. But let's not forget he doesn't have the best of record of telling the truth to 60 Minutes.
It was his interview with Katie Couric on that very show where Rodriguez wore a sincere face while telling us he never once used steroids, all the while knowing he'd failed the 2003 MLB survey test for PEDs. He portrayed himself then as the clean home-run king in waiting.
Some folks in A-Rod's camp at the time advised him not to do the interview, not because they knew he was a steroid cheat but because they understood his ability to put his foot in his mouth, not to mention Couric's ability to let him.
There are still a couple of true believers in A-Rod out there, even beyond his current camp, which is an ever-changiing camp. But those believers are dwindling down to a few professional conspiracy theorists, and will dwindle further with the new information that his camp is part of a snitch scheme.
It's hard to keep track of who's in A-Rod's camp, and when. In a strange side note, Cornwell (along with union chief Michael Weiner) helped overturn Braun's 2011 suspension based on a failed MLB test, and is one of many in the new camp.
Cornwell and Braun parted ways around the time Braun suggested a lawyer originally introduced him to Biogenesis proprietor Tony Bosch. Braun's claim at the time was that he used Bosch only for consulting work, a claim that was debunked with his agreement to accept his Biogenesis penalty.
Anyway, Cornwell now has A-Rod, and it's hard to think at the moment that the lawyer has traded up.
Cornwell, who oddly enough also represented Cervelli in this case, helped win the first case for Braun, but he has an even harder road here with Rodriguez -- though in some ways it's a no-lose case for the lawyer since 211 games is the maximum sentence, and hardly anyone expects it'll be reduced by too much now.
Cornwell has been complaining about alleged leaks from the MLB side in the Biogenesis case, and he did so again in issuing his denial to "60 Minutes" about its story. But those claims of leaks lose quite a bit of bite with the latest revelation that the A-Rod inner circle implicated Braun in the dirtiest kind of leakage imaginable.
Rodriguez invoked the Jenkins Rule, which means he took the fifth, when MLB interviewed him, as CBSSports.com first reported. But while he was clamming up as he's allowed to do, his camp was reportedly supplying the worst kind of news to a reporter.
Like his lawyer Cornwall, Rodriguez denied he was behind the leak to Yankees writers today. If more evidence should surface later, it would be harder to blame the Braun leak on some old rogue camp members now that Rodriguez he has denied the story. But who knows? The story with Rodriguez is always evolving.
That could be because Rodriguez's camp keeps evolving.
Very few seem to stay forever in the A-Rod inner circle, and that goes for girlfriends, publicists, lawyers, agents, writers, etc. It's easy to get caught up in the A-Rod aura. But ultimately, it's unrewarding.
Don't forget A-Rod's first denial in the Biogenesis/Bosch case. Around the same time the Braun story appeared, back on Jan. 29, A-Rod's camp issued a statement denying his involvement with Biogenesis that turned out to be one long lie -- although, it's interesting to recall now that, parenthetically, it went out of his way to offer no support to the others.
The statement read, "The news report about a purported relationship between Alex Rodriguez and Anthony Bosch are not true. Alex Rodriguez was not Mr. Bosch's patient, he was never treated by him and he was never advised by him. The purported documents referenced in the story -- at least as they relate to Alex Rodriguez -- are not legitimate."
Of course, Rodriguez can't deny knowing about that statement of denial, which is public and today looks like it was written by a professional liar. That's the problem with being in an A-Rod camp. Eventually, it will very likely make you look very bad.
The front office changes in Atlanta continue

The Marlins are more likely than you think on our list

Judge finished a distant second in the balloting and he paid respect to the winner
Stanton just won the 2017 NL MVP award but could wind up being dealt this offseason

Altuve is the second Astros player to win a league MVP award

Stanton edged out Joey Votto by a slim margin