ALDS Red Sox-Rays: Game 1 starting lineups and full rosters
The Red Sox and Rays will open their best-of-five ALDS matchup at Fenway Park on Friday afternoon. Here is each team's starting line for Game 1 and full roster for the series.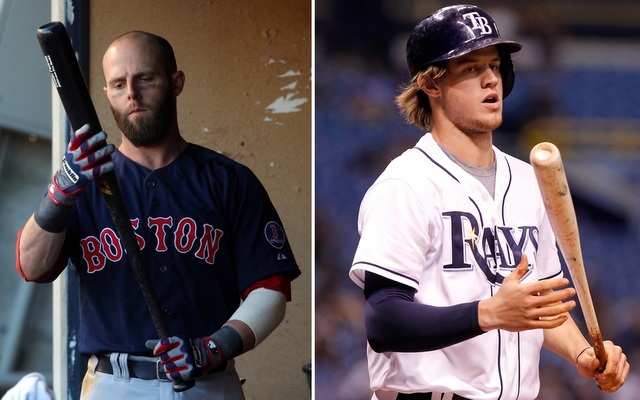 More ALDS: Who has the edge? | Game 1 pitching preview
At 3:07 p.m. ET, the Tampa Bay Rays are set to take on the Boston Red Sox in Game 1 of the ALDS at Fenway Park. Here are the starting lineups and full 25-man roster for each team heading into the series opener.
First, the visiting Rays:
Starting Pitcher: LHP Matt Moore
Bench: C Jose Molina, OF David DeJesus, OF Sam Fuld, 2B/OF Kelly Johnson and OF Matt Joyce.
Pitchers: RHP Chris Archer, RHP Alex Cobb, RHP Jeremy Hellickson, LHP Jake McGee, RHP Joel Peralta, LHP David Price, RHP Fernando Rodney, LHP Alex Torres, RHP Jamey Wright and LHP Wesley Wright.
Now, the home Red Sox:
Starting Pitcher: LHP Jon Lester
Bench: C David Ross, IF Xander Bogaerts, OF Quintin Berry, 1B/OF Mike Carp and 1B/OF Daniel Nava.
Pitchers: LHP Craig Breslow, RHP Clay Buchholz, RHP Ryan Dempster, LHP Felix Doubront, RHP Jake Peavy, RHP John Lackey, LHP Franklin Morales, RHP Junichi Tazawa, RHP Koji Uehara and RHP Brandon Workman.
Granderson heads north of the border for his age-37 season

What did the Pirates get in return for their franchise player?

Rivero could remain in Pittsburgh for some time to come
The White Sox, Angels, Athletics, Orioles and Marlins are the holdouts after Blue Jays fol...

The Pirates have several attractive trade chips if they decide to go into a full rebuild

Gerrit Cole was traded over the weekend and now McCutchen is on the move