All-Time Single-Season Team: Detroit Tigers
We continue or series on all-time single-season teams with the Tigers, and it's a stacked bunch.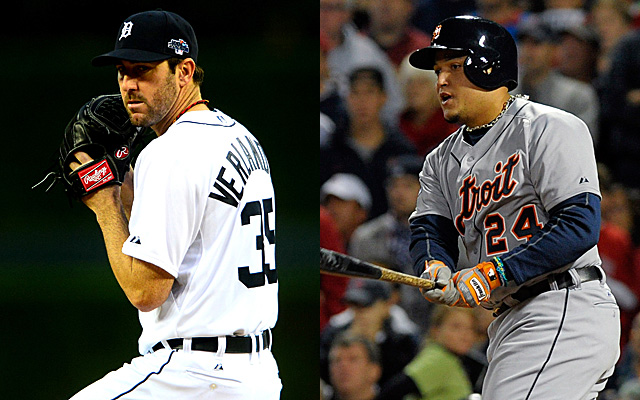 More All-time Single-Season Teams: CHC | STL | MIL | CIN | PIT | CHW
With spring training on the horizon, we're getting there by way of a fun 30-part series, hitting upon one team's All-Time Single-Season team per day. It's time for yet another installment, this one a history-rich franchise.
For those unaware what we're doing with the All-Time Single-Season teams, it's pretty much as straight forward as the name sounds. We're finding the best individual single-season performance at each position per franchise and making an All-Star team of those seasons. See the previous four entries above for more information.
Without further ado, the Detroit Tigers.
CATCHER - Bill Freehan, 1968
In judging the value of Freehan -- the runner-up in AL MVP voting to teammate and 31-game winner Denny McLain -- we need to look much deeper than batting average.
The trusty backstop authored a line of .263/.366/.454 (145 OPS+) with 24 doubles, 25 homers, 84 RBI and 73 runs. He also walked more than he struck out and was hit by a pitch an AL-high 24 times. We need to remember how pitcher-friendly that season was, too, when looking at those numbers. For example, the Tigers led the AL in slugging percentage at .385 and OPS at .692.
Freehan's value was also increased significantly by his great work with the pitching staff, which posted a collective 111 ERA+. The 103-59 Tigers would win the World Series.
Freehan's '68 season topped a few more gems of his own in addition to some Mickey Tettleton, Lance Parrish and Ivan Rodriguez seasons. Rudy York had gaudy power numbers in 1938. Alex Avila's 2011 season, Matt Nokes' 1987, Mickey Cochrane's 1935 and a few Brad Ausmus years also got a look.
FIRST BASE - Norm Cash, 1961
Hank Greenberg was truly one of the greatest hitters baseball has ever seen and had four of the top five options here, but that's the beauty of the single-season team. Sometimes a lesser player has a season that even an immortal didn't touch.
Now, if only the raw numbers are used here, there will be yelling and screaming about Greenberg's 58 homers in 1938 or 183 RBI in 1937 or 170 RBI in 1935, but we have to account for the era in which numbers occurred.
To wit:
In 1938, AL teams hit .281/.358/.415 with an average of 823 runs per team (5.37 per game).
In 1961, AL teams hit .256/.329/.395 with an average of 734 runs per team (4.53 per game).
So keep that in mind here and throughout the series. Being awesome relative to the league is much more important than posting huge counting stats in a gaudy offensive era.
In '61, Cash was overshadowed by Mickey Mantle and, of course, Roger Maris and their home runs, but he led the majors in average, on-base percentage and OPS. He hit .361/.487/.662 (201 OPS+) with 22 doubles, eight triples, 41 homers, 132 RBI and 11 steals. He walked 124 times (including an AL-best 19 intentional walks) against 85 strikeouts.
Some Miguel Cabrera seasons in addition to Cecil Fielder's 51-homer campaign matter here, but it was mostly the one Cash season against four major Greenberg ones.
SECOND BASE - Charlie Gehringer, 1934
Lou Whitaker is underrated, historically, and had some pretty great seasons, but this was all Gehringer.
The Hall of Famer carries the top five -- and six of the top seven -- individual seasons for a second baseman in franchise history according to Fangraphs WAR.
Choosing a Gehringer year isn't a definitive exercise. For me, it came down to 1934 and 1937. Flip a coin:
1934: .356/.450/.517 (149 OPS+), 50 2B, 7 3B, 11 HR, 127 RBI, 134 R, 11 SB, 99 BB, 25 K
1937: .371/.458/.520 (144 OPS+), 40 2B, 1 3B, 14 HR, 96 RBI, 133 R, 11 SB, 90 BB, 25 K
SHORTSTOP - Alan Trammell, 1987
Though he was the runner up that season, a great argument could be made that Trammell deserved the MVP. Playing excellent defense for the AL East champs, Trammell hit .343/.402/.551 (155 OPS+) with 34 doubles, 28 homers, 105 RBI, 109 runs and 21 steals. He walked 60 times while only striking out 47 times in 597 at-bats. It was the type of elite season that could have been the cherry on top of his Hall of Fame case.
Most of the seasons considered were Trammell's, but Carlos Guillen (2004, 2006) and Dick McAuliffe (1964, 1966) made appearances.
THIRD BASE - Miguel Cabrera, 2013
OH MY GOD HOW COULD SNYDER NOT PICK THE TRIPLE CROWN YEAR?!?
Just because Chris Davis exploded in 2013 doesn't mean Cabrera was worse than in 2012. He was actually better and it's too bad we didn't get to see him healthy in September. Those numbers were headed toward obscene pre-injury.
Check the seasons side-by-side.
2012: .330/.393/.606 (164 OPS+), 40 2B, 44 HR, 139 RBI, 109 R, 66 BB, 98 K
2013: .348/.442/.636 (187 OPS+), 26 2B, 44 HR, 137 RBI, 103 R, 90 BB, 94 K
Gimme 2013.
Before Miggy shifted across the diamond for two transcendent seasons, the Tigers' choices here would've likely been between some George Kell, Ray Boone, Travis Fryman and Eddie Yost seasons -- but I didn't dig too deep because Cabrera's last two years were obviously the cream of the crop.
LEFT FIELD - Hank Greenberg, 1940
Did I sufficiently sandbag you with the first base entry? Hopefully! (But seriously, Cash would've been the pick regardless).
Fortunately, we get the Hall of Famer Greenberg here thanks to him shifting to left field in 1940 and winning the AL MVP on the strength of a .340/.433/.670 (171 OPS+) season. He had 50 doubles (MLB best), 41 homers (AL best) and 151 RBI (MLB best), too.
Coincidentally enough, Greenberg actually again faced stiff competition from 1961, this time from Rocky Colavito, as he hit .290/.402/.580 (157 OPS+) with 45 homers and 140 RBI.
Some other names that popped up: Kirk Gibson (when he shifted over in 1987), Bobby Higginson, Bobby Veach, Charlie Maxwell and Goose Goslin.
CENTER FIELD - Ty Cobb, 1911
No one else was even considered. If you want see some other names, here are a few: Al Kaline, Curtis Granderson, Chet Lemon, Sam Crawford. Some (Kaline, Crawford) did better work elsewhere, but it doesn't matter. We're talking about Ty Cobb.
Here's how much better Cobb was than his average peer: He posted an OPS+ of at least 185 nine different seasons in his career. That is, he was at least 85 percent better than his peers at getting on base and hitting for power in nine seasons. Talk about a man among boys.
In 1911, Cobb hit .420/.467/.621 (196 OPS+) with 47 doubles, 24 triples, eight homers, 127 RBI, 147 runs and 83 stolen bases. I would name all the categories in which he led the league, but he did all that almost every year. Seriously, look at his baseball-reference.com page. Bold means he led the league and bold-plus-italics means he led the majors. Take your pick on which season of his to use.
RIGHT FIELD - Harry Heilmann, 1923
Hall of Famers Sam Crawford and Al Kaline had some outstanding seasons. Kirk Gibson posted several very good seasons and Magglio Ordonez was ridiculous in 2007, but Heilmann -- a Hall of Famer in his own right -- takes it with his 1923 performance.
In that season, Heilmann hit .403/.481/.632 (194 OPS+) with 44 doubles, 11 triples, 18 homers, 115 RBI, 121 runs and nine steals. The OPS+ was the second-best in franchise history behind Cash's 1961 season if we exclude Cobb -- which, really, we should because it's not fair how good he was. Heilmann finished third in MVP voting behind Hall of Famers Babe Ruth and Eddie Collins.
DESIGNATED HITTER - Victor Martinez, 2011
Many of the better DH seasons from the Tigers came from players who spent the majority of the time fielding a position (Cecil Fielder, Darrell Evans, Mickey Tettleton, etc.). We're left with Gary Sheffield in 2007 against the two Victor Martinez seasons when judging either full-time or near-full-time DHs.
Feel free to make your own call:
Sheffield '07: .265/.378/.462 (119 OPS+), 20 2B, 25 HR, 75 RBI, 107 R, 22 SB, 84 BB, 71 K
Martinez '11: .330/.380/.470 (131 OPS+), 40 2B, 12 HR, 103 RBI, 76 R, 1 SB, 46 BB, 51 K
Martinez '13: .301/.355/.430 (111 OPS+), 36 3B, 14 HR, 83 RBI, 68 R, 0 SB, 54 BB, 62 K
STARTING PITCHERS - 1944 Dizzy Trout, 1946 Hal Newhouser, 1968 Denny McLain, 1976 Mark Fidrych, 2011 Justin Verlander

This was, needless to say, a ridiculous group. We didn't even have room for Max Scherzer's Cy Young 2013 season, nor several unbelievable Mickey Lolich seasons. Bobo Newsom's 1940 season got a strong look, just as did Hank Aguirre's 1962 season along with several Jim Bunning, Tommy Bridges and Frank Lary years -- in addition to Anibal Sanchez last season and Jack Morris (1979 or 1986 were probably his best shots).
These are our five, though, and some of the closest competitors were different Newhouser and Verlander years.
Trout: 27-14, 2.12 ERA, 167 ERA+, 1.13 WHIP, 144 K, 352 1/3 IP, 33 CG, 7 SHO
Newhouser: 26-9, 1.94 ERA, 190 ERA+, 1.07 WHIP, 275 K, 292 2/3 IP, 29 CG, 6 SHO
McLain: 31-6, 1.96 ERA, 154 ERA+, 0.91 WHIP, 280 K, 336 IP, 28 CG, 6 SHO
Fidrych: 19-9, 2.34 ERA, 159 ERA+, 1.08 WHIP, 97 K, 250 1/3 IP, 24 CG, 4 SHO
Verlander: 24-5, 2.40 ERA, 172 ERA+, 0.92 WHIP, 250 K, 251 IP, 4 CG, 2 SHO
Newhouser won the MVP back-to-back seasons prior to the one we actually picked (he finished second to Ted Williams in 1946, and there's no shame in that). Any one of the three seasons would work.
It'll be interesting to see how this shakes out, but we aren't likely to see many groups of starting pitchers with three MVPs (McLain and Verlander also won the award). This is quite the elite bunch.
RELIEF PITCHERS - 1973 John Hiller, 1979 Aurelio Lopez, 1984 Willie Hernandez

Uh oh, no Papa Grande -- so I'll surely hear about that one. Yes, I'm aware Jose Valverde converted all 49 of his save chances in 2011. It was impressive but also involved some (I said some!) mirrors and a little (I said a little!) smoke. I like my three guys better and it's not really that close.
Hiller went 10-5 with a 1.44 ERA (283 ERA+), 1.02 WHIP and 124 strikeouts in 125 1/3 innings in 1973. He also closed down 38 of his 42 save chances, back in the day when closers were often asked to get more than three outs.
In his first season with the Tigers, the late bloomer Lopez was outstanding. He worked 127 innings in relief, pitching to a 2.41 ERA (181 ERA+) and 1.15 WHIP. He racked up 10 wins and 21 saves and his WAR tallies show one of the best relief seasons in franchise history.
Right or not, Hernandez marks yet another MVP on this list (and I'm strenuously anti-closers in MVP voting, but that's a different topic for a different day). He was 9-3 with a 1.92 ERA (204 ERA+), 0.94 WHIP and 112 strikeouts in 140 1/3 innings pitched. Yes, nearly double the workload closers these days work in a season. He saved 32 games and didn't blow a save until Sept. 28, when the first batter he faced plated a sac fly -- in a game the Tigers would eventually win. Incredible season.
Some other names that surfaced in our search: Todd Jones, Joel Zumaya (his 2006 rookie season showed such great promise -- such a shame about his arm), Mike Henneman and obviously Valverde. Also, Drew Smyly and Joaquin Benoit were both excellent last season and deserve mention.
---
THE LINEUP
1. 1911 Ty Cobb, CF
2. 1923 Harry Heilmann, RF
3. 2013 Miguel Cabrera, 3B
4. 1961 Norm Cash, 1B
5. 1940 Hank Greenberg, LF
6. 1934 Charlie Gehringer, 2B
7. 1987 Alan Trammell, SS
8. 2011 Victor Martinez, DH
9. 1968 Bill Freehan, C
Team that with the pitching staff and this is one of the better ones we'll see in the entire series. My guess would be top five.
Next up: Kansas City Royals. Think a dude named George might be on there somewhere?
"The situation the game was in, they might have been searching for something and they found...

Plus the Phillies won again. Here's everything you need to know from the world of baseball...

He thought Marcus Semien's dropped pop-up was ruled a hit a few innings earlier
The Red Sox were the hottest team in baseball going into the game

The Super Bowl party is far from over in Philadelphia

Torres came over from the Cubs in the Aroldis Chapman trade