All-Time Single-Season Team: Pittsburgh Pirates
It's time to run through the all-time single-season team for the Pirates. How does an outfield of Andrew McCutchen, Barry Bonds and Roberto Clemente sound?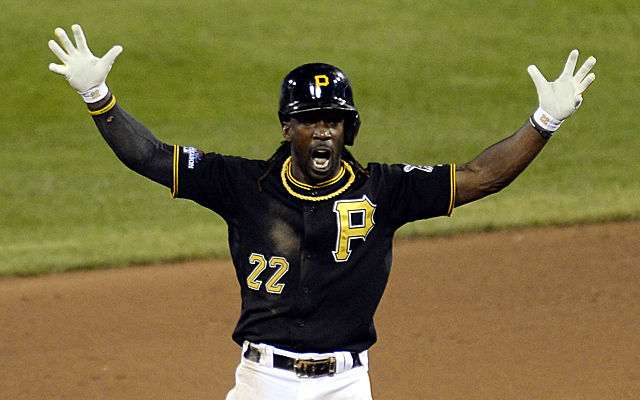 More All-time Single-Season Teams: CHC | STL | MIL | CIN
With spring training on the horizon, we're getting there by way of a fun 30-part series. It's time for the fifth installment.
For those unaware what we're doing with the All-Time Single-Season teams, it's pretty much as straight forward as the name sounds. We're finding the best individual single-season performance at each position per franchise and making an All-Star team of those seasons. See the previous four entries above for more information.
A few quick housekeeping items:
1. Many of the pre-1900 years included underhanded pitching and several other stark contrasts from today's game, so it's unlikely we'll include many, if any, players from the very early era.
2. We're only going to use an individual player once, even if he jumped positions and still may have qualified in several places.
And now, those pesky Pittsburgh Pirates, fresh off their first playoff season in two decades.
CATCHER -- Jason Kendall, 1998
This one snuck up on me, despite the fact that I was a young adult through Kendall's prime. I think the reason is because he tailed off so quickly. In looking at the first five years of his career, it appeared Kendall was destined for greatness (seriously, don't scoff before clicking on that link).
In '98, Kendall hit .327/.411/.473 (131 OPS+) with 36 doubles, 12 homers, 75 RBI, 95 runs and 26 stolen bases. And while he wasn't outstanding behind the dish, he was a quality defensive backstop.
Tony Pena was an excellent defender and had several good offensive seasons as well. In addition to a handful of Pena and Kendall seasons each, Manny Sanguillen in the 1970s was heavily considered. I also thought about Russell Martin this past season for a split second. Sure, low batting average, but he also did an excellent job in bringing along that pitching staff while providing clutch power.
FIRST BASE -- Willie Stargell, 1972

The best offensive season for Pops was probably 1973 -- when he led the majors in doubles, homers, RBI, slugging, OPS and OPS+ -- but he only played left field that time around. So we had to go hunting elsewhere. In fact, he was a left fielder in his second-best season, too, which was 1971.
Being "forced" to use 1972, though, isn't that bad. The Hall of Famer hit .293/.373/.558 (164 OPS+) with 28 doubles, 33 homers, 112 RBI and 75 runs, good for a third-place finish in MVP voting.
There actually wasn't a ton of competition here. Most of the better first basemen in club history spent more time elsewhere on the diamond. Walk machine Elbie Fletcher was ahead of his time from 1940-43, so I'm guessing he was underrated. Dick Stuart in 1961 was solid, Gus Suhr had some good seasons in the 1930s and how about some power from recent memory? Remember Jeff King (30 HR, 111 RBI in 1996) and Kevin Young (very good 1999 season)?
SECOND BASE -- George Grantham, 1930

This was a tough one. Bill Mazeroski's 1958 season was heavily considered, as were three Johnny Ray years in the mid-1980s. Grantham's offense in 1930 pushes him over the top here for me, though I wouldn't strongly argue with dissent.
Grantham hit .324/.413/.534 (127 OPS+) with 34 doubles, 14 triples, 18 homers, 99 RBI, 120 runs and five steals. Yes, offense was booming at the time, but note the OPS+, which normalizes for that.
Also in the mix were some real early Pirates like Dots Miller, Claude Ritchey and Jim Viox along with Phil Garner and Rennie Stennett (specifically 1977) in the 1970s. And, of course, a handful more Mazeroski seasons due to his excellent glove.
SHORTSTOP -- Honus Wagner, 1908
Hall of Famer Arky Vaughan's ridiculous 1935 season would be the easy pick for many teams. He hit .385/.491/.607 (190 OPS+) with 34 doubles, 10 triples, 19 homers, 99 RBI and 108 runs. He led the league in all three major rate stats along with walks (he walked 97 times against only 18 strikeouts).
The problem is Vaughan is stuck behind the best shortstop in baseball history.
Vaughan was playing when offense was booming in the '30s while Wagner was mired in the Dead Ball era. In 1908,Wagner hit .354/.415/.542 (205 OPS+) with 39 doubles, 19 triples, 10 homers, 109 RBI, 100 runs and 53 stolen bases.
To put that line in perspective: Wagner led the NL in hits, doubles, triples, steals, average, on-base percentage, slugging percentage, OPS, OPS+, total bases and probably about 20 other categories if we kept going into more advanced metrics. Of the categories I listed, he led the entire majors in all but triples. All this while playing what historical studies indicate to be outstanding defense at a premium position.
It was truly one of the best individual seasons in baseball history. In fact, if you're into that sorta thing, Wagner's 11.5 WAR that season is tied for the 11th best in the history of baseball among position players. If we exclude Babe Ruth, it's tied for sixth.
The only other even slight considerations were other Wagner or Vaughan seasons (sorry Jay Bell!).
THIRD BASE -- Jimmy Williams, 1899

We're mostly staying away from the pre-1900 crowd, but this is just one year and there weren't any seasons in the history of the Pirates really approaching this one from Williams. It was his rookie year and Williams hit .354/.416/.530 (158 OPS+) with 28 doubles, an MLB-best 27 triples, nine homers, 116 RBI, 126 runs and 26 stolen bases.
Otherwise, we could look at Hall of Famer Pie Traynor, but his Hall case was based almost purely on batting average and he built that average in a time where batting averages in the league were very inflated. He never finished better than fifth in average in his league and his OPS+ only topped 120 once (124 in 1930).
Some other good ones were Richie Hebner in 1972, Bill Madlock in 1982, Aramis Ramirez in 2001, Freddy Sanchez in 2006, a couple Don Hoak seasons and a few Bobby Bonilla seasons.
LEFT FIELD -- Barry Bonds, 1990
There was some strong competition here from Stargell and Ralph Kiner. We removed Stargell from the equation above at first base, so it's just Bonds in '90 against Kiner in 1949. I'm open to arguments here as this is subjective and there is no right answer, but I'm going with the all-around talent.
It's easy to forget what Bonds was considering what he became, but Barry Bonds in 1990 was similar to a middle-of-the-order Mike Trout. He hit .301/.406/.565 (170 OPS+) with 32 doubles, 33 homers, 114 RBI, 104 runs and 52 stolen bases. He was the MVP and won a Gold Glove and a Silver Slugger. Basically, he was awesome at everything.
Kiner has the case when it comes to home run power (he only had 19 doubles that year, so he was mostly a one-trick pony), but I'm going all-around player this time.
On the periphery here were some Brian Giles and Jason Bay years, but I never really considered any season from anyone other than Bonds, Kiner or Stargell for obvious reasons.
CENTER FIELD -- Andrew McCutchen, 2013
The runner-up? Andrew McCutchen, 2012. If you want to flip them, go ahead. Either one works.
Look, I love me some Andy Van Slyke and there are certainly seasons from Max Carey (check him out) that got a look, but Cutch is the gold standard here at this position in the storied Pirates franchise.
There's little reason to rehash the past two seasons McCutchen put up. We just witnessed them. So let's keep moving.
RIGHT FIELD -- Roberto Clemente, 1967
It's Momen, baby.
There was some competition from Hall of Famer Paul Waner, Kiki Cuyler's amazing 1925 campaign and a few Dave Parker years, but I was not going to put together a Pirates team without Clemente on the roster. Plus, his 1967 season mertis selection anyway.
Much like we saw with a few Reds, Clemente won the MVP in 1966, but he was actually better the following season. He hit .357/.400/.554 (171 OPS+) with 26 doubles, 10 triples, 23 homers, 110 RBI, 103 runs, nine steals and his standard Gold Glove defense. He had 17 assists from right field, an amazing tally considering that by this point in his career (his 13th season) he was rarely challenged by runners trying to take an extra base.
STARTING PITCHERS -- 1903 Deacon Phillippe, 1911 Babe Adams, 1927 Ray Kremer, 1935 Cy Blanton, 1965 Vern Law

The lines:
Phillippe: 25-9, 2.43 ERA, 135 ERA+, 1.03 WHIP, 123 K, 289 1/3 IP, 31 CG, 4 SHO
Adams: 22-12, 2.33 ERA, 147 ERA+, 1.01 WHIP, 133 K, 293 1/3 IP, 24 CG, 6 SHO
Kremer: 19-8, 2.47 ERA, 168 ERA+, 1.14 WHIP, 63 K, 226 IP, 18 CG, 3 SHO
Blanton: 18-13, 2.58 ERA, 159 ERA+, 1.08 WHIP, 142 K, 254 1/3 IP, 23 CG, 4 SHO
Law: 17-9, 2.15 ERA, 163 ERA+, 1.00 WHIP, 101 K, 217 1/3 IP, 13 CG, 4 SHO
Law won the Cy Young in 1960, which shows the power of 20 wins in addition to how circumstances can dictate finishes. His rate stats in 1965 were better across the board and he didn't even get one vote in Cy Young voting. Why? Well, Sandy Koufax won the award unanimously and the writers only voted for one player on each ballot at the time.
As is going to happen throughout the series, the starting pitchers seasons list is going to draw the most "how could you forget about _____?!?!" comments. We didn't forget. We had to sift through hundreds of worthy individual seasons. Some, but not even close to all, the names we sorted through: Vic Willis, Bob Veale, Bob Friend, John Candelaria (check 1977), Burleigh Grimes, Rick Reuschel, Jack Chesbro, Doug Drabek and, had he not been traded in 1996, Denny Neagle. Oh, and 2004 Oliver Perez was actually pretty awesome, too, if we wanna throw in a more recent name.
RELIEF PITCHERS -- 1959 Roy Face, 1977 Goose Gossage, 2013 Mark Melancon

If you ignore W-L record for relievers (recommended 99.9 percent of the time), Roy Face had better seasons than 1959 -- at least one, maybe two. During that 1959 season though, he had a 2.70 ERA, 1.24 WHIP and 69 strikeouts in 93 1/3 innings. He also accrued 10 saves. So that's some quality work. He was also 18-1 without having made a start.
That record in relief is unbelievable to me. I'm not even gonna fight it this time. He makes it based upon that. Sue me.
Gossage only played one season with the Pirates, but it actually may have been his finest hour (I would say yes over the 1981 strike-shortened season due to workload). Gossage worked 133 innings out of the bullpen, pitching to a 1.62 ERA (244 ERA+) and 0.96 WHIP. He struck out 151 (good for a career-high 10.2 K/9). Opposing hitters managed just a .170 batting average against him that year.
After Gossage's campaign, Melancon's work this past season was good for the second-most valuable relief performance in club history, according to Fangraphs' WAR. Those of us who saw it aren't surprised. Not only was Melancon one of baseball's elite setup men until Jason Grilli was injured, but once Grilli did fall, Melancon transitioned to the closer role with ease. There was a rough patch in September, but that doesn't negate the entire previous body of work.
---
THE LINEUP
1. 1908 Honus Wagner, SS
2. 2013 Andrew McCutchen, CF
3. 1990 Barry Bonds, LF
4. 1967 Roberto Clemente, RF
5. 1972 Willie Stargell, 1B
6. 1899 Jimmy Williams, 3B
7. 1930 George Grantham, 2B
8. 1998 Jason Kendall, C
Not quite as impressive as the overall franchise because they're backlogged at a few positions while not having an all-time season at some others. Basically, this is a lineup that doesn't do the history of the franchise justice.
Next up: The Chicago White Sox
CBS Sports HQ Daily Newsletter
Get the best highlights and stories - yeah, just the good stuff handpicked by our team to start your day.
Please check the opt-in box to acknowledge that you would like to subscribe.
Thanks for signing up!
Keep an eye on your inbox for the latest sports news.
Sorry!
There was an error processing your subscription.
Keep it right here for all of Sunday's MLB action

Our advanced computer model simulated Sunday's Yankees vs. Angels game 10,000 times

Plus Dustin Pedroia made his 2018 debut. Here is everything you need to know about Saturday's...
Trout set new career bests in hits and total bases, among other things

SportsLine's Mike McClure, a DFS pro with more than $1M in winnings, gives optimal lineup...

Reyes missed last season with Tommy John surgery