All-Time Single-Season Team: Texas Rangers
Our offseason series continues apace with the best single-season performances at each position by those who have worn the colors of the Rangers.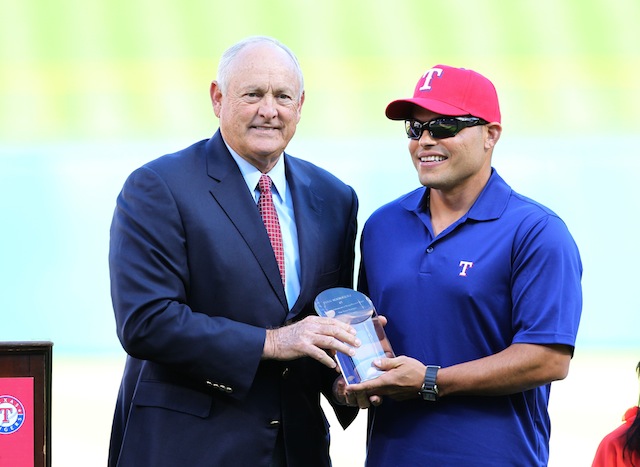 ALL-TIME SINGLE-SEASON TEAMS: CHC | STL | MIL | CIN | PIT | CHW | DET | KCR | CLE | MIN | ARI | COL | SD | LAD | SF | SEA | HOU | LAA
Let the people rejoice: For it is time for another entry into out All-Time Single-Season Teams series! What's this, you ask? Regard:
Obviously, the term "single-season" implies that we're focused on brilliance within the confines of one campaign and not, say, career value or even value across a handful of seasons in the same uniform. While this is no doubt a largely subjective undertaking, please bear that in mind before airing objections. Or not. Whatever.

Also, we're largely limiting the selections to those of modern era (i.e., from 1900 onward) in large part because the "primordial soup" days of the sport bear only the most basic resemblances to the game played today. That's more a general principle than hard-and-fast rule, though. As well, a player can appear only once on the team in question. So even those who excelled at multiple positions over the years will be assigned one spot and one spot only.
Today's team is ... the Rangers. The Rangers have been in existence in their present form since the 1972 season, but they played as the second iteration of the Washington Senators from 1961-71. As such, those who played for Senators in those years will be eligible for inclusion.
Onward ...
CATCHER - Ivan Rodriguez, 1999
Obviously, Pudge was going to take these honors, and as for specifics I'm going with his AL MVP season of 1999. That year, he batted .332/.356/.558 (125 OPS+) with 35 homers. And know that those numbers weren't largely a consequence of hitter-friendly Arlington, as Rodriguez in '99 hit 23 homers on the road and had an OPS that was 35 points higher than his home mark.
As for his catching skills, Rodriguez cut down a whopping 55 percent of opposing would-be base-stealers versus an MLB average of 33 percent. Pudge was also durable enough to spend more than 1,200 defensive innings behind the plate. 
Runners-up include more Pudge seasons, 1978 Jim Sundberg and 2011 Mike Napoli. 
FIRST BASE - Mark Teixeira, 2005
Rafael Palmeiro is the obvious go-to here, but we're sparing him for another spot. Instead, the honor goes to Teixeira, who in his age-25 season of 2005 batted .301/.379/.575 (144 OPS+) with 87 extra-base hits and an AL-leading 370 total bases in 162 games played. Tex also claimed the first of his five career Gold Glove awards. 
Besides Palmeiro, I also considered Mike Hargrove in 1977. 
SECOND BASE - Julio Franco, 1991
This one wasn't easy. Ian Kinsler in 2011 has a strong case, as he produced at the plate and on the bases and was also a somewhat better defender than Franco at this up-the-middle position. However, Franco's offense earns him the nod in this instance. In '91, Franco won the batting title with an MLB-leading .341 batting average, and he also chipped in an OBP of .408 and a SLG of .474 (146 OPS+) with 15 homers and a career-best 269 times on base. On the bases, Franco swiped 36 bags in 45 attempts and took the extra base an impressive 57 percent of the time. 
SHORTSTOP - Alex Rodriguez, 2001
Abide him or detest him, A-Rod is the indisputable choice here. The only question is which season to choose. I'll go with his first campaign in Texas, when he batted .318/.399/.622 (160 OPS+) with 52 homers, 34 doubles, 133 runs scored, 135 RBI and an AL-leading (and career-best) 393 total bases. Additionally, A-Rod stole 18 bases in 21 attempts, played in 162 games and provided standout defense at short. That he finished just sixth in the AL MVP balloting says more about the process than it does his season. As for the PED use, it's acknowledged, obviously, but it's not part of the criteria for this exercise. Rodriguez's 2002 and 2003 seasons also would be defensible choices. 
THIRD BASE - Adrian Beltre, 2012
Beltre is of course a purveyor of top-tier defense at the hot corner, and in 2012 the bat was also operating at a high level. In 156 games, Beltre batted .321/.359/.561 (139 OPS+) with 36 homers and 339 total bases. For his troubles, he finished third in the AL MVP vote and took home the Gold Glove.  
Elsewhere, a number of Buddy Bell seasons merit mention, as do Toby Harrah in '77 and Beltre again last season. 
LEFT FIELD - Frank Howard, 1969
Tough, tough call here. Josh Hamilton in his MVP season of 2010 spent the healthy majority of his defensive innings in left field, but in the service of a stronger team (and because center field is a bit of a weak spot), I'm deploying him up the middle. The discussion, then, comes down to the afore-highlighted Frank Howard of the Washington Senators and Juan Gonzalez in his second MVP season of 1998 (in which he was modestly better than he was in his first MVP season of 1996). Let's compare: 
Howard in '69: 702 PA, .296/.402/.574, 178 OPS+, 48 HR, 340 TB, 111 R, 111 RBI
Gonzalez in '98: 669 PA, .318/.366/.630, 149 OPS+, 45 HR, 382 TB, 110 R, 157 RBI  
These were different eras, of course, and Howard's OPS+ demonstrates that he was, by a fairly wide margin, a more productive hitter relative to the league than was Gonzalez. There are of course the RBI totals to be considered, however, flawed that stat might be. Gonzalez's excellence with runners on that season is not to be dismissed, but part of the divide can be explained by opportunities: Gonzalez had 519 runners on base during his 1998 plate appearances (253 in scoring position), while Howard had 448 on base during his (198 in scoring position). Context matters, especially with a team-dependent counting stat like RBI. 
Neither was much a of a defender, but Gonzalez wasn't quite as bad as Howard was. Still, it's a non-premium position we're talking about. In the end, Howard's edge with the bat is such that I'll go with him by a hairsbreadth over Gonzalez. Also, "Capital Punisher" is a sublime nickname. 
Finally, let us not move on without giving a nod of recognition to Rusty Greer in 1997 and Al Oliver in 1980. 
CENTER FIELD -  Josh Hamilton, 2012
As mentioned, I'm passing on Hamilton's MVP season of 2010 because he spent more time in left field that year. In 2012, however, Hamilton was a primary center fielder, and -- again, as mentioned -- in the interest of fielding the best team possible, I'm deploying him in center rather than considering him for the the already stacked position of left field. In '12, Hamilton logged 636 plate appearances (a high total for him) and batted .285/.354/.577 with a career-high 43 homers, 103 runs scored and 128 RBI. 
Other mentionables include 1984 Gary Ward, 2006 Gary Matthews Jr., 1964 Don Lock and 1980 Mickey Rivers. 
RIGHT FIELD - Jeff Burroughs, 1974
Burroughs was your AL MVP in '74, and it was indeed an excellent season for him: .301/.397/.504 (162 OPS+) with 25 homers, 263 times on base (good for second in the AL) and an AL-leading 118 RBI. As well, Burroughs that year batted .354/.434/.578 with runners in scoring position, and he batted .393/.438/.607 in high-leverage (i.e., clutch) situations. 
Others considered include Fred Valentine in 1966, Ruben Sierra in 1989, Nelson Cruz in 2010 and Bobby Bonds in 1978. 
DESIGNATED HITTER - Rafael Palmeiro, 1999
Brandish thine outrage: For it is Raffy! This was the year in which Palmeiro was awarded the Gold Glove at first base despite playing just 28 games at the position. That is to say, he was a primary DH. Tasked with doing nothing more than hit, he hit: .324/.420/.630 (160 OPS+) with 47 homers, 148 RBI and 97 walks. There was also no platoon weakness to be found, as Palmeiro that season authored a .900 OPS against lefties. 
STARTING PITCHERS - 1974 Fergie Jenkins, 1978 Jon Matlack, 2013 Yu Darvish, 1977 Bert Blyleven, 1991 Nolan Ryan
We've got three Hall of Famers among these five hurlers, so there's that. Now to the numbers …
Jenkins: 25-12, 2.82 ERA, 126 ERA+, 1.01 WHIP, 328 1/3 IP, 225 K, 29 CG, 6 SHO
Matlack: 15-13, 2.27 ERA, 165 ERA+, 1.12 WHIP, 270 IP, 157 K, 18 CG, 2 SHO
Darvish: 13-9, 2.83 ERA, 145 ERA+, 1.07 WHIP, 209 2/3 IP, 277 K, 0 CG, 0 SHO
Blyleven: 14-12, 2.72 ERA, 151 ERA+, 1.07 WHIP, 234 2/3 IP, 182 K, 15 CG, 5 SHO
Ryan: 12-6, 2.91 ERA, 140 ERA+, 1.01 WHIP, 173 IP, 203 K, 2 CG, 2 SHO
Jenkins, by a comfortable margin, has the highest single-season WAR of any pitcher in Rangers history. In '74, the rangy right-hander of course won 25 games, and he also topped the majors with those 29 complete games and led MLB with a sparkling K/BB ratio of 5.00. Jenkins also worked a career-high 328 1/3 innings that season. For his efforts, he finished second in the AL Cy Young balloting to Catfish Hunter, who, coincidentally, also went 25-12.
Matlack is the worthy no. 2 man with his 165 ERA+ across 270 frames. That season, the lefty notched a quality start in 82 percent of his appearances. Darvish last year missed bats like no one else in baseball (his K% -- strikeouts as a percentage of batters faced -- of 32.9 easily topped MLB) and did a quality jobs of keeping runs off the board (note the ERA+, and he allowed just two unearned runs all season). As for Blyeven, in addition to the numbers noted above, he also notched a complete game in exactly half of his 30 starts.
Ryan makes the list in part because it's difficult to imagine his not being on any kind of all-time Rangers team. In his age-44 season, Ryan posted one of the best ERA+ marks of his career, and while the innings total isn't high, note that he's the fifth starter on this team. As was always the case with him, he exhibited little control but made hitters miss. 
Tough to leave off were names like Ken Hill in 1996, Charlie Hough in 1985, Matt Harrison in 2012, Kenny Rogers in 1995, Dick Bosman in 1969 and C.J. Wilson in 2011. 
RELIEF PITCHERS - 1979 Jim Kern, 2013 Joe Nathan, 2013 Neal Cotts
Check out Kern's outputs from '79: 143 IP (!), 1.57 ERA, 264 ERA+, 136 K. Of his 71 appearances, 49 spanned longer than an inning. That's a relief ace.
Last season, Nathan, the closer, and Cotts, the lefty, combined to allow just 18 runs in 121 2/3 innings.
Other possibilities include 1999 Jeff Zimmerman, 2004 Francisco Cordero, 1985 Greg Harris and 1970 Darold Knowles. 
---
THE LINEUP
1. Julio Franco, 1991
2. Josh Hamilton, 2012
3. Alex Rodriguez, 2001
4. Rafael Palmeiro, 1999
5. Frank Howard, 1969
6. Mark Teixeira, 2005
7. Jeff Burroughs, 1974
8. Adrian Beltre, 2012
9. Ivan Rodriguez, 1999 
Runs, they will be scored. 
Coming Friday: The Athletics
CBS Sports HQ Daily Newsletter
Get the best highlights and stories - yeah, just the good stuff handpicked by our team to start your day.
Please check the opt-in box to acknowledge that you would like to subscribe.
Thanks for signing up!
Keep an eye on your inbox for the latest sports news.
Sorry!
There was an error processing your subscription.
The Cubs lead the Cardinals in the standings, but a five-game set against St. Louis will be...

Manfred named a few viable markets for expansion

The other award races are pretty close too
The other award races are a little more wide open

Hader will attend sensitivity training and partake in the league's diversity and inclusion...

The Brewers reliever says he's ready for any consequences as a result of the insensitive t...