Brandon Phillips' comments to magazine spur controversy
Brandon Phillips recently said his six-year, $72.5-million contract extension was a slap in the face.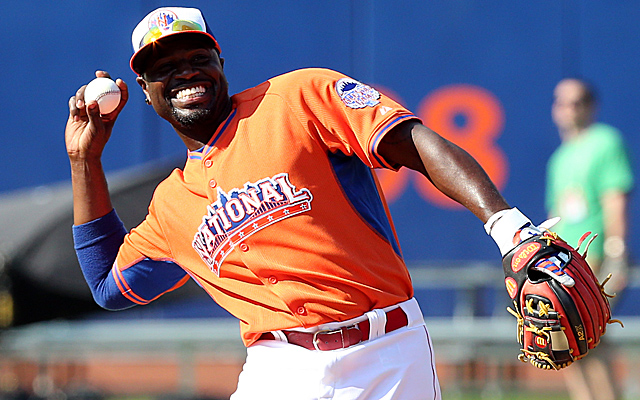 More MLB: Scoreboard | Standings | Probable Pitchers | Sortable Stats | Odds
In a recent feature for Cincinnati Magazine, Reds second baseman Brandon Phillips made some comments that raised eyebrows. Specifically on the contracts of himself and teammate Joey Votto.
Here are the snippets:
"I thought I was gone. I thought that everything I did for this city -- the city that I love -- I thought I wasn't gonna come back."

-snip-

"I just feel like they didn't have to sign Joey to that contract. He still had two more years on his," says Phillips. "And for [the front office] to go out there and sign him before they sign me, and they knew I was going to be a free agent?" Phillips shakes his head. "I understand Joey's a good player. He's one of the best players in this game. But I feel like I am too. I told them that this is where I wanted to be. I begged them. I told everybody I want to finish my career here. And then they give someone a contract who didn't ask for nothing?"

-snip-

"To this day, I'm still hurt. Well, I don't wanna say hurt. I'll say scarred. I'm still scarred. It just sucks that it happened," he says. "For [Castellini] to sign somebody for $200 million, there must be a new vegetable or fruit coming out that we don't know about. For him to do something like that and tell me they didn't have any more money, that's a lie. But what can I do? I just feel like it was a slap in my face."

-snip-

"But how can someone slap you in the face with all that money?" he finally says, the smile returning to its rightful location. "It's a nice slap in the face."
Saturday, Phillips was questioned about the comments -- notably the "slap in the face" one, considering he signed a contract that pays him eight figures per season through 2017.
"I have nothing to get off my chest. What did I say wrong? Please tell me, what did I say wrong? I want to know what I said wrong. Please tell me. I want everyone to tell me exactly what did I say that was so wrong?" Phillips said (via USAToday.com).
Well, I don't want to speak for the people up in arms about this, Brandon, but my best guess is that a person who gets paid to play baseball saying a process that ended with a six-year, $72.5-million contract extension was a "slap in the face" made some hard-working folks who make five figures a year a bit offended. Just a guess.
Or there's this: Phillips is a very good baseball player. He's a deserving All-Star, but that's where it stops. Joey Votto is an MVP-caliber, elite-level superstar who is more than two years younger than Phillips.
There is absolutely nothing wrong with being honest, so I'll be honest in return to Phillips. Believing he should be compensated even in the same ballpark as Votto is laughable. Votto is hitting .319/.436/.506. Phillips is at .266/.320/.414. The only stat this season that says Phillips is superior to Votto is RBI, and he has Votto's NL-best on-base percentage to thank for that.
For what it's worth, Votto supported his teammate and said it makes him like Phillips even more -- due to the honesty factor instead of not speaking his mind. And there is something to be said for that. I don't personally have a problem with Phillips' speaking his mind, either, but he's unbelievably overrating his value. He's fairly compensated. I am glad Phillips admitted that it's a "good slap in the face," because anyone can feel free to slap me in the face with over $70 million as many times as they want.
Gonzalez was reportedly killed in a car crash in Cuba

Our Black Friday FA shopping guide includes a starting pitcher, slugger, super sub, and re...

Get 15 percent off any order of more than $75 at CBS Sports Shop
Need a gift for someone who loves baseball? We're here to help as the holidays approach

Several prominent Japanese-born Mariners and ex-Mariners have said they will help as well

Get your sports fans something that they'll wear all year