Did the Hank Aaron Award get it right? Does anyone care?
Miguel Cabrera and Buster Posey were presented with the Hank Aaron Award on Saturday. But were they the right choices? And does anyone care?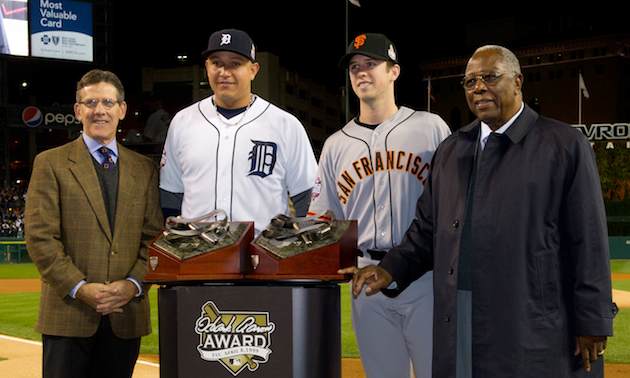 Hank Aaron handed out the hardware to Miguel Cabrera and Buster Posey before Game 3 of the World Series. (Getty Images)
In two weeks we're going hear people rail against the Baseball Writers Association of America's votes on its major awards for each league -- the Most Valuable Player, Cy Young, Rookie of the Year and Manager of the Year. But Saturday night Major League Baseball made a curious pick for one of its awards and nary a peep was heard.
The Hank Aaron Award was given to Miguel Cabrera and Buster Posey before Saturday night's Game 3 of the World Series.
From MLB.com, here's the description of the award:
This coveted honor is awarded annually to the best overall offensive performer in both the American League and National League. Originally introduced in 1999 to honor the 25th anniversary of Hank Aaron breaking Babe Ruth's all-time home run record, the Hank Aaron Award was the first major award to be introduced in 30 years.
Unlike the MVP or other awards, the Hank Aaron Award is given by Major League Baseball, while the MVP, Cy Young, Rookie of the Year and Manager of the Year are awarded by the BBWAA and the Gold Gloves are given out by Rawlings.
The Hank Aaron Award's selection process has changed over time. The first season, 1999, it was based on a points system, using hits, home runs and RBI. The next season, voting was introduced. Currently, fan voting counts equal to a five-man panel that consisted of Aaron himself, Tony Gwynn, Paul Molitor, Joe Morgan and Robin Yount. That group chose from one candidate from each team and then chose a winner for each league.
The results? Well, Cabrera was going to win the American League version, that much was certain. There are questions about how valuable he may have been in comparison to Mike Trout, but nobody is arguing (at least that I've heard) that Trout had a better offensive season than Cabrera.
Now, the National League decision should have raised some eyebrows.
To me, there were two choices:
Player A: .336/.408/.549 178 H, 24 HR, 103 RBI, 39 2B, 1 3B, 69 BB, 96 K, 172 OPS+, 1 SB, 78 R
Player B: .319/.391/.595 191 H, 41 HR, 112 RBI, 36 2B, 3 3B, 63 BB, 128 K, 159 OPS+, 30 SB, 108 R
Both players were certainly worthy, but if you're talking offensive output, I think I'd choose Player B. The fans and Hall of Famers chose Player A.
What makes it interesting is that Player B is Ryan Braun. Braun has a case for the MVP, an award he won last year. However, he also had the whole PED test fiasco last offseason as well. Some of have speculated the BBWAA would hold that against him in MVP voting this year. (Full disclosure: I had a National League MVP ballot this year and although we are asked not to divulge our ballots before voting is announced, I will say Braun's offseason had zero impact on my voting and he was among the 10 names I submitted.)
Because of the nature of the Hank Aaron Award voting, there's no telling how close it was or how much consideration Braun was given. In the BBWAA's case, full voting is released -- including individual ballots -- when requested, in an attempt at full transparency. This voting process has little to no accountability, and in the end that may be why there's no controversy, either.
The BBWAA awards are the ones that we care about, the ones we argue about and the ones we remember. That's, in part, because they're the ones done the best. Do I always agree? No. But I know, at least, when I vote (I have voted for the Cy Young, MVP and Manager of the Year in the past), I spend a lot of time thinking and studying the candidates, and never have off-the-field issues come into my decision. I take that vote seriously, and I believe my fellow voters do as well, which is why we welcome the transparency. When the managers and coaches hand out a Gold Glove to a DH (like Rafael Palmeiro in 1999 or to Derek Jeter or Michael Young more because of their bat than their glove), there is no way to see where the votes came from or even how close the voting was.
In a couple of weeks, you will be able to see which voters held Braun's reported failed drug test and successful appeal against him in MVP voting (I don't think it will be enough to have impacted his overall chances at the award, but I could be wrong) and who didn't. Braun had one of the best seasons of any player in the National League this season, and unquestionable had a top-10 performance -- and should be (but probably won't be) on every ballot. Whether he was the most valuable? That's up for debate -- as is his standing as the best offensive player in the league. But the fact that nobody's talking about the Hank Aaron Award results may say more about the award than anything else.
For more baseball news, rumors and analysis, follow @EyeOnBaseball on Twitter, subscribe to the RSS feed and "like" us on Facebook.