GLENDALE, Ariz. -- A.J. Ellis has been a member of the Dodgers organization for 13 years. An 18th-round draft pick, he didn't make his major league debut until age 27, didn't nail down an everyday job until his age-31 season. He's played through the Joe Torre and Don Mattingly eras, the Frank McCourt and Ned Colletti regime. Now in his final year before free agency, Ellis is playing for another new manager, under a front office that includes about 87 former GMs.
Add an ownership group that spent more than $2 billion to acquire the team and spent about $300 million on player payroll last year, and you have some pretty damn high stakes.
"I don't need to watch Kirk Gibson hit a walk-off home run in Game 1 any longer to know when was the last time we've won a World Series," said Ellis.
The consensus holds that the Dodgers have a worse chance of ending that World Series drought in 2016 than they did in 2015, when they bowed out in the NLDS. Zack Greinke followed his Koufaxian season by signing a six-year, $206.5 million deal with the Diamondbacks. That move shocked the baseball world, given the Dodgers' seemingly unlimited resources. When the Dodgers opted to plug that hole by signing Scott Kazmir (a capable veteran left-hander but also a pitcher with a track record so muddled that four years ago he pitched for the indy league Sugar Land Skeeters and the Gigantes de Carolina of the Puerto Rican Professional Baseball League) and Kenta Maeda (a promising Japanese right-hander though also a pitcher with injury concerns and no pitching experience in the Western Hemisphere) rather than re-signing Greinke or reeling in David Price, much of the baseball world believed they'd made it that much tougher to reclaim the magic of 1988.
The perplexing part is that advanced projection systems disagree ... vehemently. A poll of PECOTA, ZiPS, and three other forecasts listed the Cubs as the best team in baseball, with an average projection of 95.5 wins; the Dodgers were the only other team forecast to win more than 90, coming in a shade under 91.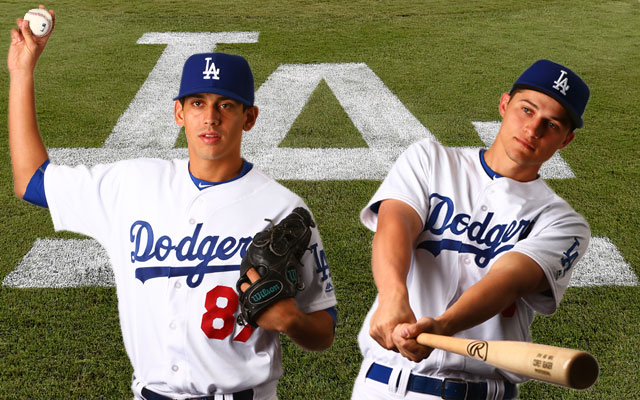 So how can we explain that disconnect? Put simply: depth. Even with Greinke leaving and Brett Anderson recently going down with a back injury that could shelve him for as long as five months, PECOTA and company like the Dodgers' Plans B, C, D, and E, which include Kazmir and Maeda stepping up, but also Alex Wood (now healthy after struggling last year with a rarely reported ankle injury), rookie Jose De Leon and his changeup of death, and the eventual returns of DL'd starters Brandon McCarthy and Hyun-jin Ryu. In the outfield, they can play Yasiel Puig nearly everyday, then rotate through talented but erratic center fielder Joc Pederson, veterans Andre Ethier and Carl Crawford, and lefty-masher Scott Van Slyke. The bullpen's deeper with the acquisitions of Joe Blanton and Louis Coleman plus Cuban import Yaisel Sierra, as well as the starters who'll be bumped out of the rotation as guys get healthy. Not to mention the onslaught of players capable of stepping in at second base.
"I feel like their ultimate goal was to build a roster full of depth, not only on the 25-man roster, but also the 40-man, and the non-roster guys," said reliever Chris Hatcher. "Look around here. You see a pretty big pen of non-roster guys. I think they addressed that need, and I feel like we're built more for consistency. So if a guy does go down, we got another guy that can roll back in with experience that can replace him."
Discussing the team as a string of promising contingency plans understates what the Dodgers front office is trying to do. Led by three former GMs (Andrew Friedman, Josh Byrnes, and Alex Anthopoulos) plus the current one (Farhan Zaidi), the team's brass is thinking in much bigger terms. They blitzed the international signings market last summer, signing four teenage prospects and blowing past the team's allotted budget, thus requiring them to double their spending as a penalty, while also eliminating the possibility of signing any prospect for more than a paltry $300,000 over the following two years. Then they paid another $6 million (times two, after factoring in penalties) to reel in 17-year-old second baseman Omar Estevez.
To circumvent international spending restrictions, they've gone hog-wild on Cuban veterans not subject to that prospect pool: $30 million for Sierra, $8 million for righty-hander Pablo Fernandez, and $62.5 million on Hector Olivera, the veteran infielder the Dodgers traded a few months later for a package of young players and prospects that included Wood and speedy infielder Jose Peraza. The three-way off-season deal with the Reds and White Sox that involved All-Star third baseman Todd Frazier? Frazier ended up in Chicago, and the Dodgers again opted to collect a passel of prospects instead.
As much as prospects can offer exciting potential for the future, passing on the likes of Greinke and Price to sign a bunch of kids with highly uncertain futures hasn't dazzled season-ticket holders hungry for the team's first World Series in nearly three decades. So what gives?
Zaidi cites the changing age curve in baseball, which in the post-PED era has players peaking closer to age 24 or 25 than 27 or 28. The combination of strong potential performance and low cost for players that young entices every team, including the richer-than-Scrooge McDuck Dodgers. It encourages them to invest in as many young players as possible. To ship out veterans who might block job paths for those kids. To refrain from making go-for-it moves, such as last summer's Cole Hamels trade discussions which never panned out, with the Dodgers rumored to have balked at giving up prospects even below the Corey Seager-Julio Urias level of untouchables, according to industry sources.
To make young players the foundation of the franchise, the Dodgers are also loading up on player development staff, in an effort to better guide all that raw, young talent, and hopefully turn some of them into stars. Doubly so for kids coming from different cultures.
"What we're doing, that at least for us is relatively new in this area, is getting very specific in what that assimilation process is on and off the field," said Zaidi. "If you think about it, it's a very cross-disciplinary thing, because you have people from player development, people from international -- who have scouted these players, who probably know them as well as anybody initially, who have spent time with them in our academy -- people from baseball ops involved. Getting all those people together and saying what is the best way to assimilate this player on the field, off the field, what do we need to do to give him his best chance to succeed?
"When I was in Oakland, we signed [Yoenis] Cespedes and he came straight to the big leagues. I don't want to say that was easier, but it was more top-of-mind, because he was there every day. The challenges he faced to assimilating on and off the field were very top-of-mind because he was there in the big-league clubhouse. When you sign these guys and they go to Rancho Cucamonga or somewhere else, it's easy to just think player development is handling that, and for the amount of money we're investing in these guys, that's clearly not good enough."
That's the future, one that has the Dodgers committed to only one player (Maeda) beyond 2018 -- assuming Kershaw opts out of his long-term deal after that season. In an interesting coincidence, that's also the year that Bryce Harper can test the open market, a development that could easily command a $400 million investment, if not more.
We'll soon see how that all works out in the present. Don Mattingly's now managing in Miami, and his replacement Dave Roberts has already made a strong impression with his seemingly endless enthusiasm.
"It's just a different personality from what I've been used to," said Kershaw. "You know, Joe [Torre] and Donnie [Mattingly] kind of come from the same mold -- more like being a little bit more hands off. They're all professionals doing their jobs. And I really appreciated that, especially as a unit, coming off of what they helped me learn. But now with [Roberts], you see a difference. He's just around more. He's talking with guys. Like everybody says, he has a lot of energy, he's a positive guy, so it's different. The whole coaching staff is different. I think change is good sometimes."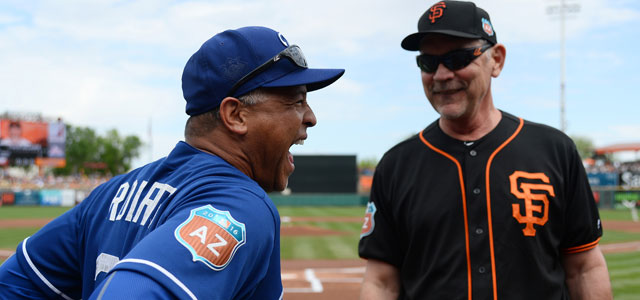 That change-is-good philosophy will be tested this year. It's there as the Dodgers continue to work with Pederson on tinkering his swing, in the hopes he can continue to hit long home runs when he's on, and at least put the ball in play when it doesn't. It's there in Roberts already approaching Kenley Jansen about coming into high-leverage spots in the eighth inning during the regular season, a tactic many managers save almost exclusively for the playoffs. It's there in Friedman, Zaidi, and company being perhaps the most hands-on front office in baseball, shuttling reams of data into the clubhouse and challenging Roberts just as they very frequently challenged Mattingly. It's there in Seager becoming arguably the team's most important position player, with a chance to achieve rapid stardom that could start to vindicate the Dodgers' kids-first approach.
The Dodgers might not go all out to break their 28-year drought this year. But their long-term goal becomes obvious: Plow their resources into young players, and hope that core gives them at least a fighting chance to win every year.