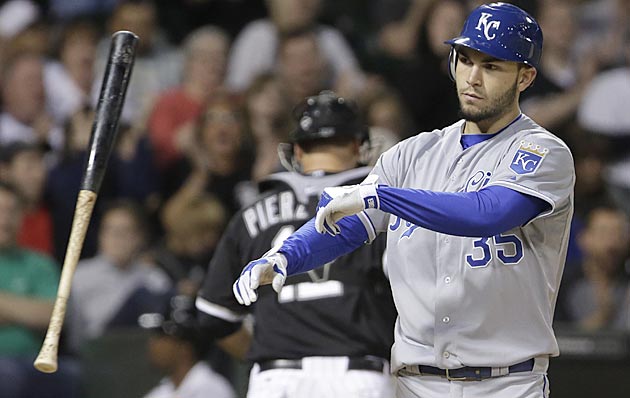 Hosmer's .174 average on balls he puts in play suggests he has had the worst kind of luck. (Getty Images)
NEW YORK -- The season is nearly two months old.
Eric Hosmer
is still under .200.
Well under .200.
So far under .200 that as of Wednesday morning, no everyday player in the American League had a lower batting average than Hosmer's .177.
There has to be a reason, and this deep into the season, it can't just be bad luck.
Or can it?
We don't want to believe it can. We'll accept that a hitter can be unlucky for one night or one week, but for two months?
"I've never seen anything like it,"
Royals
hitting coach Kevin Seitzer said. "In all my years in the game, I've never seen anyone hit in bad luck for so long."
"It's like it's one big glove out there when he hits," Royals third baseman
Mike Moustakas
said.
You hear this, and you're skeptical. The Royals like Hosmer. They need Hosmer, a guy the
Kansas City Star
labeled this spring as "The Face of the Franchise" and "a superstar in waiting."
And he's hitting .177. There's got to be an answer, and bad luck is the kindest answer out there.
Except in this case, it might be right. It might be partly right, anyway.
Through Tuesday, Hosmer's batting average on balls he put in play was only .174. Even if he's not hitting the ball hard (the Royals insist that he is), that's ridiculously low.
It's so low, in fact, that history says there's no way it lasts.
(History also says that
David Wright
's .473 BABIP is just as unsustainable, but that's another story.)
Over the past 50 years, no player has gone a full season with a BABIP anywhere near as low as Hosmer's. Only two players in the past 50 years -- Curt Blefary (.198 in 1968) and
Aaron Hill
(.196 in 2010) -- have been under .200 for a full year.
If you keep putting the ball in play, eventually some will fall in. And since Hosmer is actually putting more balls in play than he did last year (his strikeout rate is down), his numbers figure to improve.
Except that ... there's no way it's all luck.
If it was just luck, then why has Hosmer gone more than a month without a home run? If he's hitting the ball as hard as the Royals insist he is, shouldn't some of them be going over the fence?
In fact, some Royals people wonder if Hosmer has let the pressure of the low batting average affect him, with his power suffering because of it.
Hosmer says he hasn't.
"I'm fully confident that I can turn this around," he said. "I'm happiest that my confidence is still there."
His teammates insist that's true.
"The kid hasn't changed," said Moustakas, who played with Hosmer all through the Royals' minor-league system.
Moustakas relates a conversation he and Hosmer had on the Yankee Stadium mound during a pitching change Monday night.
"We were saying how cool it is to be standing there," Moustakas said. "All those people in the stands are wondering what we're talking about, and we're talking about how cool it is."
It was supposed to be a lot cooler for the Royals this season. They were supposed to show improvement, maybe enough to surprise people in the American League Central.
Hosmer, third in the AL Rookie of the Year voting last year, really was supposed to look like a superstar in waiting.
Instead, the Royals had an early 12-game losing streak. They kept losing players to injuries. Hosmer had that .173 batting average.
The Royals keep thinking it can still change. They keep thinking Hosmer's luck will turn.
Wednesday night against the
Yankees
, Hosmer had infield singles in each of his first two at-bats and a broken-bat bloop double in his final at-bat. He hit a slow grounder to first base for a hit, then a slow grounder to second base for another hit and then the bloop that fell safely in left field for the third.
It was enough to lift his average to .191, enough to push him past the
Mariners
'
Brendan Ryan
, enough so that he didn't have the lowest batting average in the whole American League.
And if it was just good luck, well, that's fine, because Eric Hosmer was due a little of that, too.