Evan Longoria is losing power
Rays' third baseman Evan Longoria isn't having a characteristic season with the bat.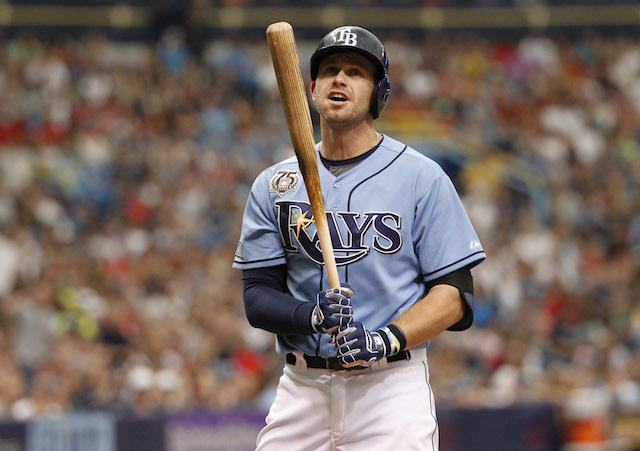 More MLB: Power Rankings | Expert Picks | Latest news & notes | Fantasy news
Rays third baseman Evan Longoria is having a good season -- with the bat he has put up a Weighted Runs Created+ (wRC+) of 105, and he has been his usual standout self with the glove. The problem is that while Longoria's offensive outputs are solid enough, they're far shy of what we're accustomed to from him. 
For instance, Longoria entered the 2014 season with a career batting line of .275/.357/.512 (136 OPS+), but this year he's batting .256/.331/.391 (105 OPS+). Even if Longoria's still useful at the plate, that's a significant drop-off, and it's surprising given that Longoria, at age 28, should be in the heart of his prime seasons. 
So what's going on? Longoria's 2014 BABIP of .297 is mostly in line with his career mark of .304, so that doesn't explain very much. What seems to going on is a shift in Longoria's batted-ball profile and a simultaneous decline in his ability to drive the ball in the air. This season, Longoria's fly-ball percentage has dropped to a career-low 37 percent. Now consider what has become of the balls he has hit in the air ... 
• Longoria's 2014 home run/fly ball percentage of 10.1 is easily a career low.
• Longoria's infield popup rate -- an indicator of "weak contact" tendencies -- checks in at 10.1 percent vs. a career mark of 6.9 percent. (Yes, Longoria is homering no more often than he's hitting infield flies.)
• The average distance of his fly balls and home runs has declined from 291.2 feet in 2013 to 276.0 feet this season. In terms of MLB rank, that's a drop from 58th place to 164th place. 
• In 2013, Longoria tallied 87 balls hit 300 or more feet; in 2014, he has thus far smacked just 34 balls for a distance of 300 feet or more. That puts him on pace for just 52 this season.  
• For his career, Longoria is batting .299/.285/.959 on fly balls; this season, he's batting .204/.193/.611 on fly balls.  
So the downward trends in terms of power and the authority with which Longoria is addressing the ball are obvious. They're also not easy to explain away. Longoria's month-to-month splits this season are fairly consistent, so it's not as though one fluke stretch is dragging down the overall numbers. Pitchers still show a low-and-away drift in terms of how they approach Longoria, and while he's seeing a slight increase in sinkers and splitters this season, it's not enough to mitigate those larger patterns. 
It's of course possible that Longoria is playing through an unreported injury that's altering his swing mechanics or sapping his ability to drive the ball. For what it's worth -- and it's certainly worth something -- the Rays seem to believe that Longoria's struggles are due to a mechanical wrinkle (source: Marc Topkin, Tampa Bay Times). There's consolation in that possibility, in that mechanical flaws that crop up mid-career are theoretically correctable. However, there's also the possibility that new physical limitations have led to the flaw -- i.e., the body is adjusting without Longoria's conscious mind being consulted on the matter. The larger reality is that it's almost August, so if the problem were easily indentifiable and fixable, then it presumably would have been, you know, identified and fixed by now. 
There's a prevailing lesson here: Uncertainty is the defining hallmark of baseball performance. It's a sport of nuanced skill, mechanical dependence and performance at the granular level, in which even an imperceptible flaw on the mound or at the plate can undermine both native talent and cultivated skill. Even Evan Longoria, so ruthlessly consistent throughout his career heretofore and at an age that lends itself to one's best days, can lose purchase on his abilities. The Rays, invested in Longoria through at least 2022, must hope that whatever afflicts him has a cure or somehow resolves itself. 
(Data: FanGraphs, Baseball Heat Maps, Baseball Savant)