Franchise bests/worsts: Florida/Miami Marlins
Up next in our bests/worsts series is the Florida/Miami Marlins franchise.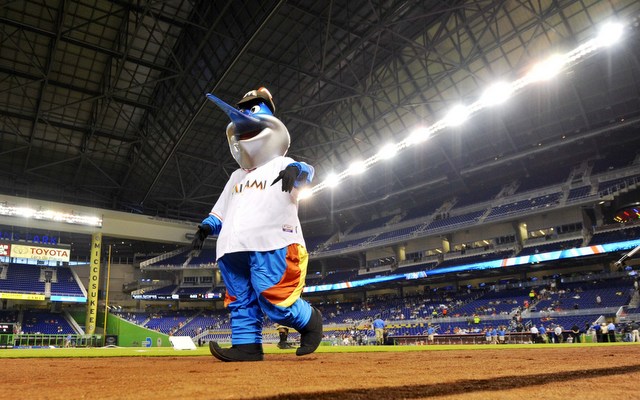 Over the course of the next month, we'll venture through the history of each of the 30 Major League Baseball franchises, discussing some of the best and worst moments, players, teams, etc. It's more of a fun snapshot for discussion purposes than a be-all, end-all declaration. We continue today with the Florida/Miami Marlins.
The Florida Marlins came into existence in 1993 and eventually changed their name to the Miami Marlins when they moved a couple miles south to the brand new Marlins Park in 2012. Here is our totally subjective collection of bests and worsts in franchise history. If you disagree with anything, tell us in the comments.
Best team: 1997
The Marlins have never once in their 22-year history won the NL East title. In fact, they've only finished second thee times: 1997, 2003 and 2009. They made the postseason as the wild-card team in both 1997 and 2003 and eventually went on to win the World Series both years. The Marlins franchise has never lost a postseason series.
Anyway, the best team in franchise history was that 1997 squad, which went 92-70 with a +71 run differential. That team was pretty stacked. The lineup had young Luis Castillo and Edgar Renteria, prime-age Gary Sheffield and Moises Alou, and veterans in Bobby Bonilla and Devon White. The rotation had peak Kevin Brown, Al Leiter and Alex Fernandez, plus an upstart rookie in Livan Hernandez. And closing the door in the ninth inning was Robb Nen, who doesn't get enough credit for being one of the most dominant closers in history.
The 1997 Marlins swept the Giants in the NLDS, beat the 101-win Braves 4-2 in the NLCS, then beat the Indians in 11 innings in Game 7 of the World Series.
Worst team: 1998
Somehow the 1998 Marlins managed a worse record (54-108) and worse run differential (-256) than the expansion 1993 Marlins (64-98 and -143). I guess that's not surprising when ownership completely dismantles the club in the offseason, though we'll get to that in a bit. The 1998 Marlins had two regular positions players with a better than league average OPS (Cliff Floyd and Todd Zeile) and their best starter (Jesus Sanchez) had a 90 ERA+. Very bad. Very, very bad.
Best player: Giancarlo Stanton
This was not an easy call! To me, it came down to three players, so here's a quick side-by-side comparison of their time with the Marlins:
Best Players in Marlins History
Player
G
AVG
OBP
SLG
OPS+
HR
RBI
SB
WAR
Miguel Cabrera
720
.313
.388
.542
143
138
523
17
18.2
Hanley Ramirez
943
.300
.374
.499
129
148
482
230
26.8
Giancarlo Stanton
634
.271
.364
.540
143
154
399
30
21.8
You could pick any one of these guys and I wouldn't argue. I'm going with Stanton because he was on par with Miggy as a hitter when adjusted for the league's offensive environment -- he didn't have the same gaudy RBI total, but that has more to do with his teammates than his personal shortcomings -- while being a far better defender at his position. Stanton also has Hanley beat offensively and defensively -- he's only 5 WAR behind him in 309 fewer games.
Best short-term player: Mike Piazza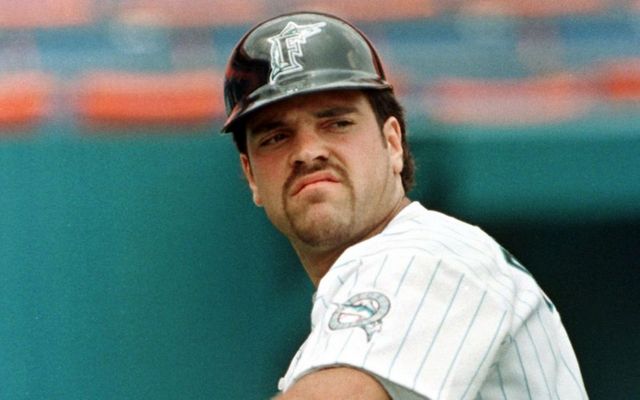 I think my favorite Piazza factoid is that he only hit eight triples in 1,912 career games, and one of them managed to come during his five-game stint with the Marlins in 1998.
Worst moment: Post-1997 fire sale
As you know, the Marlins have torn down and rebuilt their club multiple times throughout their history. Current owner Jeff Loria draws most of the scorn but he was not at the helm for the team's dismantling following their 1997 World Series win. That was Wayne Huizenga.
During the 1997-98 offseason, the Marlins traded Moises Alou to the Astros, Robb Nen to the Giants, Devon White to the Diamondbacks, Jeff Conine to the Royals, Kevin Brown to the Padres and Al Leiter to the Mets in cost cutting moves. Gary Sheffield, Bobby Bonilla and Charles Johnson all went to the Dodgers in the Piazza trade shortly thereafter in May 1998. Edgar Renteria was the traded to the Cardinals in December 1998 and Livan Hernandez was traded to the Giants in July 1999. It was a total teardown.
All of that happened within a few months of winning a World Series. Fans were justifiably angry and deserted the team -- attendance dropped from 29,190 fans per game in 1997 to 21,363 in 1998 to 10,038 by 2002. By the way, the two best players to come out of the fire sale were Derrek Lee (Brown trade) and A.J. Burnett (Leiter trade).
Best moment: Renteria's World Series winning walk-off
After a dramatic ninth inning comeback that included singles by Alou and Johnson and a game-tying sac fly by Craig Counsell, the Marlins had the bases loaded with one out in the bottom of the 11th. Charles Nagy got White to bang into a force out at the plate, which brought Renteria to the plate with two outs. You know what happened next:
It gets literally no better than a walk-off win in extra innings of Game 7 of the World Series.
Best trade: Mike Lowell
This was an old school baseball trade. The Yankees had a third base prospect in Lowell that they didn't need -- Scott Brosius was coming off a 98 RBI, 121 OPS+, 5.3 WAR season in 1998 -- and the Marlins had some spare pitching prospects, so the two clubs got together for a "trade from surplus, fill a need" swap. Lowell went to the Marlins in February 1999 for three pitching prospects: RHP Todd Noel, RHP Mark Johnson and RHP Ed Yarnall.
Noel never reached the big leagues. Johnson, who spent the entire 1999 season in the minors, was lost in the Rule 5 Draft after the season and had a 7.50 ERA in 24 innings for the Tigers in 2000, his only MLB action. Yarnall had a 5.40 ERA in 20 innings with New York from 1999-2000, his only big league time. He was pitching in Japan by 2001.
Lowell, meanwhile, turned into an above-average regular with Marlins, hitting .272/.339/.462 (109 OPS+) with 143 homers and 14.1 WAR while with the team from 1999-2005. During his peak, he hit .285/.358/.517 (127 OPS+) with 59 homers and 7.0 WAR from 2003-04. Lowell went to three All-Star Games with the Marlins, won a Gold Glove, and finished 11th in the NL MVP voting in 2003. Easy win for our good guys here.
Worst trade: Miguel Cabrera
Safe to say this one did not go as planned. Cabrera was a bonafide star who was two years from free agency and way too expensive for the Marlins. So, on December 4, 2007, the Marlins packaged Cabrera with Dontrelle Willis and sent them to the Tigers for six players: LHP Andrew Miller, OF Cameron Maybin, RHP Dallas Trahern, RHP Frankie De La Cruz, C Mike Rabelo and RHP Burke Badenhop.
Miller and Maybin were the keys to the trade. Baseball America ranked Miller as the 10th best prospect in baseball prior to the 2007 season and ranked Maybin as sixth best prospect in the game prior to 2008. But Miller couldn't throw strikes and Maybin couldn't hit, and eventually both were jettisoned in small trades. The best player to come out of this deal for the Marlins was Badenhop, who settled in as a nice ground ball heavy middle reliever.
Willis was more or less done at the time of the trade -- he had a 5.17 ERA during his last year with the Marlins and a 6.86 ERA in parts of three seasons with the Tigers. Cabrera, meanwhile, is the best hitter of his generation, one with two AL MVP awards and a Triple Crown. If Miller and Maybin had panned out as hoped, this would have gone down as one of the best win-win trades in history. Instead, it's one of the most lopsided.
Best-worst strike zone: 1997 NLCS Game 5
Best strike zone in Marlins history and one of the worst in baseball history. Check out Livan Hernandez taking advantage of home plate umpire Eric Gregg's huge outside corner to record 15 strikeouts in the complete game win:
The win gave the Marlins a 3-2 lead in the NLCS.
Best no-hitter: Henderson Alvarez's walk-off no-hitter
There have been five no-hitters in Marlins history, so roughly one every four and a half seasons. The best came on the final day of the 2013 season, which Big Hendo Alvarez celebrated from the on-deck circle. Behold:
Worst warm-up pitch: A.J. Burnett
Intentional or not, this one is self-explanatory:
Best infield: 25 homer club in 2008
In 2008, the Marlins became the first and so far only team in baseball history with four 25+ home run hitters on the infield. They had Mike Jacobs (32 HR) at first, Dan Uggla (32 HR) at second, Hanley Ramirez at short (33 HR) and Jorge Cantu (29 HR) at third. Those four guys combined for 126 homers and the rest of the team hit 82.
Best intentional walk turned RBI single: Miguel Cabrera
On June 22, 2006, Orioles reliever Todd Williams got a little lazy while intentionally walking Miggy, and, well, this happened:
The single gave the Marlins 6-5 lead in the top of the 10th and they eventually won the game 8-5.
Best old school logo: Marlin with a bat
Once upon a time, the Miami Marlins were a Triple-A International League team. They were affiliated with the Phillies from 1956-58 and the Orioles from 1959-60 before being relocated. On the sleeve of their road uniforms was this pretty sweet Marlin with a bat logo: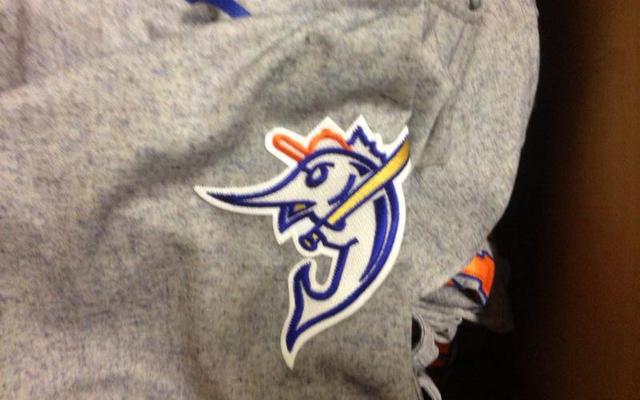 I'd love to see the team reincorporate that logo somehow, on an alternate jersey or something. It's pretty great.
Best ballpark feature: The Home Run Sculpture
Is it tacky? Maybe. Is it fun? Hell yeah it is.
How has no one made that thing into an alarm clock yet? I'd buy one in a heartbeat.
Up Next: On Wednesday, we'll look at the best and worst moments for the Washington Nationals.
>> Want more franchise bests/worsts? CHC | MIL | STL | CIN | PIT |CLE | DET | MIN | CHW | KC | NYY | BOS | BAL | TOR | TB

CBS Sports HQ Daily Newsletter
Get the best highlights and stories - yeah, just the good stuff handpicked by our team to start your day.
Please check the opt-in box to acknowledge that you would like to subscribe.
Thanks for signing up!
Keep an eye on your inbox for the latest sports news.
Sorry!
There was an error processing your subscription.
Here are all the hot stove rumblings from the final day of the 2018 Winter Meetings

The winter meetings are over, so it's time to analyze

If there were a deadline, maybe the winter meetings would be exciting
Texas received a draft pick in the trade

14 players were selected in the major league phase of the 2018 Rule 5 Draft on Thursday

Jonah Keri chats with Jay Jaffe, creator of JAWS, author of The Cooperstown Casebook