Franchise bests/worsts: Philadelphia Phillies
One of the oldest MLB franchises is also the losingest, but it's had its fair share of great moments, too. Let's take a look at the good and the bad.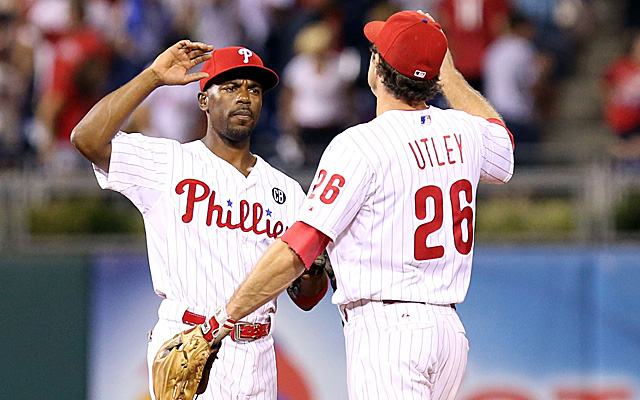 Over the course of the next month, we'll venture through the history of each of the 30 Major League Baseball franchises, discussing some of the best and worst moments, players, teams, etc. It's more of a fun snapshot for discussion purposes than a be-all, end-all declaration. We continue today with the Philadelphia Phillies.
One of baseball's oldest franchises, the Philadelphia Quakers' recorded history goes back to 1883. They became the Phillies in 1890 and haven't changed since. The club has the dubious distinction of owning the most losses in MLB history at 10,551, but some of that is longevity. They've been to the playoffs 14 times, won seven pennants and two World Series.
Best team: 1980

The Phillies are a weird postseason vs. regular-season team. They've won over 100 games three times, but none of those teams made the World Series. The 2010 team won 97 games and missed the World Series as well, while the 1993 Phillies won 97 games and lost the World Series.
In this current era of multiple playoff teams, the postseason is such a crapshoot that if we're being honest, we should still probably say the 2011 Phillies were the best team in franchise history.
However, given that this exercise is done for the fans of the team and I'm guessing most Phillies fans have much more fond memories of their two World Series championship clubs, I'll choose among those.
Given my age, I wanted to lean toward the 2008 team. That was the nucleus of the team that dominated the NL East for roughly a half-decade. They had the excellent infield trio of Ryan Howard, Chase Utley and Jimmy Rollins along with the likes of Jayson Werth, Shane Victorino, Carlos Ruiz and Cole Hamels.
It's just that the '08 Phillies on the whole didn't have as impressive a stat pile as 1980. They were 10th in the NL in batting average and seventh in on-base percentage. They were fourth in ERA. Yes, they could homer and run and by the time it got to the postseason, they were awesome. But when it's this close we have to nitpick.
The 1980 Phillies were a bit more well-rounded. Behind MVP Mike Schmidt, Cy Young winner Steve Carlton and other names like Pete Rose, Bob Boone, Greg Luzinski, Bake McBride and Tug McGraw, that ballclub brought the Phillies their first-ever World Series title. They were in the top three in the NL in runs, hits, doubles, triples, homers, average, OBP, slugging, ERA and strikeouts, among other important categories.
But still, I could go about four or five different ways here.
Worst team: 1942
The 42-109 record doesn't even do justice to how bad that Phillies team was.
In 151 games, the Phillies scored just 394 runs while coughing up 706. Yes, that's a negative-312 run differential, one of the worst figures in MLB history (the worst since 1900 is -349, by the 1932 Red Sox).
Offensively, the '42 Phillies hit .232/.289/.306, which was good for a 79 OPS+ for the entire team. That is, they were collectively 21 percent below league average at getting on base and hitting for power. They were last in the NL in runs, hits, homers, steals, OBP and slugging.
The pitching staff wasn't much different, with an 80 ERA+ (so 20 percent below league average). They were last in ERA and allowed the most walks.
Oh, and defensively the Phillies committed the most errors and had the worst fielding percentage.
So, yes, they sucked at everything.
Best player: Mike Schmidt
It's hard to see anyone challenging him any time soon. In parts of 18 seasons, Schmidt won three MVPs and was a 12-time All-Star. He led the league in homers eight times, racking up 548 in his career. He also led the league in RBI four times, walks four times, OBP three times, slugging percentage five times, OPS five times and won 10 Gold Gloves.
There's an argument to be made he's the best third baseman in baseball history and he played his entire career in Phlly. Easy choice.
Best mascot: The Phillie Phanatic
Well, sure, it's the only one, but the Phanatic is one of the best mascots on sports. He'll now mock the umpires as we appreciate his fine work.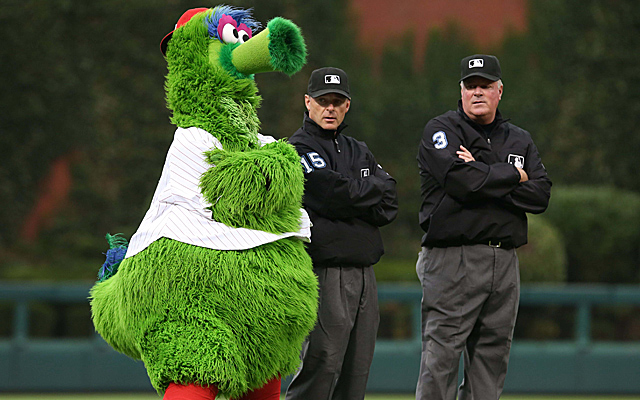 Best disregard of personal safety: Aaron Rowand
You care about not destroying your nose? Please. Rowand laughs at you.
Best nickname: Harry "Bud" Weiser
In parts of 1915-16, Weiser saw action in 41 games. What better nickname for a man named Weiser than "Bud?" That's right, Bud Weiser. His middle name was Budson, but I'm still loving this enough to stick it here.
Best trade: Steve Carlton
In February of 1972, the Cardinals sent Carlton to the Phillies for right-hander Rick Wise. Wise wasn't bad in his two years with St. Louis before being traded again, even making the 1973 All-Star team.
Carlton, though, won the 1972 Cy Young and that was his first of four for the Phillies. In parts of 15 seasons with Philly, he went 241-166 with a 3.09 ERA (120 ERA+) and over 3,000 strikeouts. As noted above, too, he was the ace of the staff that won the first World Series in franchise history.
Worst trade: Ryne Sandberg
In January of 1982, the Phillies sent a 22-year-old Sandberg along with Larry Bowa to the Cubs for Ivan DeJesus. Oops.
Best pinch hit: Matt Stairs
In Game 4 of the 2008 NLCS, with the Phillies leading the series two games to one, the Dodgers took a 5-3 lead into the eighth. A two-run Victorino homer tied things up and then Carlos Ruiz got on base with two out. Manager Charlie Manuel elected to go with Stairs as the pinch-hitter. Stairs had only previously had 21 plate appearances with the Phillies since being acquired, including both the regular season and the postseason.
And he homered. And the Phillies never looked back.
Perhaps best of all is Stairs discussing getting his "ass hammered" in the postgame presser:
But does it measure up with ...
Best NSFW World Series quote: Chase Utley
Hint: If four-letter words that start with F offend you or will get in you in trouble at work, don't click on it.
Best double-play combo: Umm ...

Chase Utley and Jimmy Rollins, man. Had to throw this in there for them.
Best moment: 1980 World Series championship
Easy. That's almost 100 years of history without a championship, but with an awful lot of losing. Had they not won that, their drought would've dwarfed the ones we heard about from the Red Sox, Cubs and White Sox come the 2000s. Anyway, let's watch the final out!
Best use of platoons: 1993
Jim Fregosi had seven players with between 250-500 plate appearances, getting everything he could out of his entire roster. Here's a quick glance at what they did, via Phillies blog Crashburn Alley:
Manager Jim Fregosi squeezed additional runs out of his team by utilizing platoons in left and right field as well as second base and shortstop. As a result, the Phillies had the best OPS in the league against right-handed pitching (.765) and the second-highest OPS against lefties (.802). In left field, Pete Incaviglia handled lefties (.904 OPS) while Milt Thompson faced mostly right-handers (.745 OPS). In right field, Jim Eisenreich faced right-handers (.816) and Wes Chamberlain faced lefties (.986). Although Mariano Duncan didn't have much of a platoon split (.721 vs. RHP/.720 vs. LHP), he spent time at both second base and shortstop. Second baseman Mickey Morandini's .688 OPS was more than 100 points higher than against lefties whom he faced only about 25 percent of the time. At shortstop, the switch-hitting Kevin Stocker hit lefties well (.936) but faced them at about half the rate as right-handers (.780).
For more, read the entire article on that squad. Good stuff.
Worst end to season: 1993
Joe Carter vs. Mitch Williams. Given that this is a Phillies-centric post, we can spare the video footage. The people of Philadelphia probably have it plenty memorized anyway.
Worst end to season, last 20 years: 2011
This could really be as simple as a one-run difference between the "best team" category being a very easy choice. That 2011 team was outstanding, going 102-60. Against the wild-card Cardinals, they lost 1-0 in the decisive Game 5 of the NLDS. A triple and double off Roy Halladay to start the game gave the Cardinals a quick lead before Halladay dominated the rest of the way.
Meantime, the Phillies only managed three hits off Chris Carpenter. They stranded two runners in scoring position and once left men on first and third. The final out was an additional gut punch, with Ryan Howard tearing his Achilles tendon on a groundout. He hasn't been productive since while making far too much money. The next season, the Phillies went 81-81. In each of the past two seasons, they've only won 73 games.
That was a real rough ending for such a great nucleus.
Best pitching performance: Roy Halladay's no-no
He'd never been to the postseason before, but looked pretty comfortable in throwing a no-hitter in Game 1 of the 2010 NLDS against the Reds. Only a fifth-inning walk to Jay Bruce prevented Halladay from being perfect. As it so happened, though, Halladay joined Don Larsen as the only man in history to throw a no-hitter in the posteason.
Halladay struck out eight, needed only 104 pitches and only gave up one line drive. It was masterful.
Best home run: Dick Sisler
The 1950 Phillies had been in first for most of the season. They had built a 7.5 game lead in the NL as late as Sept. 17. After losing five straight heading into the final day of the season, though, their lead had shrunk to just one game. They were facing the team that trailed them by one, too, in the defending NL champion Brooklyn Dodgers, led by Jackie Robinson, Roy Campanella, Gil Hodges, Pee Wee Reese, Duke Snider, Don Newcombe et al.
Newcombe and Phillies Hall of Famer Robin Roberts dueled into the 10th. Roberts was able to strand Reese, Snider and Robinson on base in the bottom of the ninth by getting a bases-loaded strikeout and groundout.
To lead off the 10th, Roberts hit for himself and singled. Leadoff man Eddie Waitkus singled before Hall of Famer Richie Ashburn bunted the runners over. Sisler would hit a three-run homer, capping off a 4-for-5 day. A 1-2-3 10th for Roberts gave the Phillies their first pennant since 1915 and only their second in franchise history. They wouldn't win another until 1980. Additionally, it was their only pennant while playing in Shibe Park.
Sisler didn't have near as accomplished a career as his Hall of Fame father, George. Still, this was quite the moment.
---
Oh wait, one more ...
Best regular commenter in Eye on Baseball: Bootbuster
Thanks for some of the above suggestions, Boot.
What else, Phillies fans? Have at it. Get rowdy. It's Friday!
Up next: Saturday will be the Braves' turn.
>> Want more franchise bests/worsts? CHC | MIL | STL | CIN | PIT |CLE | DET | MIN | CHW | KC | NYY | BOS | BAL | TOR | TB | MIA | WAS | NYM
CBS Sports HQ Daily Newsletter
Get the best highlights and stories - yeah, just the good stuff handpicked by our team to start your day.
Please check the opt-in box to acknowledge that you would like to subscribe.
Thanks for signing up!
Keep an eye on your inbox for the latest sports news.
Sorry!
There was an error processing your subscription.
The Mariners are denying the allegations

Ohtani made an impact on the mound and at the plate in his first MLB season

Acuna flashed the skills that will make him a superstar
The AL Rookie of the Year still won't be able to pitch in 2019

Six players turned down a one-year, $17.9 million deal in order to hit free agency

There are no Angel Berroas in this group