Leaderboarding: Best and worst pitchers at getting GIDPs
They call the double play the pitcher's best friend, so here are the guys who had a lot of (or few) friends this past season.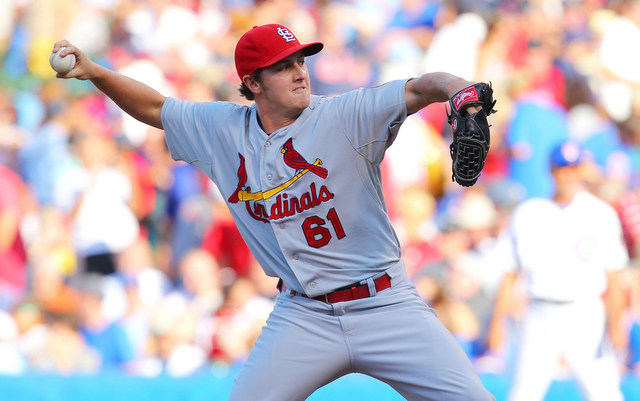 Previously in Leaderboarding: 100-mph pitches | Relievers stranding runners | Quality starts | Hitters in 0-2 counts | RBI percentages | Taking the extra base | Looking strikeouts |Pitch-framers | Best hitting pitchers | Arencibia All-Stars | Relievers in tough spots
In our latest edition of Leaderboarding, we're going to focus on the so-called pitcher's best friend: the double play. Specifically ground ball double plays. Line drive double plays and strike 'em out, throw 'em out double plays are another topic for another time.
Just like some pitchers are better at getting strikeouts than others, some pitchers are better at generating GIDPs than others. The best are usually sinkerballers, but a good infield defense helps as well. Once the ball is in play, the only thing the pitcher can do is cover first base or make a throw if necessary, that's it. Everything else is up to his teammates.
Raw GIDP totals don't tell us much because they're driven by playing time. The guys who logged more innings have more GIDPs. Instead we're going to use GIDP%, which is the rate at which a pitcher got a double play in double play opportunities. A double play opportunity is a situation in which two outs can be recorded via force out, so pretty much any situation with a man on at least first base and less than two outs. Man on first with no outs? GIDP opportunity. Bases loaded with one out? Also a GIDP opportunity. Runners at second and third with one out? Not a GIDP opportunity. Catch my drift?
The league average GIDP% in 2013 was 11 percent, which is lower than I would have guessed. Double plays are one of those things that stand out in your head, I guess. Arbitrarily setting our limit at 100 innings, here are baseball's ten best starters at getting a double play this past season.
Wainwright nearly doubled the league average, which is pretty impressive. There's a decent gap between him and everyone else too. Wainwright, Cobb and Buchholz are the only pitchers on the list to strike out at least 22 percent of batters faced in 2013. The rest are pitch-to-contact guys, the type of pitchers you'd expect to see on a GIDP leaderboard.
What about the worst starters at getting a GIDP ball? Here are the bottom 10.
Almost every one of those guys is an extreme fly ball pitcher, and you can't get GIDPs when you allow the ball to be hit in the air so often. That's not necessarily a bad thing, mind you. Fly balls and pop-ups turn into outs more than any other type of batted ball. Ground balls have a way of sneaking through the infield for base hits.
Those are the starters. Let's move on to the top relievers, using a minimum of 40 innings pitched.
Among all pitchers (starters and relievers) who threw at least 40 innings in 2013, Maness had the second highest ground ball rate in baseball at 68.4 percent, so it's no surprise he's atop the leaderboard with a huge, huge advantage over everyone else. Teams have shifted towards high strikeout pitchers for their bullpens in recent years, somewhat explaining why the best GIDP relievers have a lower GIDP% than the best GIDP starters. Brad Ziegler had the game's highest ground ball rate at 70.4 percent, by the way.
I'm not going to list the 10 worst relievers at getting a GIDP because there's a ton who didn't generate a single ground ball double play in 2013. The most notable are Sergio Romo of the Giants and Luke Gregerson of the Padres. They don't have many GIDP opportunities because of their limited innings and general awesomeness. Not many base-runners mean not many double play chances. There's about three dozen relievers with a GIDP% of three percent or less thanks in part to the whole "emphasis on strikeouts" thing.
Where might the Orioles third baseman land?

Kinsler will slot in at second base for the Angels

The Marlins got a better return for Ozuna than Stanton or Gordon
The two teams are going about things in very different ways

The Marlins are indeed in teardown mode under new ownership

The Marlins still have more attractive pieces