Leaderboarding: Top 2014 pitchers by fastball velocity
Let's take a look at the 10 starters and 10 relievers with the highest average fastball velocity.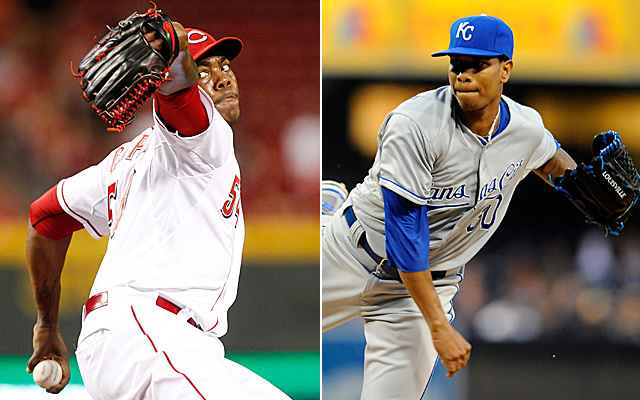 RELATED: Bob Feller's fastball velocity measured by Army equipment
In light of the video footage we posted earlier Friday with Bob Feller registering 98.6 miles per hour in the pre-radar (and waaaaaaay pre-PitchFX) days, I figured it would be cool to take a look at the hardest throwers here in 2014. So it's time to break out the Leaderboarding machine.
We're going to look at the average velocity here, so bear in mind that the top speed of each pitcher included is considerably higher. There's a surprise right off the bat, too, in the number two spot.
Starting pitchers (among qualifying candidates), team, average fourseam fastball velocity:
1. Yordano Ventura, Royals, 96.1 mph
2. Garrett Richards, Angels, 96.0
3. Nate Eovaldi, Marlins, 95.7
4. Gerrit Cole, Pirates, 95.6
5. Wily Peralta, Brewers, 95.2
6. Andrew Cashner, Padres, 94.8
7. Jose Fernandez, Marlins, 94.6
8. Zack Wheeler, Mets, 94.3
9. Stephen Strasburg, Nationals, 94.1
10. Jeff Samardzija, Cubs, 94.1
Source: Fangraphs.com
Anyone else whimper upon seeing Fernandez's name? It's just too soon, isn't it?
Notable for not being on the list for me was Justin Verlander. He checked in at 17th with an average of 93.1 miles per hour. It wasn't all too surprising, though, because he routinely holds back in the early innings and then pumps it up late when he needs that extra gear.
On to the relievers, with just two innings being the minimum here.
1. Aroldis Chapman, Reds, 100.1
2. Carter Capps, Marlins, 98.0
3. Carlos Martinez, Cardinals, 96.9
4. Maikel Cleto, White Sox, 96.9
5. Jose Dominguez, Dodgers, 96.9
6. Jordan Walden, Braves, 96.7
7. Jake McGee, Rays, 96.6
8. Evan Reed, Tigers, 96.1
9. Craig Kimbrel, Braves, 96.1
10. Trevor Rosenthal, Cardinals, 96.0
Source: Fangraphs.com
If you think I made the minimum just so I could include Aroldis' triple-digit average thus far, you know me too well. Guilty as charged.
Regardless, it's a shame that PitchFX velocity data doesn't go back more than a few years, because I'd put 2014 up against any season in baseball history. I truly believe the hardest throwers, collectively, in baseball history are on display right now. Perhaps there's a connection to the Tommy John surgery epidemic, but that's a different discussion for a different day.
The reliever had a very good 2017 season with the NL Central champs

We don't need to discuss Chipper's Hall of Fame case, so let's have fun instead

Dioner Navarro still hopes to return someday
Christian Yelich's agent says his client's relationship with Marlins is 'irretrievably bro...

The free-agent market has been slow and one player is bracing for an even longer wait

The Mets didn't want to trade a young outfielder for an older one