Max Scherzer's huge deferral a big short-term help for Nationals
With the Nationals signing Max Scherzer to a contract that defers a large chunk of his money, they'll have much more flexibility in the coming years than previously thought.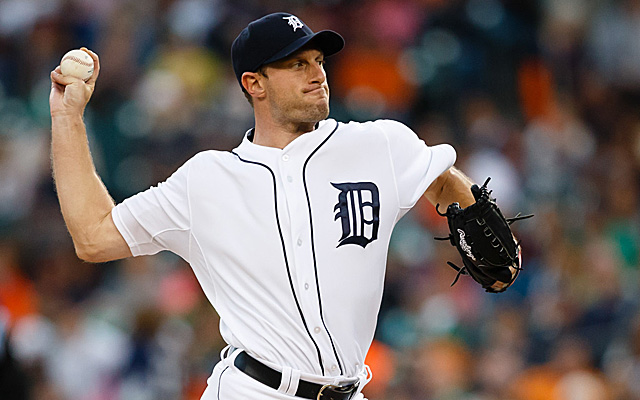 Sunday night, we learned that Max Scherzer is signing with the Nationals on a seven-year deal. Monday morning, we learned that the deal is very creative and will definitely help the Nationals with financial flexibility in the short term.
Scherzer's deal is a seven-year contract worth $210 million, but he'll actually be paid $15 million a year for the next 14 years. If there wasn't any deferred money, the Nationals would have been adding $30 million a year to their payroll, instead it'll only be half that.
This is the largest deferred contract in MLB history, smashing Bobby Bonilla's notorious Mets deal.
Where this matters is in the structure of the current Nationals roster. Immediately upon Scherzer signing, many believed it meant a trade would be taking place. I really liked the idea of just keeping everyone and having a ridiculous rotation and the deferred money makes that even more likely for 2015.
Moving forward, the Nationals have the following guys hitting free agency after 2015, absent any extensions: Jordan Zimmermann, Doug Fister, Ian Desmond and Denard Span. After the 2016 season, Stephen Strasburg, Drew Storen and Wilson Ramos are scheduled to be free agents. Whether using the extra funding to lock up some of these guys or replace them from outside the organization, the deferring money in the Scherzer deal helps.
The Nats have the financial clout to be able to handle a healthy payroll, but throwing $30 million a year at the top would hamstring anyone. Now that it's only $15 million for Scherzer, it'll make a big difference in what the team can do with both its current roster and in outside additions. 
>> Want more Hot Stove? Free agent tracker | Trade tracker
CBS Sports HQ Newsletter
We bring sports news that matters to your inbox, to help you stay informed and get a winning edge.
Please check the opt-in box to acknowledge that you would like to subscribe.
Thanks for signing up!
Keep an eye on your inbox for the latest sports news.
Sorry!
There was an error processing your subscription.
Details have emerged on how Major League Baseball will handle its shortened draft next month

The veteran southpaw is helping out prospects during baseball's shutdown

Vazquez is already facing over 20 child pornography charges in Florida
Sean Kenny coached Hancock at the University of Georgia

Church said a 'celebrity' that the Mets signed 'made a mockery' of the team, but didn't name...

If Cole is to build a Hall of Fame case, he needs a big 2020 season
The MLB commissioner was asked plenty of questions about the Astros on Sunday

The results of the BBWAA vote for the 2020 Hall of Fame class were announced on Tuesday