National League West All-Star team
It's time to wrap up the series on just-for-fun divisional All-Star teams. Friday we're doing the West divisions, as we've already done the Centrals and Easts. Here are Eye on Baseball's selections for the National League West All-Stars.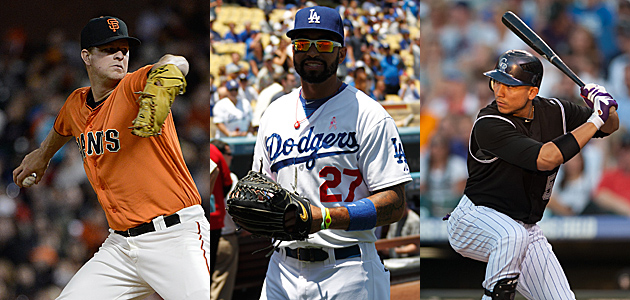 As we continue the series on just-for-fun divisional All-Star teams, we move West. Friday we're doing the West divisions to conclude our short series, as we've already done the Centrals and Easts.
Here are Eye on Baseball's selections for the National League West All-Stars.
Catcher - Buster Posey , San Francisco Giants . Coming off a broken leg, Posey is hitting .295/.365/.466 with 10 homers, 43 RBI and 33 runs, earning himself a start in the real All-Star Game. Though Posey has more star power, this was actually not a no-brainer choice, as both A.J. Ellis and Miguel Montero merit some discussion.
First base - Paul Goldschmidt , Arizona Diamondbacks . With Justin Upton struggling, Goldschmidt has been a valuable power stick to the D-Backs as they try to stick around in the race. He's hitting .302/.370/.541 with 11 homers. Worth noting: If Bruce Bochy had simply let Brandon Belt play all season, he may have given Goldschmidt a run for his money here. Belt is hitting .324/.413/.603 with four homers, five doubles and a triple in the past 22 games.
Full All-Star Game coverage
Second base - Aaron Hill , Diamondbacks. Pretty easy choice here. Hill is hitting .297/.354/.507 with 11 homers, 39 RBI, 37 runs, 20 doubles and five triples.
Shortstop - Troy Tulowitzki, Colorado Rockies . He's only played 47 games, but he's still provided more value than anyone else. Brandon Crawford would be the next choice due to his solid glove, but the pick is still Tulo.
Third base - Pablo Sandoval , Giants. In addition to the really cute nickname (so says New York Mets GM Sandy Alderson), Sandoval is hitting .315/.372/.503 with seven homers, 28 runs and 28 RBI. This wasn't as easy as one might think, because Chase Headley (.272/.374/.421 with better defense) has a real good case as well. 
Right field - Melky Cabrera , Giants. I tried to make it through these without cheating. I really did, and I almost made it. But we're going to do it here. Melky is a left fielder, but he has made 11 starts in right. So we're shifting him here (and you'll see why when we get to left field). Cabrera is an MVP candidate at this juncture, hitting .356/.395/.518 with 18 doubles, seven triples, seven homers, 42 RBI, 54 runs, 10 stolen bases and an MLB-best 116 hits. If you want to make me stick to keeping Cabrera in left, Andre Ethier would be the choice here.
Center field - Matt Kemp, Los Angeles Dodgers . Hey, he's almost back from his hammy injury. He's only played 36 games, but what a glorious 36 games those were, as he hit .355/.444/.719(!) with 12 homers, 28 RBI and 30 runs. The other choices here would be Gerardo Parra , Dexter Fowler and Angel Pagan , in that order.
Left field - Carlos Gonzalez , Rockies. When presented with the choice between Cargo and Melky, I flipped Melky to right field. When forced to pick between the two studs, I choose both. Gonzalez flirted with the triple crown in 2010 and he appears headed down that path again. He's hitting .336/.394/.589 with 17 homers, 58 RBI and an NL-best 59 runs.
Starting pitcher - Matt Cain , Giants. Long second fiddle in his own rotation, Cain is now the best pitcher in his entire division. He's 9-3 with a 2.62 ERA, 0.96 WHIP and 118 strikeouts in an NL-best 120 1/3 innings. The two complete-game shutouts -- including a perfect game -- are just gravy.
Starting pitcher - Clayton Kershaw , Dodgers. Recent rough starts from Wade Miley and Madison Bumgarner made this tough choice a bit easier. Kershaw has followed up his stellar 2011 campaign -- which landed him a Cy Young -- with another very solid season. He's 6-4 with a 2.65 ERA, 1.05 WHIP and 112 strikeouts in 115 1/3 innings. Miley and Bumgarner actually check in behind Ryan Vogelsong , who loses out to Kershaw by a nose. Vogelsong just keeps getting it done as a wonderful reclamation story. He's 7-3 with a 2.26 ERA (NL-best), 1.11 WHIP and 72 strikeouts in 103 2/3 innings. I wouldn't argue with those who want Vogelsong over Kershaw here. It's a toss up.
Setup - Sergio Romo , Giants. Romo has one loss, but he hasn't blown a lead yet, with 14 holds and four saves. He has a 0.75 ERA, 0.75 WHIP and 30 strikeouts in 24 innings pitched. There were several other really good candidates in this pitching-rich division, too, notably Matt Belisle , David Hernandez and Ronald Belisario .
Closer - Kenley Jansen , Dodgers. There is no "next Mariano Rivera," but Jansen's cutter certainly resembles the stuff of the best closer of all-time. Jansen has saved 15 of 18 games since taking over for Javy Guerra . He sports a 2.11 ERA, 0.78 WHIP and a daunting 61 strikeouts in 38 1/3 innings. Santiago Casilla deserves mention here, too, for handling the duties given to him after Brian Wilson's injury. 
And now that we've seen all three divisional teams for the National League, which one looks the strongest? I actually think it's the NL Central, despite it being overall the worst division. Interesting how that works out, eh? As I said from the get-go, teams are a sum of their parts. Having the most All-Stars doesn't equal the best team.
For more baseball news, rumors and analysis, follow @EyeOnBaseball on Twitter, subscribe to the RSS feed and "like" us on Facebook.
The veteran skipper has been Mets manager since the start of the 2011 season

The Cincinnati ballpark will have expanded netting in place by Opening Day 2018

The Baltimore third baseman is eligible for free agency following the 2018 season
The clubs breaks ground on Globe Life Field next week

The fan struck at Wednesday's Twins-Yankees game was hospitalized

The Yankees are almost certainly headed to the postseason as a real threat to win the World...