Prospect spotlight: Joey Terdoslavich, Braves' switch-hitting 3B prospect
Joey Terdoslavich, a switch-hitting third baseman at Triple-A, is being groomed to take over for the Braves' Chipper Jones, who has announced that he will retire after the season.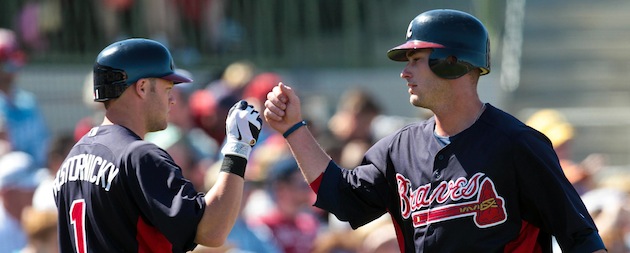 LAWRENCEVILLE, Ga. -- It's not easy being the recognized heir-apparent to a Hall of Famer. It's even tougher to do it just 36-and-a-half miles away.
That's the case for the
Braves
' "third baseman of the future," Joey Terdoslavich, who is playing at Triple-A Gwinnett, just up I-85 from Turner Field. The Braves' sixth-round pick in 2010 out of Long Becah State is the top third base prospect in the team's minor league system and is so highly thought of that the team had him skip Double-A entirely and go straight to Gwinnett.
In fact, it was so unexpected that Terdoslavich had already tried to find a host family at Double-A Mississippi when he got the call that he'd be going to the Atlanta suburbs instead.
"They basically told me that they thought I was mature enough to handle and it and I can handle failure," Terdoslavich said. "There's gonna be some struggle at the beginning, they told me, but they felt I could handle the jump. I'm trying to make them feel like they made the right decision."
Last season the switch-hitter hit 20 home runs and a league-record 57 doubles in his first full season of pro ball at high-Class A Lynchburg, while putting up a .286/.341/.526 line. He didn't set the world on fire this spring, hitting .240/.286/.360 in big-league games, but he did show the Braves enough to put him on the fast track to the big leagues. It's been a slow start so far at Triple-A, as Terdoslavich is hitting just .250/.323/.393 in the team's first 14 games with two homers and two doubles, but nobody is too worried yet.
"He can just hit. I don't think it matters if he's High-A, Low-A, Triple-A or big leagues, he's going to hit," Gwinnett hitting coach Jamie Dismuke said. "He has a real, nice simple approach and he's confident in what he's doing from both sides of the plate. You can tell from the way he walks up there, like 'I belong.' You have to have that within and he has it. He should have no problem."
Being around top-level talent is nothing for Terdoslavich. He started his college career at Miami with the A's
Jemile Weeks
and the two former
Reds
first-rounders,
Yonder Alonso
and Yasmani Grandal, sent to the
Padres
for
Mat Latos
. He transferred to Long Beach State and the team's "Dirtbags" persona fit him perfectly, one scout said.
"Just the way the coaching staff there has us go about our business -- nobody's a favorite there," Terdoslavich said. "Nobody's guaranteed a spot. They make you work hard -- there's a reason we wear 'Dirtbags' on our chest and there's a reason we carry that name, because we are Dirtbags. We play hard, we try to play the game the right way.  I was always a very talented baseball player, but when I got over there, they taught me the fundamentals, the way to play the game the right way, we matured."
He's shown that maturity to the Braves, even handling his rotating positions. Primarily a third baseman in college, he played three positions in 2010, before the team switched him to first base last season and then back to third this season. He has five errors in 12 games in the field already this season, but said he's getting more comfortable after a year away from third.
"Re-adjusting to this side has been good and just taking easy and just trying to get back into the flow of it and getting my rhythm back," Terdoslavich said. "It's a timing thing, like hitting, if you don't have an at-bat for three months or six months and you sit out a whole season you're obviously not going to come back and hit .400. I'm just trying to get back and get better. (Gwinnett manager Dave Brundage) came out with me early today and hit me about 50 ground balls and I made some throws across the diamond. I'm just trying to get better."
He also benefitted from taking grounders next to the man he is supposed to replace throughout the spring --
Chipper Jones
. In fact, it was during one of those mornings in Florida that he learned Jones would soon announce he was planning on retiring after the 2012 season.
"I knew a few days before. I was taking ground balls next to him every single day in big league camp. I kind of knew," Terdoslavich said. "It was, it was sad. He's a guy that I grew up watching every day on TBS. He was a guy I idolized. It's sad when a guy like that announces his retirement. You know a guy like that wants to continue playing baseball, it's his life. I just congratulated him, he's obviously ready for the next step in his life. I was very happy for him and this unbelievable career he's had. I'm happy for him. He's a first-ballot Hall of Famer in my eyes."
In addition, he's the perfect role model for Terdoslavich, a switch-hitter himself. And he also understands that the comparisons to Jones will come, as will the pressure of being ready to take over in the near future.
"It's a natural question to ask, I've been asked by everybody. I don't really worry about everything else like that," Terdoslavich said. "I don't worry about what people say or what's going on. I obviously check up on the box scores and see if Atlanta wins, but I don't worry about if a guy's struggling or not or injuries or stuff like that. I just worry about right here, right now and try to help us win as many games as I can."
PROSPECT TALK
• 
Telvin Nash
, a fist baseman in the
Astros
system at high-Class A Lancaster, has seven home runs this season in 13 games through Wednesday's game. He also has 17 strikeouts, but is hitting a robust .308/.379/.731. The 21-year-old right-handed hitter had 14 home runs in 73 games for low-Class A Lexington of the South Atlantic League. Lancaster is a launching pad, but Nash has legitimate power and if he stays in the California League all season, he could put up some obscene numbers.
• Earlier this week
Dylan Bundy
, the
Orioles
' first-rounder in the 2011 draft, gave up his first baserunner as a pro, walking a batter in his third start. In 9 total innings, he has 15 strikeouts, one walk and no hits allowed.
• Meanwhile, another South Atlantic League pitcher has been just as dominant.
Red Sox
right-hander
Matt Barnes
has made three starts for low-Class A Greenville and struck out 25 batters, while allowing six hits over 16 innings. Barnes was Boston's first-rounder last season. He's two years older than Bundy, having gone to Connecticut and played three years of college baseball.
• While
Kevin Youkilis
is struggling with the Red Sox, the prospect expected to replace him is looking more and more like he'll be ready soon.
Will Middlebrooks
is off to a hot start at Triple-A Pawtucket, where he's hitting .368/.390/.684 with five home runs.
• The Padres got good news this week when right-hander
Casey Kelly
's MRI showed no ligament damage in his right elbow. Kelly, one of the key pieces of the
Adrian Gonzalez
trade, will not throw for two weeks and then be re-evaluated,
Padres farm director Randy Smith told InsidethePadres.com
.
• Now in the
Cubs
system, first baseman
Anthony Rizzo
is off to a hot start for the Triple-A Iowa Cubs. Rizzo, acquired by
Chicago
this offseason, is hitting .377/.411/.679 with five homers and 13 RBI.
CATCHING UP WITH• Billy Hamilton:
Last week's
profile subject
is off to a great start at high-Class A Bakersfield, hitting .388/.474/.673 with 11 stolen bases, five doubles, three triples and a home run. He's scored 15 runs.

Does the Jackson signing mean the Giants are out on Lorenzo Cain?

Acuna edged out Shohei Ohtani and Vladimir Guerrero Jr.

There's no reason to run over the cases for and against Bonds, so let's have fun instead
The coveted right-hander would certainly be a fit in Milwaukee

We rate the best mustaches from random baseball cards because, why not?

Colon wants to break a Dennis Martinez record