Report: Ryan Braun reached out for support in discrediting test collector
Brewers slugger Ryan Braun reached out to fellow stars for support in discrediting the urine test collector for his failed 2011 drug test.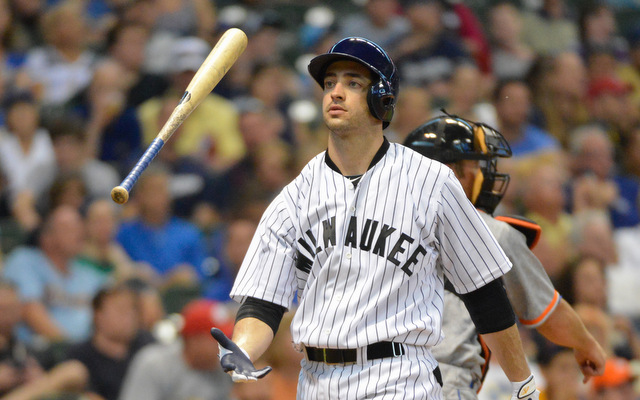 More MLB: Scoreboard | Standings | Probable Pitchers | Sortable Stats | Odds
Suspended Brewers outfielder Ryan Braun reached out to fellow players for support in discrediting urine test collector Dino Laurenzi Jr. following his failed drug test in 2011, reports Jeff Passan of Yahoo! Sports. He reached out Matt Kemp, Troy Tulowitzki and Joey Votto, among others.
According to Passan, Braun told others Laurenzi was an anti-Semitic Cubs fans. A number of players, including Brewers teammates, believed the allegations. A source close to Laurenzi confirmed to Passan he is not anti-Semitic, though his fan affiliation is unclear.
Kemp told reporters that those Braun reached out to felt "betrayed" and "disappointed." Braun called Laurenzi "very suspicious" during a news conference in spring training 2012 after successfully appealing the failed test due to chain-of-custody concerns. Laurenzi mishandled the sample.
Braun reportedly plans to admit his performance-enhancing drug use and apologize to everyone involved at some point in the future. Laurenzi figures to be among those to receive an apology, though being accused of being anti-Semitic is a serious charge. It's unclear if Laurenzi has any legal recourse.
Braun is currently serving a 65-game suspension for his ties to the South Florida anti-aging clinic Biogenesis. He will be eligible to return for the start of next season.
Boston wants to add two big bats to their lineup, not just one

Even more relievers signed on the final day of the Winter Meetings

Keep tabs on the top 50 free agents right here
The league is not happy Ohtani's medical information leaked

Kansas City and Baltimore were quite busy at the Rule 5 Draft

Piscotty's mother was diagnosed with ALS earlier this year