Ricky Romero couldn't make it through one inning in Triple-A start
In only 2/3 of an inning on Monday, former Blue Jays ace Ricky Romero gave up eight runs. His Triple-A ERA in four starts is 13.85.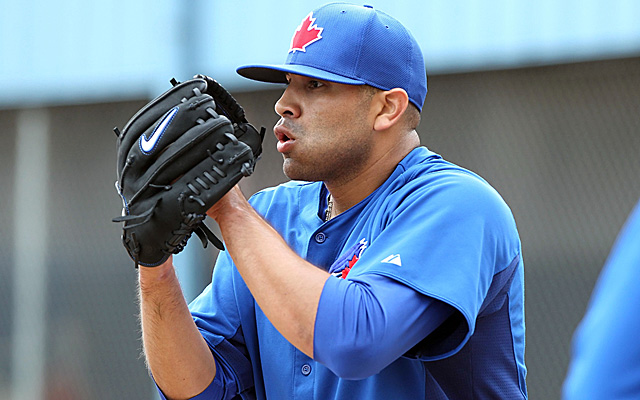 More MLB: Scoreboard | Standings | Probable Pitchers | Sortable Stats | Odds
To see a player's career fall apart so quickly is a sad thing, but that's apparently what we're seeing with former Blue Jays ace Ricky Romero.
With Romero pitching Monday for Triple-A Buffalo, the Durham Bulls tagged him for eight runs on five hits and three walks in just 2/3 of an inning before he was chased from the game (MiLB.com). In his previous three starts for Buffalo since being demoted, Romero had an 8.31 ERA with 17 walks and three strikeouts. And, again, that didn't include the stink bomb that he put out there Monday.
In four starts in Triple-A, Romero has a 13.85 ERA and 3.31 WHIP. He has given up 23 hits, 20 earned runs and 20 walks while only striking out three in 13 innings. Opponents are hitting .404/.551/.544 against him.
If this isn't Romero's "rock-bottom" moment, his career would be in jeopardy. This is a man who went 15-11 with a 2.92 ERA, 1.14 WHIP and 178 strikeouts in 2011, good enough to make the All-Star team and finish 10th in AL Cy Young voting. He was the opening day starter in 2012, but it has been downhill from there.
In 34 big-league starts in 2012-13, Romero is 9-16 with a 5.92 ERA and 1.70 WHIP. He has struck out 128 while walking 110.
Remember, Romero didn't make the team out of spring training and instead spent nearly a month in extended spring training while working to overhaul his mechanics. The results to date have been more than underwhelming. They've been brutal.
Romero's only 28, so things could turn around. It's always possible he reverts back to All-Star form, too, but that seems rather far off at this point.
After acquiring Ian Kinsler and Zack Cozart in recent days, the Angels are trending upward

Cozart's coming off a big season as the Reds' shortstop

The veteran slugger spent the last eight seasons with Cleveland
The Padres may be poised for an active winter

Yes, Bryce Harper is going to make a lot of money next winter

Outfield prospect Clint Frazier might be part of the talks