R.I.P., 2013 Milwaukee Brewers
The Brewers became the fifth team to be officially eliminated from postseason contention on Tuesday night. Let's look back at their season.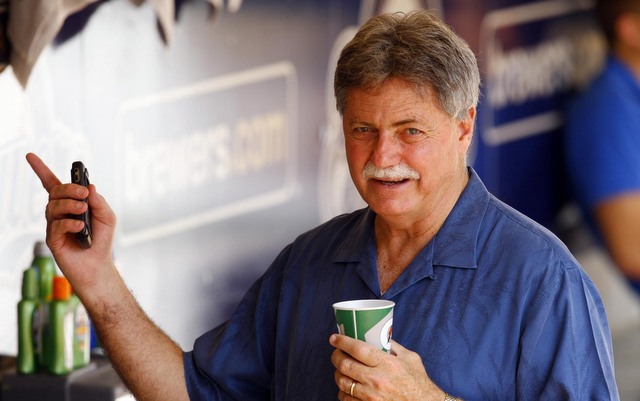 RIPs: Astros | Marlins | White Sox | Cubs
On Tuesday night, the Milwaukee Brewers were officially eliminated from postseason contention with their 4-2 loss to the Cardinals. Needless to say, this was a nightmarish season for Milwaukee. Let's pay our respects.
What went right
Despite the overall awful year, the Brewers watched the trio of Carlos Gomez , Jean Segura and Jonathan Lucroy emerge as legitimate cornerstone type players. The 27-year-old Gomez has 19 home runs, 33 steals, a 123 OPS+ and elite defensive ability in center field. He's a star. Segura, 23, put up a 107 OPS+ with 12 homers and 40 steals as a shortstop in his first full season as a big leaguer after coming over in last summer's Zack Greinke trade. The 27-year-old Lucroy emerged as one of baseball's best catchers with a 118 OPS+ and a career-high 17 homers. Those three guys were overwhelming positives in 2013.
What went wrong
A lot, obviously. Ryan Braun quasi-admitted to using performancing-enhancing drugs and was suspended 65 games last month. Having your franchise player stained like that -- especially when he's still owed over $100 million through the end of the decade -- is a huge blow to the organization.
There's also the injuries. Lots of 'em. Corey Hart and Mat Gamel didn't play at all this year because of continued knee problems. Aramis Ramirez has been on the DL twice with knee problems of his own. Yovani Gallardo -- who went from being one of the game's top young starters to mediocre in 2013 -- missed time with a hamstring injury, as did Rickie Weeks and Marco Estrada . Braun was dealing with a thumb injury before being suspended. Just about every notable Brewer suffered an injury that required a DL stint at some point this year.
MVP: Gomez, but Lucroy is in the conversation as well. Gomez is actually sixth among all position players in baseball with 6.6 WAR.
LVP: The easy answer would be Yuniesky Betancourt (60 OPS and -1.6 WAR) or even Braun if you particularly dislike PED cheats, but I'm going to go with Weeks. The Brewers gave him a big contract a few years ago and he just hasn't been the same guy these last few seasons. Before the hamstring injury, he had an 81 OPS+ and -1.0 WAR for the low, low price of $10 million. Yuck.
Free agents to be: IF Yuniesky Betancourt, LHP Mike Gonzalez , 1B/OF Corey Hart. I assume the team will exercise OF Nori Aoki 's no-brainer $1.5 million club option for 2014.
Gameplan heading into the offseason
Although the Kyle Lohse signing has worked out wonderfully, the Brewers have the second worst rotation ERA in the NL this season, barely ahead of the Padres (4.46 vs. 4.47). Gallardo has shown he can pitch better than he did this year and the 24-year-old Wily Peralta (86 ERA+) deserves more time to establish himself, but otherwise GM Doug Melvin & Co. need to add both quantity and quality to their rotation. Better pitchers and more depth.
Melvin traded away John Axford and Francisco Rodriguez in recent weeks and could try to find takers for Weeks and Ramirez this offseason. Shedding some of the money they're owed would be a win going forward. Baseball America ranked the team's farm system as the 23rd best in the game coming into the year, so any chance to flip a veteran player (Lohse? Gallardo? Jim Henderson ) for prospects should be considered. I would be surprised if a) the Brewers shopped Braun, and b) any team seriously made a run at him.
Milwaukee has seen their win total drop from 96 in 2011 to 83 in 2012 to 62 (and counting) in 2013, and there have been some rumblings owner Mark Attanasio may look to replace Melvin, who has been the team's GM since September 2002. I neither endorse nor reject such a move, but it could happen. Obviously that would change everything this coming winter.
Ridiculously premature prediction for 2014
The Brewers improve via better health and a rebound from Gallardo, but it's still not enough to get them back into the postseason picture. Milwaukee is stuck in the unfortunate spot of having several very good young players while not being good enough to contend overall. They're also stuck in the ultra-competitive NL Central.