Royals take a chance on Santana, while Angels focus on Greinke
The Angels didn't want to keep Ervin Santana, not at $13 million. Their main offseason goal is finding a way to re-sign Zack Greinke. So the Angels traded Santana to the Royals, whose main goal is simply finding a way to upgrade a rotation that isn't even close to being good enough.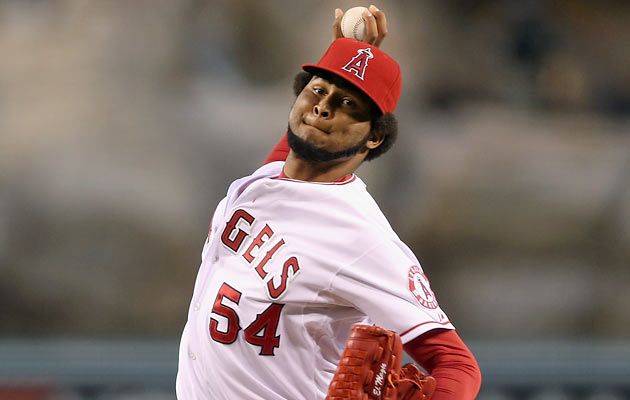 Ervin Santana might not be an elite starter, but the pitching-starved Royals will gladly have him. (Getty)
The Angels have Jered Weaver and C.J. Wilson, and maybe Zack Greinke, too. The Angels were never spending $13 million on Ervin Santana.

The Royals have Bruce Chen. Ervin Santana looks great to them.

The Angels' top offseason priority is finding a way to re-sign Greinke ("huge priority," one Angels person said). The Royals' top offseason priority is upgrading a rotation that isn't even close to being good enough.

"Our vision's very clear," Royals general manager Dayton Moore said on a Wednesday conference call, after the Royals acquired Santana from the Angels for minor-league left-hander Brandon Sisk.

It's not at all a reach to say the Royals could contend in the American League Central next year if they significantly upgrade starting pitching. It's a big reach to say trading for Santana is enough.

Santana's ERA soared to 5.16 in 2012, and his home-runs-allowed total soared to a league-high 39. Moore pointed out that Santana improved near the end (4-3, 3.44 in his final eight starts), but it's clear that the Royals are taking a chance and hoping that they're buying low.

They tried that last year with Jonathan Sanchez, with awful results.

But really, do they have any choice but to try again?

They're not getting Greinke, the top pitcher on the free-agent market. They traded him away two winters ago because they couldn't sign him long-term, and now they'd be facing big-money competition for him.

Even the Angels wonder if they'll have enough cash to keep him, given the way the Dodgers are throwing money around.

Santana, who had his $13 million option picked up as part of the trade, gets a chance to reestablish his value before becoming a free agent next year. If nothing else, the Royals should be getting a motivated pitcher.

It's not enough. They know it's not enough. But if there are more moves for pitchers to come (maybe a free agent, or maybe a bigger trade), then at least this would be a start.

The Angels could have simply paid Santana a $1 million buyout and allowed him to become a free agent now. They gave the Royals the same $1 million as part of the deal, according to the Los Angeles Times, but also got Sisk in return.

Their main goal is to keep Greinke.

The Royals' main goal was simply to get better.
In the last two votes, Clemens has gained nearly 17 percent in Hall of Fame voting

The results of the BBWAA Hall of Fame vote are revealed Wednesday, Jan. 24

Does the Jackson signing mean the Giants are out on Lorenzo Cain?
Acuna edged out Shohei Ohtani and Vladimir Guerrero Jr.

There's no reason to run over the cases for and against Bonds, so let's have fun instead

The coveted right-hander would certainly be a fit in Milwaukee