2014 All-Star Celebrity Game rosters and coaches announced
The 2014 All-Star Celebrity Game rosters and coaches have been announced for New Orleans.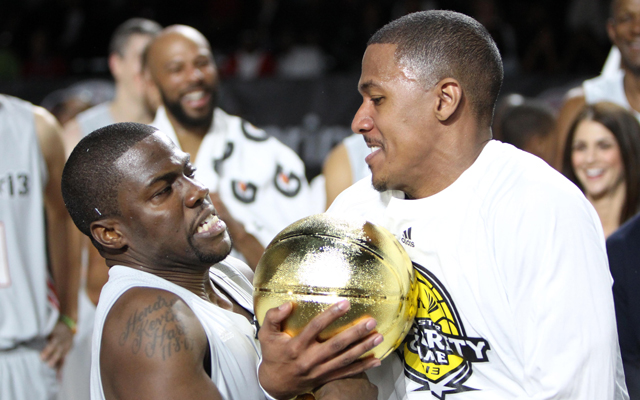 Two-time Celebrity Game MVP Kevin Hart will be one of the headliners for the 2014 All-Star Celebrity Game in New Orleans this year. He'll be joined by actors and actresses, models, TV and radio hosts, former NBA player Bruce Bowen, the U.S. Secretary of Education, and a couple of current WNBA players to provide a little bit of skill in the game. 
The game will take place on Valentine's Day at 7 p.m. ET and aired on ESPN. Bill Simmons and Jalen Rose will coach the two teams with an assistant coach that will be selected in a contest. From the NBA: 
The National Basketball Association announced today stars from film and TV will take the court for the Sprint NBA All-Star Celebrity Game 2014 on Friday, Feb. 14, at 7 p.m. ET. Two-time MVP Kevin Hart will play alongside Victoria's Secret model, actress and philanthropist Erin Heatherton; "America's Got Talent" hostNick Cannon; ESPN Radio's "Mike & Mike" hosts Mike Golic and Mike Greenberg; Jesse Williams ("Grey's Anatomy"); Columbus Short ("Scandal"); Michael B. Jordan ("That Awkward Moment"); U.S. Secretary of Education Arne Duncan; three-time NBA Champion and ESPN NBA analyst Bruce Bowen; "E! News" anchorTerrence Jenkins; NBA TV's "NBA Inside Stuff presented by Samsung Galaxy" co-host Kristen Ledlow; ESPN anchor Stan Verrett; and WNBA stars Skylar Diggins of the Tulsa Shock and Elena Delle Donne of the Chicago Sky. Tickets for the game, airing live on ESPN from Sprint Arena at NBA All-Star Jam Session, will go on sale today Wednesday, Jan. 29, at 11 a.m. ET/ 10 a.m. CT.

ESPN's "NBA Countdown" hosts Bill Simmons and Jalen Rose will coach this year's teams. An assistant coach will be selected through Sprint's Assistant Coach For A Day Sweepstakes. The winning fan will be flown to New Orleans for NBA All-Star 2014 and serve as assistant coach for the West or East.
Set your DVRs, everybody!
Kevin Hart will be gunning for his third celebrity game MVP. Nick Cannon will be gunning to steal Hart's thunder. And Arne Duncan will be the best non-professional player on the court as everybody wonders just how good he actually is. Sleepers for the stars of the game that aren't professionals are Kristen Ledlow and Michael B. Jordan. Ledlow has shown she can actually shoot and play on a segment of TNT's Inside the NBA and Michael B. Jordan has a similar name to the greatest player of all time, so he has to be good.
Thunder GM Sam Presti went on to say the procedure on the MVP's right knee was "nothing se...

Hayward credited the Cavs guard as a big reason why he chose Boston in free agency

The two new biggest draws from "NBA 2K18" are certainly fun and worthwhile for fans of the...
"NBA 2K18" predicts a wild season, including the revamped Celtics finishing eighth in the...

The Knicks intend to have Melo remain with the team for media day on Monday and Tuesday for...

Last month, Knicks team president also omitted Melo's name from a similar open letter to f...