2014 NBA Draft: Ranking the power forwards of this draft class
Who is the best power forward out of Noah Vonleh, Julius Randle, and Aaron Gordon? Who is the next best after them? We rank the power forwards in the 2014 NBA Draft .
More Offseason Analysis: Coaching changes, news | Free Agency | Draft | Rumors
The power forward position in the NBA is one of the deepest positions with a lot of star power. With the way teams go small and defend the pick-and-roll with their bigs, it also might be the most important position in the NBA. This year's draft class has a few potential stars at the position and a lot of role players who could be very important off the bench.
We're going to break it down into tiers of power forwards -- from the future stars of the league to role playing starters to prized backups to guys who may not have much of an impact at all. We'll be looking at how they project out based on skill set now and what we expect them to develop into in the future.
(The players in each category are in order of how good I think they'll be in the NBA. If you don't see a player in this position category, he's either not good enough to be mentioned or I think he'll play a different position in the NBA.)
Other position rankings: Point Guards | Shooting Guards | Small Forwards | Centers
The Star Power Forwards of This Draft Class
The potentially elite of the elite are here. We've got three big time power forwards, who each have a different way of playing, and will all likely go in the top 10 of this draft. We've got a bull inside with a lot of skill, we've got a raw athlete who could own highlight reels, and we've got a very skilled, versatile big man who could be perfect for this era of basketball.
Noah Vonleh, Indiana: If you think Gordon and Randle are better prospect than Vonleh, I don't fault you for that. The logic is there. But Vonleh may be the prototypical big man in today's NBA with how he can defend pick-and-rolls, play inside and out on both ends of the floor, and be a big time rebounder in the NBA. The Chris Bosh comparisons seem very apt because he can do it all in today's NBA. It's what I think separates his future to the other power forwards.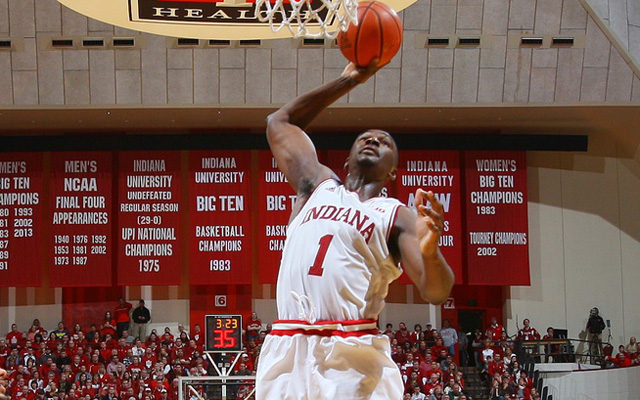 Julius Randle, Kentucky: Randle is a bit tougher to get a handle on than some of the other guys. He's going to be a monster inside with his strength, but he also has plenty of skill and touch to go with it. Will he truly be a guy who can face up and consistently knock down midrange jumpers and will he be able to utilize his 7-foot wingspan on defense? If Randle can do all of that, he has a chance to be an All-NBA level power forward for a decade.
Aaron Gordon, Arizona: Gordon is a project but he's a very fun project. The great things about him are he's going to be a very good defender right away, he can rebound, and he's a tremendous leaper who will bring a lot of fun to the fan base and the YouTube accounts. The problem is he doesn't have much in terms of skills with the ball. He can't shoot, he's not a strong dribbler, and he's horrendous at the free throw line. He's a little light for a power forward too so he'll need to continue adding mass to his frame. 
He's Not a Star But He's a Significant Tier Above the Rest
We've got one guy here who is unlikely to be a star type of power forward in this league, but he's also a significant level above the rest of the power forwards in this draft. He'll be a great contributor to a team but he won't be a star. He also won't be a bench player; he's a legitimate starter.
Adreian Payne, Michigan State: Adreian Payne won't be a star in this league, but he's a lot better than the rest of the power forwards in this class. That's not a knock on the crop of PFs either; Payne is just that good. Some are scared by the idea that he's 23 years old, but he can do it all with the basketball. He'll be a good defender, he's a great leaper, he can shoot the ball, and he's a smart player. Maybe he doesn't have the upside of development other players do, but he can contribute right away.
Are These Guys Major Contributors Or Just Nice Role Players?
It's unlikely these two PFs have the chance to be stars in the NBA, but their deficiencies can potentially keep them from being major contributors. They're both projects of sorts, but in very different ways.
Doug McDermott, Creighton: McDermott is more of a stretch-4 than he is a small forward, which is why I included him at this position. Most people would agree but some think he's too small to defend power forwards in the NBA. He is but that means they have to defend him too. He'll shoot the lights out but he'll have to prove he can get separation. You're going to have to hide him on defense, which is harder to do with big men. Will the defensive end of the floor and his height/length keep him from being a major contributor? That's the question.
Clint Capela, Switzerland: Capela is a different type of project for whichever team selects him in the first round. He's a 6-11 power forward with a 7-4.5 wingspan. He can protect the rim, he can be an explosive leaper, he has a great second jump, he gets out and runs, and he'll bring the thunder on a dunk against a defender. But he doesn't have much for traditional skills. He's not a shooter and he's not much of a passer. He'll be able to defend right away but he needs to be stronger and his offensive game needs to progress significantly. 
You Can Find a Nice Big Man Off The Bench In This Draft
These guys are unlikely to be anything other than the first big man off the bench, but we've seen how important those guys are in the NBA. This group of big men will all have the opportunity to make significant contributions off the bench in this league.
Mitch McGary, Michigan: McGary was a lottery pick in last year's draft, had he decided to declare and stay in the draft. Granted, that was a pretty bad draft class but McGary was a nice big man prospect. A back injury has left him as a borderline first round pick, but assuming his health is fine, he could be a valuable backup big man for a decade-plus. He's a good pick-and-roll big man on offense, but he doesn't have much of a post game. Could be a very active backup.
Jarnell Stokes, Tennessee: He's a little short for a power forward (6-8) but his 7-1 wingspan helps make up for it. He's a bruiser inside, using his strength and mass to move defenders out of the way. It's tough to get good post position against him on both ends of the floor. He's a little slow, but he's a good rebounder and could get some good buckets from offensive rebounding. Can do a lot worse with your third big man.
Cory Jefferson, Baylor: He's very slight for someone playing the 4 in the NBA, so he'll need to add strength and mass. However, his athletic ability can make up for a lot of that until he does. You're not going to run plays for him to go get you buckets, but put him in a pick-and-roll and he can get some stuff going toward the hoop. He's also a very nice shot blocker so his recovery and weak side help could be great for a second unit. He's already 23 years old, but that shouldn't deter you from a second round selection.
Johnny O'Bryant, LSU: Not sure you're going to get a lot of offense out of him, but he could be a good cleanup guy in the paint, either for dump-off passes or from offensive rebounds. He's much more grounded as an athlete than Jefferson, but he's strong as a bull. He can really help a team control the boards, as well.
D-League/Overseas Material
These small forwards are more likely to have success in a career overseas in international play, but they could try to go the D-League route, shuttle back and forth between the D-League and the NBA, and hope they truly develop whatever deficiencies are currently keeping them from being a guaranteed second round pick.
Khem Birch, UNLV: Birch should be able to guarantee himself a selection in the second half of the second round, but sticking around will be determined by how much he can improve his offensive game. He just doesn't have much to offer on that end, other than offensive rebounding and being able to finish. He's much more of a defender, but I'm not sure he's such a great defender and rebounder that he's guaranteed a long career. 
Dwight Powell, Stanford: Powell can pass, shoot, and rebound quite nicely as a power forward. He has a good midrange game. But does he do any of that well enough to guarantee a spot in the rotation? And if he can't prove he belongs in the rotation, is he a big enough player to guarantee a team keeping him around to have extra size? Those are my questions for his career. I'm not sure how much upside he has but it's possible he sticks around as a fifth big.
James Michael McAdoo, North Carolina: McAdoo needs to add strength to go with his 7-2 wingspan to truly be effective inside. He can get pushed around a lot, and I'm not sure how much he'll want to bang in the paint in the tougher NBA. He has a pretty smooth offensive game and he's a solid rebounder. It's crazy to think how much his stock as a prospect has dropped in a couple years. To improve it, he either has to get dirty inside or develop a killer pick-and-pop jumper.
Barkley spoke to the NFL Today crew about the response the president received in his home...

The restricted free agent has a deal in place that will keep him with the Bulls after a st...

James' support continues his trend of social activism on social media
The newly-acquired All-Star thinks the addition of Anthony boosts the Thunder in the NBA's...

The Knicks were asking for the house in discussions for Carmelo Anthony

Steve Kerr has given his response to Donald Trump in writing