2014 NBA Free Agency: Top 20 Wings
A look at the 20 best wing players in NBA free agency, starring LeBron James and Carmelo Anthony.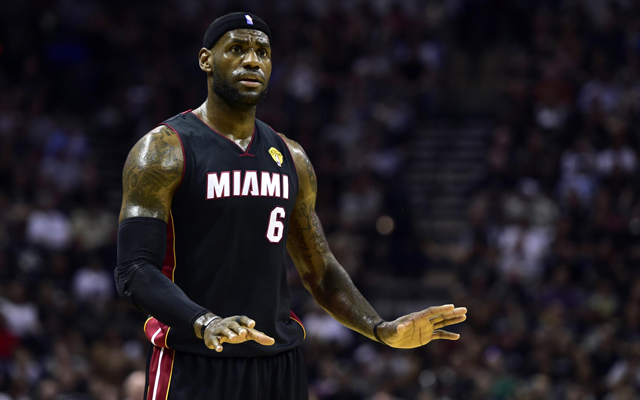 More free agency lists: Top 40 | Tracker | Top 20 Bigs | Point guards |News
On Friday we released the top 40 NBA free agents this offseason effective July 1. Now we turn our attention to position rankings, separated into point guards, wings, and bigs (to reflect the modern NBA positionality, or lack thereof). We continue with the wings, which has the most depth any class, headlined by you-know-who.
The Mega Stars
1. LeBron James, Miami Heat: 1. You may have heard of him. He's pretty good. 2. You're not getting him. All signs point to him returning to Miami. 3. Who else did you think would be here?
2. Carmelo Anthony, New York Knicks: Anthony is quite the divisive figure among fans, but he still holds a great deal of weight with league personnel, coaches, and media. The reality is that an elite scorer who can go off for 50 on any given night is a rare commodity in the NBA and Anthony has takeover ability like nearly no one else outside of Kevin Durant... and Durant doesn't share Anthony's willingness to fire.
But Anthony's stock has slid over the past four years. He's been revealed as a high-usage isolation-centric player who doesn't defend well and too often not only stops the ball, but then chains it to the ground and sits on his porch laughing while the ball tries to escape. This is much in part due to the coaching of Mike Woodson who was specifically promoted to head coach from interim because of his willingness to effectively let Anthony do whatever he wants.
There's still that potential, though. Anthony has more defensive ability than he shows, and a lower offensive workload could open the door for more defensive impact. He's a terrific rebounder, especially off his own miss, and in those rare times when he commits to the team concept as a knock-down shooter, he's elite.
Anthony's worth the money. There's no denying that. But he needs the right team around him, and for him to trust that team and its coach.
The Young Guns
3. Lance Stephenson, Indiana Pacers: Embrace the crazy. If you have a strong team culture, a good coach, and an established hierarchy of veterans, Lance Stephenson can raise you a rung on the contention ladder by himself. He's supremely athletic, and get to the rim effortlessly. He shot a career-high 35 percent from three last year, and that number has gone up dramatically every season he's played.
He's a tenacious defender who bothers and bullies ball-handlers, and a truly gifted passer, able to make some dimes that completely tear apart defensive schemes.
The only problem is in his head, and what is in, or not in, it. If you're a young team, say, Orlando, and you add Stephenson, you're risking a lot. Because Stephenson needs someone to constantly mentor him, to keep him at arm's length but no further, and make sure he has someone he's accountable to. It's got to be someone he respects, and he's got to be surrounded by players that he looks up to. On a young, bad team your risk any number of dangers: laziness, craziness, suspension, off-court issues, selfish play, anything. He can make you a contender or tear your team apart.
That's the deal with Lance Stephenson.
4. Chandler Parsons, Houston Rockets: An all-around basketball stud. Tremendous shooter at 37 percent from three in a high-volume role. He finds ways to create looks on the outside, slipping through and behind screens in unexpected ways. He knows how to navigate space to clear room for his shot, and when he launches, it's pure.
Supremely athletic. Great big strides get him up the floor, and terrific leaping ability to get to the rim. The polar opposite of a slow shooter. He can throw it down and attack. As he expands his game with post moves and coming off screens, it will only get better. He's still got a lot of upside to his game, even if it's unlikely he'll ever be a 30-points-per game scorer even on a bad team. v Defensively there are issues, but most of them seem to be mental and coaching-affiliated (a common theme with Houston). He's athletic and quick enough laterally to stay with opponents on the perimeter, but too often when he gets beat he fouls or leads them the wrong way. Doesn't communicate well with teammates and needs to trust his help more.
Parsons is likely to remain a Rocket, and he's worth the money. He's a guy who can swing your team's fortunes pretty significantly, without making true mega-star money. That's rare.
5. Dwyane Wade, Miami Heat: This is just sad.
It was supposed to have just been the injuries. Dwyane Wade's struggles in 2013 were supposedly attributable to a series of knee collisions which banged him up and limited his mobility. The Heat instituted a year-long program to make sure Wade was healthy for the Finals. He rested more than any other Heat star, and LeBron James had to shoulder the load. And then, at the most crucial time, in those moments Wade has so often stepped up, he faltered.
Wade was a hot mess in the Finals. He just can't move. And if he can't move, what's the value there? He's still a top-five guy because if all hell broke loose and the Heatles decided to break up without a rooftop concert, he could go anywhere and that team is still likely making the playoffs. He goes to Charlotte and they could make the Eastern Conference Finals.
But he's not going anywhere. The problem is that he's going to demand a huge salary for a guy who may never have another season like 2012, much less his transcendent 2009 season. This could change. Wade could reinvent himself by dramatically changing his diet and losing significant weight to help his mobility. But unless things do change, he's going to be an overpaid star. And for someone who's been so brilliant for so long, that's a bummer. 
The Three-And-D Crew
6. Luol Deng, Cleveland Cavaliers: Deng was traded from Chicago where he was an All-Star and never really fit. It was surprising to see him not dramatically change the way the Cavs defended or their team culture, which remained a mess. Much of that is on Mike Brown, but the fact that Deng passively allowed the fire to rage around him did catch me off guard. v Deng's getting older, and he's not only had a lot of injuries but a serious illness two years ago that wrecked his body. He's still an elite, top-five perimeter defender. The shot has been inconsistent. It was terrible for much of his career, then it got great, then it faded again. He's not a great offensive player at this point but he is a very good one, especially in the post.
Deng is honestly the player several of the teams chasing Anthony need. Houston, who lacks perimeter defense. Miami, who lacked athleticism and size on the perimeter last season. The Lakers, who need someone who can play seamlessly next to Bryant and shoulder the defensive load. He'll get a huge offer, likely more tha he's worth and the length of the deal will mean that by the end of it, it could be a bad contract. But that's what you pay for an immediate impact player, and that's what Deng is. As long as he's not in Cleveland, apparently.
7. Gordon Hayward, Utah Jazz: A restricted free agent,the Jazz are expected to match any offer for Hayward. There are reasons to keep him, reasons to let him go. He's an extremely versatile player. He can defend, rebound, pass, score. His shot really abandoned him last year as defenses swarmed him, he shot a career-low 41 percent and his percentage has decreased every year of his career. After shooting 42 percent in 2013, he shot just 30 percent last season, an absolute plummet. His passing didn't take considerable steps forward, neither did his rebounding.
Much of that is simply this: The Jazz were bad. On bad teams, everyone struggles, and then effort depreciates and it gets harder for those who have to carry the load. But Hayward had a chance last season to declare himself 'the man,' and instead watched the pitch sail by. He's young, he'll improve, but those kinds of opportunities don't come around very often.
Still, he definitely makes your team better, is a high-character guy who wants to win, and has tremendous physical gifts. Worth the investment, if you can wrench him away from something reasonable.
8. Trevor Ariza, Washington Wizards: Nothing better than a contract year Ariza. Proponents of Ariza will say he shot well from the last half of the 2012-2013 season all the way through last year. I would counter he was just warming up for the contract year. Ariza has made a living off of having his biggest years before he needed to get the deal, and this year was no exception.
But Ariza's also the real deal on multiple levels. The guy is a great defender, probably top-15 to top-10 on the perimeter, and long as all get out. He was 83rd percentile last season according to Synergy Sports in points per possession off no-dribble jumpers spot-up. Basically, he's great at catch-and-shoot. And off the dribble, he shot a whopping 50 percent.
He just can't dribble. Like, he should never, ever dribble. In pick and roll situations according to Synergy Sports, he turned the ball over a stunning 22 percent of the time. Basically, Ariza is a proto-typical 3-and-D guy at this point. He just happens to be at the very top of that list, especially in this free agency class. He's worth the money... within reason. But it's likely with the number of suitors he's getting it will get out of hand soon.
Still A Country For Old Men
9. Paul Pierce, Brooklyn Nets: I never know whether to lament how bad Pierce looks now, how slow, old, and concrete he seems to be, or marvel at the fact that he's still so damn effective. The Truth still finds ways to crush teams. His trailer three-pointers take about an hour to wind up and yet he still manages to negotiate space enough to get them loose, and when they drop, the other team's head just sinks.
He moved to power forward in the Nets' smallball system last year and was surprisingly effective. That's mostly because he can't guard threes anymore at all. Put him on any wing with speed or handle and he's going to get crushed. He doesn't have the strength to battle them in the post, either, but with so many power forwards stretch fours now, he can get by.
Pierce brings an attitude that helps. The Nets would have given up a year ago vs. the Raptors in a road Game 7. Pierce kept them in it, emotionally. He's basically a spirit animal at this point, but one with very real claws and fangs.
10. Vince Carter, Dallas Mavericks: The reinvention of Half-Man Half-Amazing has been incredible to watch. From the oft-injured player trying to find a place after his skills had dried up in Orlando to a valuable role player and really tough member of the Mavericks, Carter has done a great job extending his career.
He's a smart, capable veteran, and he can still come off the pick with the ball and knock down the mid-range jumper. He hits huge three-pointers and plays with great aggressiveness still. He's still dunking on fools, amazingly.
Carter makes your team better and is a steal. He's in good enough conditioning to last despite his age, but you have to know he's a temporary solution. Nothing gold can stay, no even Vinsanity.
11. Ray Allen, Miami Heat: Talking to Allen during the Finals, I really thought he might be done. But he wants to go again and feels good enough to continue. He needs to not have as much confidence as he does in his dribble-penetration game and stick to shooting, but he's a threat anywhere on the floor and a good defender. His presence in the locker room carries a lot of weight and he doesn't put up with any nonsense.
The Role Players
12. Avery Bradley, Boston Celtics: Bradley slipped defensively last year, in part due to injuries, in part due to not having capable teammates, and in part due to an increased offensive role. But he's still very much a plus-defender, top 15 on the edge.
He's a restricted free agent, but Boston has given mixed signals about him. And it has somehow gone completely overlooked that Bradley shot 40 percent from three last year. He worked his tail off to become a better perimeter weapon, and it worked. If Boston's willing to let him go, this could be an absolute steal of a guy to get. Have I mentioned he's only 24?
13. Shawn Marion, Dallas Mavericks: Marion's another high-value guy here. There were still games last year where he was the leading scorer for Dallas. He's a quality rebounder and still a dogged defender. It's getting hard for him to defend 3's, however, with how his lateral quickness is falling. But Marion's strong, versatile, smart as hell, and has been a part of winning environments for almost his entire career. As long as he thinks there are playoffs at the end of the tunnel, he's going to give you great minutes. Getting him for the Mid-Level Exception would be a steal.
The Bargain Bin
14. Rodney Stuckey, Detroit Pistons: Rodney Stuckey was the best Piston last year. For starters, I'm serious, and second, I know that's not a high bar. But it's true. He was great last year. While the rest of the team would drive me insane to watch, Stuckey kept attacking, made smart decisions and generally delivered on both ends.
He's not a good shooter, or an efficient player overall. That's why he's 14. But he's big, athletic, still has some improvement left in him, and catches guys off-guard with his mobility. Stuckey was 67th percentile scoring out of the pick and roll according to Synergy Sports last year and only turned the ball over 11 percent of the time in those sets. He knows how to create and get fouled. He'd be a great bench addition for a good team, on a three-year deal.
15. P.J. Tucker, Phoenix Suns: This guy is tough as nails. He has scraped his way to an NBA living and built himself into a decent offensive weapon to boot. He's not an elite perimeter defender, but he's pretty darn good, and unlike many such defensive players, he's not a liability offensively. He's strong as an ox and supremely intense. He sets the tone for the team a lot of the time and is a vocal leader. Tucker is likely to re-sign with the Suns, but if not, he can help a team elsewhere.
16. Nick Young, Los Angeles Lakers: If you want someone who can take a lot of shots and make some of them, sing up. He's athletic. He's extremely engaging as a personality and fun to be around. He plays... um... hard, kind of. If you need a guy who can just produce shots, Young's your guy.
17. C.J. Miles, Cleveland Cavaliers: Capable wing who can help an offense flow and knock down some shots. Is no longer a point guard, but can handle decently. Not going to create a lot of offense on his own, but he's a quality locker room guy who will help you overall. Not a huge minus defensively.
18. Mike Miller, Memphis Grizzlies: This guy looked like he could barely walk two years ago. I called him "Wince," because that's what I did whenever I looked at him. And yet, he played in all 82 games for the Grizzlies last season. He was terrific. Still can rebound, and of course is a lights out shooter. Miller's of course not the player he was three years ago, but if you need a wing player who can stretch the floor, he's perfect. Veteran, contending teams only need apply.
19. Mike Scott, Atlanta Hawks: Athletic and tough. Got to be more of a floor-stretcher by season's end. If he can get his shot to stabilize, could really do some damage. Will dunk hard enough to render the apocalypse and has no fear of anything on the floor.
20. Alan Anderson, Brooklyn Nets: has scrapped his way to being serviceable, even a starter for stretches last year. Tough defender and brazen as all get-out. Can take and make huge shots, which they could use. Serviceable two-guard.
Westbrook's late layup gave the Thunder a 109-108 victory

LeBron became the seventh player in league history to reach the milestone

There were a few things that stood out from Tuesday's All-Star selections
Here are three players from each conference who had legitimate claims to make the game

LeBron achieved the milestone in the first quarter Tuesday

Here are the full lineups for the 2018 NBA All-Star Game