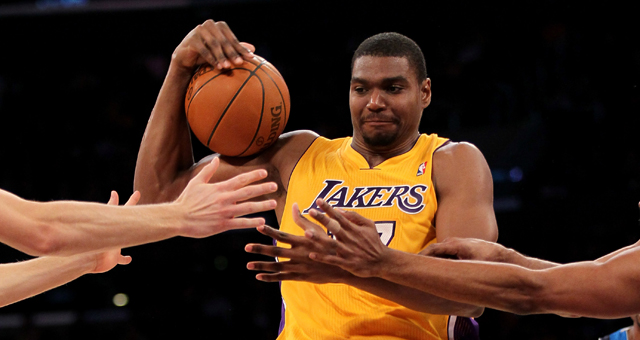 Andrew Bynum has become the monster he was always supposed to be.
(Getty Images)
For better or worse, the trade deadline has passed. Some teams made moves, a lot stood pat, and meanwhile, the playoff picture continues to fluctuate. The Suns (?!) are on the rise, Andrew Bynum has got it together, and Tony Parker is very good. We look back at the trade deadline and look forward to awards season with the postseason less than a month and a half away in this edition of the Baseline Awards. 


Eastern Conference Player of the Week: Jerryd Bayless
Out of nowhere, Bayless went off this week. The diminutive speedster whose development has been as mishandled by NBA coaches as any lottery pick over the past five seasons averaged 23 points, 8 assists, and 4 rebounds per game this week as the Raptors went .500 trying to adjust to the return of Andrea Bargnani.
So the question is if Bayless is just filling in empty stats or if he's actually producing something meaningful. Teams have been waiting for Bayless to do that for years. Putting up numbers on a bad team will get him some attention but it doesn't mean anything if the impression is that he's just filling up the sheet and not making the plays to win. Bear in mind that
Raptors Republic said in a game
 recap of a game in which he had six assists he struggled to create for his teammates.
Western Conference Player of the Week: Tony Parker
Every time you think Parker is out of the MVP discussion, he has a week like this. Before a step-back loss against the Mavericks Saturday (in which Parker was snooty enough to say he was tired from the night before's signature win over the Thunder after), Parker was on fire. He blasted the Wizards and Magic for 31 a piece, then had 25 and 7 against the Thunder while showing why the young guns in OKC want nothing to do with the Spurs in May.
Parker isn't going to win the MVP this year, the performances above him are too spectacular and the Spurs are honestly too good all around for any one player to get all the credit. But he deserves to be in the conversation and it's amazing how often we overlook the guy's career. A former
NBA
Finals MVP with three rings who is still performing like this at his age... wait a second, he's only 29. How much did you accomplish by the time you were 25?
Dominator Award: Andrew Bynum
The Man Who Would Be Monster has arrived and lo, it is terrifying. Bynum hit a zenith this week, after so many years of injury problems and inconsistencies, he's finally simply a level above everyone else. Check out some of these points-rebounds figures: 37-16, 25-18, 15-14, 33-11. And he's done that on no more than 18 shots. (Kobe Bryant could learn a thing or two about efficiency from the kid.) You can develop ball-handling, you can improve your jumpshot, you can control the game with athleticism. But you know what really pays off in basketball? Being tall.
Bynum has always been tall, but now he's using it. He's relentless on the offensive glass, playing above the rim with his feet on the ground, and when he establishes position it's no longer the unsure footing of a tentative toddler, but a serious man beast thundering his way in. For all the problems the Lakers have (and a loss to Utah showed a lot of them), Bynum is a season changer for them. If he produces like this in the playoffs, who can stop him, honestly?
The Horde Award: Team you should fear: Phoenix Suns
I don't know how, and I don't entirely know why, but the Suns are a buzzsaw right now. It's not like they're doing anything different or new, it's the same team it has been, which is a bad team, but it believes in itself like few others. They're not tightening up on defense, in the past eight games they've only held their opponent under the league average for efficiency three times. But that offense keeps humming and they keep doing the things they need to in order to get a win. With the Rockets in free fall without Kyle Lowry, the Suns have a legitimate shot at stealing the 8th seed in the West...
Which would do absolutely nothing good long-term for them. This is the worst example of why the NBA can be frustrating in that most feel good stories aren't. The Grizzlies last year were a feel good story, same for the Suns' 2010 run. But this year's Suns team is just denying them a shot at a high lottery chance if they make the playoffs and in a wide open West, they'd be the one team that can't reasonably match up well with any team.
That said, if this team's on your schedule right now, you're in for a fight.
Cub Scout Troope Award: Team you should not fear: Golden State
A city of losing, a city of bust, a city that's weak against every one of us... We all need it, can't win the lotto without it...
Tanking City! Oh, yeah
.
Best Trade to Improve Contention: Ramon Session to L.A. Lakers
The Lakers had a desperate need, and they filled it. They absolutely 100 percent needed an upgrade at point guard and they landed the best available point guard being actively shopped on the market. Think about what they gave up to get Sessions, who already is having an impact despite not starting. They surrendered a 2012 first-round pick that would have either been sold or used on a player that would spend time in the D-League, along with Luke Walton's contract which has been a perpetual anchor on their flexibility and Jason Kapono who never worked out. (Remember when that guy won the 3-Point Contest?)
That's downright theft. And it wasn't a bad deal for Cleveland, to be honest. It was just a phenomenally better deal for the Lakers. But then, that's nothing new. The only downer is...
Worst Trade for Locker Room Chemistry: Lakers trade Derek Fisher and pick acquired in Mavericks trade of Lamar Odom for Jordan Hill
Derek Fisher and it's not even close. Fisher was the heart and soul of the Lakers and without him, a huge part of their identity vanishes. It's not just the clutch shots or the fact that he's one of the few people in the league with the credibility to stand up to Kobe Bryant and get into it in practice with him, it's that he's a role model for the younger guys, and a player who is smart enough to understand team dynamics. He's not a babysitter but he's someone who has perspective and can keep guys focused.
And just like that, he's gone. The Lakers seem to enjoy trying to punch the championship core in the stomach this yaer.
For those of you keeping track, with a trade exception still available to be turned into something in the offseason, so far the Lakers' trade of Lamar Odom has yielded: the loss of Derek Fisher and Jordan Hill. So that went well.
Best long-term trade: Denver Nuggets' trade of Nene
First time a team has traded a player in his prime, playing well for a playoff team with no locker room or personal issues and have it be a good move?
The Nuggets trade was a huge swing away from a long-term commitment to an aging player. It was a monstrous risk based on Nene's potential to produce even into his low-30's. Most people will point to JaVale McGee and his general boneheadedness as a reason why Denver lost this trade, but keep in mind that Kenneth Faried has become a monster contributor despite George Karl's reservations and that freeing up that money meant that the Nuggets could re-sign Wilson Chandler, which they still got good value on. Maybe the Nuggets took a step back in terms of contention this year, but in terms of asset retention and salary flexibility, this looks like a genius move.
Weirdest trade deadline performance: Houston Rockets
The players they sent out were not good. Let's just start there. It's not like Houston's going to miss Jordan Hill (the best of the bunch), Hasheem Thabeet or Jonny Flynn. But they brought in Marcus Camby, who was a malcontent in Portand and has injury issues which are to be expected at his age, and then acquired Derek Fisher for Hill only to waive him. They did get the Mavericks pick, but it's heavily protected and subject to Maverick discretion. It's not entirely clear what the Rockets' end-game is, though they are set to clear a ton of salary over the next two seasons with their best player (Kyle Lowry) already locked up.
But along with Dallas, it's not entirely clear what Houston is up to.
Best long-term move: Cleveland Cavaliers
You know what I hate? Teams that don't understand where they're at. The Cavs basically said "Look, we can make the playoffs and maybe give someone a scare and that's all well and good. But what we really need is more draft picks. Ramon Sessions is going to be gone this summer and we don't need to re-sign him for more than he's worth to play back-up, and the market for point guards isn't great. So let's get the Lakers' first-rounder and the rights to swap our Miami pick in 2013 and call it a day." It's that last part I find important.
Let's say the Lakers have everything go as well as can possibly be expected. They win the NBA title miraculously on a long winning streak behind brilliant play from Kobe Bryant in which he hits game-winning shots in every playoff game while Andrew Bynum and Pau Gasol average 40 points and puppies and rainbows spring forth. In the event that happens, is there any chance that team doesn't over-celebrate and wind up coasting through most of 2013 with Bryant and Gasol having yet another year on their legs, dragging them into the bottom half of the West playoff picture? Meanwhile is there any way the Heat don't finish in the top three in the league next season, regardless of what happens this spring?
Let's say the Lakers have everything go as wrong as possible. They collapse in the playoffs again and look miserable and out of sink. Mike Brown get fired and the brain trust decides to trade Pau Gasol. Barring a trade for Dwight Howard, and even with a trade for Howard, is there any way they wind up with a better record than Miami in their first year together, again, anchored by Bryant with a monster contract and aging legs? Bryant is awesome, and a killer come playoff time, but there's simply no way the Cavaliers didn't move up at least four spots in the 2013 draft with their second pick. So they now have multiple first-rounders in the next two drafts, cap flexibility, and young stars to build around. Genius.
Biggest whiff at the deadline: Atlanta Hawks
They simply refuse to break it up. Josh Smith is miserable and wants out, has wanted out for a year. Nothing. Kirk Hinrich is never going to have as much as trade value as he does right now. Nothing. The Hawks are just spinning their wheels in the Eastern Conference and don't even have the fan support at the gate to show for it. Nothing. They have lots of long-term money tied up to a non-contender. Nothing. This team's refulsal to go forwards is infuriating, and I actually really like the team's make-up!
Blog of the Week: Fear The Sword
These guys are maniacs. Do you realize there are people on the internet who love Dan Gilbert? And I mean LOVE Dan Gilbert? The Cleveland blog scene is excellent, with Waiting For Next Year and others, but Fear the Sword
put together one of the best trade analysis pieces inside of hours of the move that I read this week
. It was so good I read it twice and my attention span was essentially primordial ooze by Friday morning after a week of trade rumors, deals, Dwight Howard, no sleep and 20 Red Bulls.
Awards Watch
We pretty much know who's in contention for the awards this week so we're going top five from here on out.
MVP: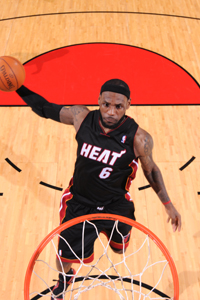 Yeah, he's still No.1.
(Getty Images)
1. LeBron James:
There was a point in Sunday night's win over the Magic where James ran from the top of the arc right as the ball was hitting iron off of a Wade jumper, he managed to get to the ball before three defenders under the basket, grab it, and wing it backwards. It sailed out of bounds because Chalmers couldn't reach it.. Turnover. Typical LeBron, right? But think about the athleticism, coordination, and most importantly effort it takes to make that play. Say what you want about James in the fourth of the Finals. He deserves it. Make the quitting comments, that's fine. But do not act like the guy dogs it during the game. He's still one of the most intense effort guys in the NBA, and making good on that natural ability is what separates him from everyone else this season. 
2. Kevin Durant:
Chicken and the egg question: Does Russell Westbrook take so many shots that it takes away from Durant's scoring potential, or does Westbrook's scoring ability take attention away from Durant which allows him to isolate? Interesting debate.
3. Derrick Rose:
I'm just not sure if Rose is going to be healthy enough to repeat. He needs an incredibly strong month and a half to leapfrog James and Durant, and they need him healthy for the playoffs a lot more than they need him to pick up that award. He can buy another Kia. Note: He will not buy another Kia. 
4. Dwight Howard:
I was going to put Dwight on this list, then I changed my mind. Then I definitely wrote him in. Then I called and told my editor I had a change of heart. Then I changed my mind again and wrote him in. See what I did there?
5. Kobe Bryant:
Hanging on by a pinkie as his efficiency continues to suffer and questions continue to mount as to whether the Lakers would be better with a formula of "MOAR BYNUM, MODERATE BEAN." 
Rookie of the Year1. Kyrie Irving:
Game over, man! Game over!
(Link NSFW for language.)
2. Ricky Rubio:
I'm not moving him from this spot, I don't care how well anyone else plays. He stays here, gosh darn it. 
3. Kenneth Faried:
Note: From here on out, "man bites dog" will be replaced by "Manimal bites everyone." 
4. MarShon Brooks:
Someday, Brooks will think back on this rookie season and say "Boy, I wish someone else had drafted me."
5. Kawhi Leonard:
Still making plays, it'll be interesting to see who gets minutes at the three in the playoffs with the addition of Stephen Jackson for the Spurs. 
Coach of the Year:1. Doug Collins:
Collins has had injuries as much as anyone in the league and his team has kept pace. People overlook that Elton Brand is still starting for this team. 
2. Gregg Popovich:
Danny Green, Gary Neal, and Kawhi Leonard are pivitol role players on this team. Think about that. 
3. Tom Thibodeau:
See, it's a paradox. Thibodeau can't win Coach of the Year because his team is so good because of the system he's devised which is so good he should win Coach of the Year but he can't because of the strength of the system. 
4. Lionel Hollins:
Continues to do more with less. The Grizzlies have a team of good players, but so many are good because of what Hollins does. 
5. Scott Brooks:
The Thunder have been better defensively this season and guess who's been in charge of all this young talent development? 
Sixth Man of the Year1. James Harden:
This thing was over after the first game. 
2. Lou Williams:
Just not enough efficiency for a very good Lou Williams to get over the hump. High PER, does a lot of things, but 40 percent from the field is unavoidable. 
3. Taj Gibson:
The man single-handedly destroys third quarters for Bulls opponents. He is relentless and teams can't adjust to the change in intensity. 
4. Thaddeus Young:
Would start on more than half the teams in the league, and is the real anchor of the Sixers' bench unit. 
5. Derrick Favors
: The jump, it is happening. 
Defensive Player of the Year:1. Andre Iguodala:
Still the most versatile defender in the league. 
2. Luol Deng:
There's every reason to think a healthy Deng would have won this award. 
3. Dwight Howard:
Maybe if he just committed on defense more this year. You know, made his decision of who to guard and stuck with it. You see what I did there, again. 
4. Tony Allen:
His bite is worse than his bark. Not so much for the first bite, but the  700 ones he repeatedly gives his man.
5. Shawn Marion:
On a team that has holes all over the place, Marion has the most responsibilities on the fifth best defense. 
Honorable Mention: Tyson Chandler