Bucks' Giannis Antetokounmpo isn't done growing physically
Milwaukee Bucks' rookie Giannis Antetokounmpo is already a long defender that's tough to get around. But he's not doing growing yet.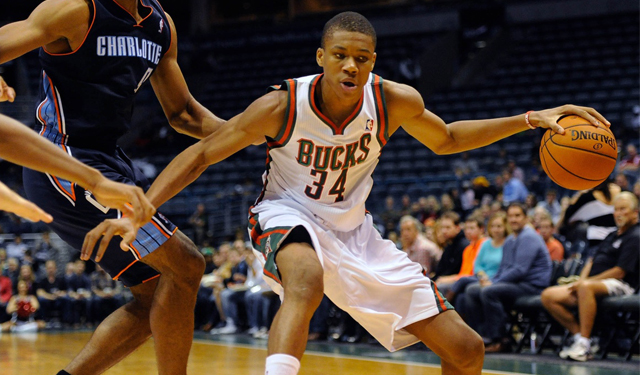 Whenever you start watching a young player with some promise, you start wondering how they can grow into a much bigger role. We rarely wonder how NBA players can grow physically because we just assume they are what they are, outside of some possible muscle mass that can be added to their frames. That's not the case with Milwaukee Bucks' rookie forward Giannis Antetokounmpo. 
According to the JournalTimes.com, Antetokounmpo says he's already grown from 6'9" to 6'10.25" and could end up being seven feet tall when his body finally stops growing. Considering Antetokounmpo is already one of the longest forward defenders in the league thanks to his 7'4" wingspan, this is a pretty terrifying prospect for opposing scorers. 
Not only is Antetokounmpo's game growing, so is his body. When the Bucks drafted him in June, he was 6-9. Now, just more than five months later, he has added more than an inch to his lanky frame.

"I am now 6-10 and one quarter," Antetokounmpo said smiling.

He then paused before adding, "I still have 3½ years to grow."

Indeed, doctors have informed Antetokounmpo and Bucks officials that the former's growth plate is still open. In all likelihood, he'll become a 7-footer.
It looks like we've got a Paul George situation here. Paul George allegedly grew two inches over the summer between his rookie season and his sophomore campaign in the NBA. He's been listed at 6'9" and 6'10" since then after measuring in at just under 6'9" when he had his pre-draft measurements taken.
If Antetokounmpo does continue to grow, his body may end up looking more like Kevin Durant. Durant is listed at 6'9" even though his official measurement coming out of Texas was 6'10.25" and people wonder if he's 6'11" or taller now. Durant's wingspan is also 7'4", much like Antetokounmpo. Giannis has been a lightning rod for the Bucks in small doses so far this season. He's been great at chasing down defenders for blocks and finding ways to make plays with his length. 
Not to mention, a 7-footer with this celebration would be even better than it already is.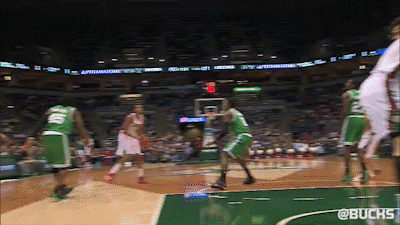 Trevor Ariza and Gerald Green are reportedly both suspended two games

We've got all the scores, highlights and news from the night's games

Jonah Keri talks with NFL and NBA broadcaster Ian Eagle
SportsLine simulated Wednesday's Nuggets-Clippers game 10,000 times

Galin Dragiev has his finger on the pulse of the Lakers and just locked in a play for Wedn...

No more McNuggets allowed in the Barnes household