Carmelo Anthony on free agency future: 'I'm not going nowhere'
Knicks forward says he's not going anywhere in free agency and welcomes the pressure of playing in New York.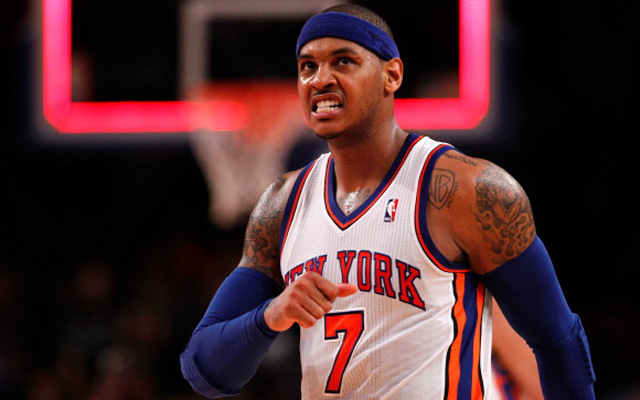 New York Knicks forward Carmelo Anthony has an opt-out for the 2014-2015 season. He can become a free agent and significantly alter the course of NBA history. But in an interview Tuesday, Newsday reports Melo made it clear that Knicks fans shoudn't worry. 
"I'm not going nowhere," Anthony said during an interview Tuesday with Bloomberg Television's "Market Makers."

Anthony is due to make $23.3 million in the 2014-15 season. If he were to opt out, the Lakers likely would pursue him, but the Knicks can offer him significantly more. Under the collective bargaining agreement, the most the Lakers could offer is four years and roughly $96 million. Anthony could get a maximum five-year contract worth about $129 million from the Knicks, who can start negotiating with him in February.

Money aside, Anthony pushed for the February 2011 trade from Denver to be in the spotlight and try to help the Knicks win their first championship since 1973. He led them to 54 wins last season and their first Atlantic Division title in 19 years, but they lost to Indiana in the second round.

Anthony, 29, remains hungry to carry the Knicks to a title.

"That is one of the reasons why I wanted to come here to New York, just so I could take on those pressures and those challenges,'' Anthony said. "A lot of people do not like to deal with the pressure. A lot of people do not know how to deal with the challenges they face. To me, it is everyday life.''
via Carmelo Anthony not interested in leaving Knicks.
The Knicks have completely built their organization around him. Mike D'Antoni didn't maximize his talents? Gone. Free agents he wanted? Signed. Executives added with relationships to him and his agency? Hired. The Knicks are MeloWorld, brought to you by CAA these days. He plays in the world's grandest city for one of the most iconic sports teams on the planet, makes the most money he can by re-signing and his wife likes it there. 
Would you want to leave?
It's extremely relevant that Melo said this. Yes, he can change his mind. Yes, unforseen events can drive him to the Lakers or whoever in free agency (really, just the Lakers). But like I wrote yesterday, there's a blueprint in place. It involves supporting the team you're on, but never committing to it. This is a strong commitment from Melo. The odds have to shoot way, way up that he stays with the Knickerbockers for the rest of his career. The question is: can he bring his game and that of his team up to win a championship to validate that decision?
Either way, maybe this coming year's free agency won't be so bonkers after all. 
Anthony averaged 29 points, seven rebounds, and three assists last season for the Knicks, winning the league's per-game scoring title and leading New York to the No. 2 seed and an appearance in the Eastern Conference semifinals. 
The Cavs jokes were out in full force after Golden State reportedly agreed to sign Antonius...

New York seems to be at the top of Irving's list of preferred destinations

Is it just a normal workout, or is LeBron continuing his recruiting efforts?
Chris Bosh answered on the spot about the LeBron James and Kyrie Irving situation

LeBron James is pitching free agents on Cleveland but the Cavs can't even reach Kyrie Irving...

Thanks to the Rockets, the Nets might be open to selling a controlling stake