Carmelo Anthony V. LeBron James: Journey down the rabbit hole
Lose yourself down the rabbit hole as we examine the rivalry between LeBron James and Carmelo Anthony.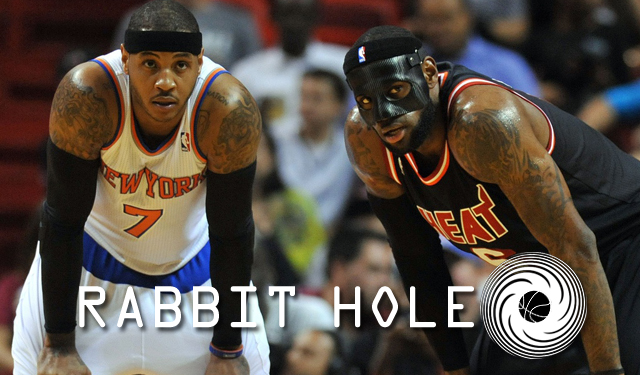 When the Miami Heat beat the New York Knicks Thursday night, it was the 25th time we've seen LeBron James and Carmelo Anthony battle in the NBA. The two most hyped stars of one of the most legendary draft classes in NBA history have delivered on the attention they were paid as high schoolers over a decade ago. They've become two of the biggest stars in the world with James ending up one of the best players we've ever seen. By checking out where they've come from and their battles over the years, you can lose yourself in the Internet.
Let's take a look at just where it takes us as we journey down the rabbit hole this week:
First stop: LeBron vs. Melo
For most of their respective careers, one player was in the Western Conference and the other was in the Eastern Conference. It was supposed to set up a Larry Bird-Magic Johnson type of scenario in which these two titans of the NBA were battling for supremacy in a few NBA Finals. Instead, we got a series of fun regular season battles and neither player could consistently get their teams to the heights that would bring about an eventual NBA Finals duel.
Now they're both in the Eastern Conference and we get to see them battle more than two times a season. We also have seen them once in the playoffs against each other, but it was far from a legendary or even memorable experience. This was not what was supposed to happen when they came into the league a decade ago but it's how it worked out. In 2004, the hype around this "rivalry" was so big that ESPN had a "summit special" of sorts in which Jim Gray sat down to interview James, Anthony, Magic, and Bird. It was almost supposed to be a passing of the torch.
Marc Stein of ESPN.com wrote about the experience of the interview at the time, describing the mannerisms and promises of everybody involved:
Larry Bird got visibly embarrassed when the other guys talked about his greatness, then made the stunning disclosure that nothing in basketball offended him more than being guarded by another white guy.

LeBron James started out shy, referring to Larry Legend as Mr. Bird, before gradually speaking with as much conviction as the vets, eventually referring to him simply as Bird.

Magic Johnson predictably did more talking than the three guys to his left, when he wasn't smiling that smile, and Magic even did some of the asking, because he can't stop himself from running everything, even in an interview setting.

Carmelo Anthony, meanwhile, was probably the quietest guy in the foursome, but 'Melo still managed to make a rather memorable promise when he conceded that he and LeBron "don't have stories like these two have stories yet ... but we're gonna get there one day."
It was also in this interview in which Bird admitted when the opposing team put a white defender on him, he was basically offended by a lack of respect being shown. He wanted to be guarded by black players because he said the NBA is "a black man's game."
"I think it's good for a fan base, because, as we all know, the majority of the fans are white America," Bird said. "And if you just had a couple of white guys in there, you might get them a little excited. But it is a black man's game, and it will be forever. I mean, the greatest athletes in the world are African-American."

Bird was just warming up.

"The one thing that always bothered me when I played in the NBA was I really got irritated when they put a white guy on me," Bird said. "I still don't understand why. A white guy would come out (and) I would always ask him: 'What, do you have a problem with your coach? Did your coach do this to you?' And he'd go, 'No,' and I'd say, 'Come on, you got a white guy coming out here to guard me; you got no chance.' For some reason, that always bothered me when I was playing against a white guy."

"Disrespect," Magic said.

Said Bird: "Yeah, disrespect."
The Anthony-James "rivalry" never took off the way we were hoping to. LeBron became the elite of the elite in the NBA while Anthony has failed to find a team success that would validate his talent, attention, and style of play on the court. But we've still seen some pretty good moments from LeBron and Melo over the past decade-plus.
LeBron vs. Melo: The early years
Back in the 2001-02 season, James and Anthony faced off against each other. LeBron was just a junior in high school and Melo was waiting to go to Syracuse to spend a year there before entering the NBA. Both were beginning to grow their respective legends on the court and showed why they were heads and shoulders above the competition. 
When James became a senior in high school and Anthony was winning a national championship for Jim Boeheim, the attention for a high school star exploded into a national spotlight. 
At the time, it was kind of insane to have a high school basketball game on television, especially national television. But the growing hype of prospects and high school players who could come rule the NBA was beginning to shape how we covered the sport below the college and NBA levels. With James at the forefront of this coverage, it justified the hype and made room for more attention to high school players like this in the future. 
ESPN televised a senior year game between LeBron's high school and Melo's old stomping grounds. St. Vincent-St. Mary was ranked 23rd in the country for high school basketball and Oak Hill Academy had their typical number one spot. It was one year before Oak Hill would have two senior transfers, Rajon Rondo and Josh Smith, on their team. Even ESPN didn't seem to know how to justify the coverage at the time, sheepish in the way they were talking about a teenager.
You can watch the full game at this link.
While James was starring on national TV in high school, Anthony was starring at the college level. His one year at Syracuse brightened his national spotlight, capped off by winning the championship. He was a perfect blend of a smooth scorer and a powerful player, surrounded by significant talent at Cuse. He took advantage of it too. 
On the night of the draft lottery in 2003, Melo and LeBron were linked instantly as they were interviewed on ESPN yet again. Anthony even joked during this interview that he thought the lottery was rigged to get Cleveland the number one pick. 
Then these two players hit the league in 2003 and instantly became stars on that end. Anthony joined Jordan Brand as a sponsored athlete and eventually got his own signature shoe that has been around for at least 10 different versions. LeBron hit it big with Nike and has had countless signature shoes to go with his own logo and clothing style. 
LeBron vs. Melo: Some of the highlights
In their first meeting as professional players, both players struggled to really showcase their talents. The Nuggets got the win over the Cavaliers with Anthony going for 14 points on 6-of-17 shooting from the field. James scored just seven points on 3-of-11 shooting but did manage 11 rebounds and seven assists. 
Because of the struggles, there weren't a ton of highlights but we did see both players power through for And-1 plays. 
One of the best duels we've seen between these two stars was back in the 2009-10 season when both players were on their first teams. Once again, Denver got the win against LeBron's Cavaliers behind a 40-point effort from Anthony. James had an amazing game himself with 43 points, 15 assists, and 13 rebounds but he missed the winning 3-point attempt in overtime. 
Overall, LeBron is 13-12 all-time against Melo when they face each other in the NBA. James is 9-4, including playoffs, since joining the Heat. And their numbers against each other are impressive and quite similar. 
They're great but they're not Magic-Bird
We can go over all of the highlights of the Magic-Bird rivalry but it's been done over and over. If you want the best way to encapsulate what they meant for each other, the league, and the game of basketball, check out Magic & Bird: A Courtship of Rivals (full video link here). To look at their personalities, which is one reason the Melo-LeBron matchup never really took off like it was supposed to, is to see why they were a duo that hasn't been matched and may not be matched. 
Back in 2012, Magic and Larry appeared on The Late Show with David Letterman to promote the Magic/Bird Broadway production. There's no further set up required:
The success for both of these guys at the NCAA and NBA levels helped propel the rivalry to the greatest of heights but it's their personalities and how those worked with and against each other that set them apart from every rivalry in NBA history. The mutual respect and the competitive nature to want to destroy one another was as perfect of a juxtaposition and complement as you'll find in professional sports.
It can get a little misty in the air when you watch this:
Was Larry Bird better than LeBron James?
There is this question that comes up in NBA circles when trying to rightfully put LeBron James in a historic context. James and Bird are the two greatest small forwards of all time. Both were incredibly versatile players that dominated the game in their own way. They've won multiple MVP awards and championships. Back before the Heat won their second title under LeBron's play, this debate happened on the video below:
I guess that settles that? 
George appeared to show some frustration with the Pacers following the trade to OKC

It's worth wondering whether or not Wade will be in the Cavs' starting ilneup

Nurkic is confident Portland will be a tough team to beat, and says it must begin on defen...
Wade, recently bought out by the Bulls, could finalize decision as early as Wednesday

James said nothing has changed from 2014 when he said he'd retire a Cav

The Warriors are in control, but every team has reason for optimism as the preseason begins...