Darko Milicic says he's done with the NBA
Darko Milicic says he's done with the NBA and is out of chances there.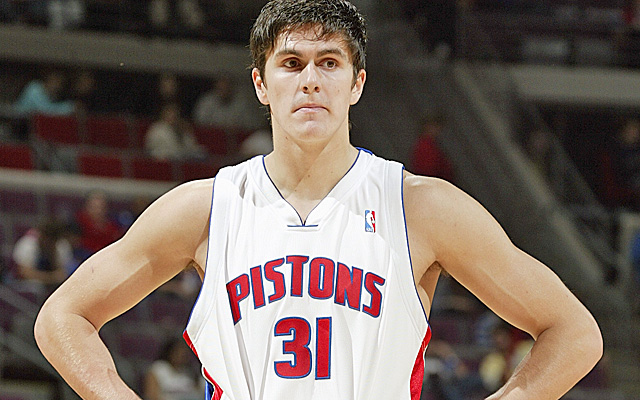 In an interview with international publication MVP.rs (via HoopsHype), former No. 2 pick Darko Milicic says he's done with the NBA, and the NBA is done with him. Rough translation from Serbian: 
"No more chances. This is a done deal. Bygone. Hence I wear a lot of bad experiences. Guilt is mutual, it was bad moves with their with my hand. However, is not worth more to talk about. They think they should to play a supporting role and wait for his chance. understand why they have such an attitude. My NBA career speaks to me for such a player, and I know I'm not. "
via Darko Milicic for MVP: Zvezda? This is a fantasy.
Darko goes down as one of the worst top-five draft picks ever, in a class that featured LeBron James, Carmelo Anthony and Dwyane Wade. The Pistons' decision to draft him foreshadowed the downfall of a championship roster and a lost opportunity to extend their window. 
Milicic made several pit stops in his NBA career, including Memphis and New York. In 2010, after trading for his rights, then-Minnesota GM David Kahn gave Milicic a four-year, $20 million deal and subsequently called him "Manna from heaven." Milicic averaged eight points and five rebounds the following season. After being released by the Wolves, he signed with the Celtics, and there was a lot of talk from the team and fans about this being the place where he could be rehabilitated and live up to his potential on a "championship contender."
He played one game this season, not scoring in five minutes, before the Celtics released him and he returned to Serbia. 
Farewell, Darko. We will miss you. 
Catch up on all the news, scores and highlights from Wednesday's NBA playoff action

Keeping track of all the injury updates for every NBA playoff series

Dwyane Wade could retire this summer, but right now he's not thinking about it
The Ball brothers spent the past season playing for BC Vytautas overseas but are leaving L...

The 2018 edition of the NBA's free-agent frenzy will be crazy, particularly given what is happening...

Larry Hartstein is on an NBA hot streak and just locked in a pick for Game 5 of Cavaliers-...