Despite struggles, basketball wins with Kobe Bryant back
Kobe Bryant wasn't his usual self Sunday night, but he was back where he belongs, and where basketball needs him: on the court.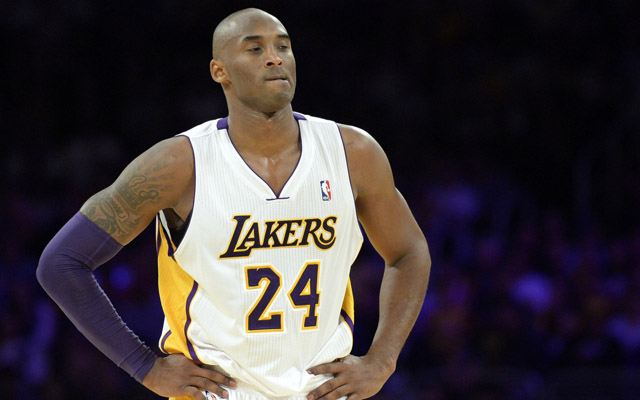 Kobe Bryant did not play well in his return to the floor for the first time since his Achilles heel injury Sunday nght. He scored 9 points on 2-of-9 shooting with eight rebounds, four assists, two steals, and eight turnovers. He barely lifted off his injured foot, made poor decisions, looked slow and completely out of rhythm. The Lakers were outscored by 16 points with him on the floor in a loss to the Toronto Raptors.
And it was great to have him back. 
When Bryant stepped on the floor, most of the NBA universe was watching. Lakers fans, Lakers haters, casual fans, media, former players, executives, casual sports fans in bars after the last NFL game had been played. Kobe Bryant coming back to the floor is a sports event. That's how good he has been in his career, how much he has meant to a major national sport. 
Would it have been better if Bryant were his old self? If he had dropped 24 points and a dagger, showing off those trademark moves? If he had looked like he could get past Steve Novak or hit a shot over Landry Fields? Sure. Would a win have fit the narrative more for the sport's ultimate winner, post-MJ? Absolutely. 
But it shouldn't be lost what his return means. 
The NBA, moreso than any other sport, is built around the cult of personality. There are a handful of players in other sports who resonate on an individual like the NBA's elite do. Other sports are bigger, no doubt, but baseball players are just one part of a large cog and only make an impact every so many at-bats. NFL players are all built around and dependent on the strength of the unit. Someone has to catch what Peyton Manning throws. But the NBA, with no helmets, hats, or disguising the players, as well as a smaller play surface, provides a strong recognition of individual faces and the talents attached to those faces. 
And for 17 years, Bryant has been one of, if not the face of the league. 
He wasn't always a champion, only five times in 17 seasons, but when he went down, he always went down his way, gunning. You knew there would be nothing left in the tank, and that he would push as far as he could, sometimes driving his own team too hard, too far. Being without him was depriving the sport of one of its elite competitors. Until Bryant hangs it up, the sport deserves to have him as part of the competitive tapestry. 
The first game doesn't tell us what player he'll be for however long he has left. He could stumble and neve recover, the injury was that severe for a player his age. He could return to his old elite production. It could be something in the middle. But either way, it's right that it be decided where Bryant does his battle, on the court. 
This isn't a fairtytale book, Sunday night's game proves that. It's not the end of the story, nor is it the beginning. But it is the opening of the chapter that deserves to be written. The injury couldn't keep him off the court. Now we'll find out what Kobe Bryant we get now. 
In his first season with the Cavs, Rose has not played since Nov. 7

Keep it right here for all your Friday NBA scores, updates and highlights

Russell has not played since injuring his knee against the Jazz on Nov. 11
Isaiah Thomas loves revenge games and he wants one against the Celtics in the playoffs

SportsLine's advanced computer model simulated Pelicans-Nuggets 10,000 times, with surprising...

SportsLine's Mike McClure, a DFS pro with more than $1M in winnings, gives optimal lineup...