Eddy Curry feels like he has legitimate chance to make Spurs
Eddy Curry -- excuse me, NBA champion Eddy Curry -- is trying to make another NBA roster and thinks he has a pretty good shot at it with the Spurs.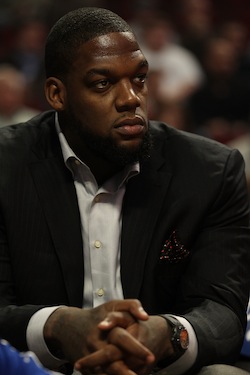 Curry has high hopes with the Spurs. (Getty Images)
Eddy Curry -- excuse me, NBA champion Eddy Curry -- is trying to make another NBA roster.
And, don't laugh, but he thinks he has a pretty good shot at it, too.
"I feel I'm in a good situation," Curry told the San Antonio Express-News. "I worked hard this summer. Every game it's just about showing everybody what I can do. I'm trying to focus on defense and rebounding, trying to play in the system and soak up as much as I can. I think I'm going to make it. Until they tell me I'm not, I feel like I'm part of this team."
Here's the thing: Curry actually has looked ... kind of OK in the preseason so far. He's in moderately good shape (or for him, great shape) and has produced in his minutes. On Friday against the Nuggets, Curry scored five points and pulled down four rebounds in 16 minutes. Against the Hawks a week ago, it was 11 points and eight boards in 25 minutes.
Those 25 minutes, were the most he'd played in a game since 2008. It was also the first start he'd had since 2008 when he was with the Knicks.
The Spurs have a spot open, and the roster is lacking in bigs. San Antonio has Boris Diaw, who isn't really a big man at all (well, you know what I mean) and Tiago Splitter. There's actually somewhat of a need for Curry.
Don't be surprised if Curry not only makes the Spurs but ends up contributing, too. It's just sort of the San Antonio way. Remember, most had written Diaw off completely when he was considered maybe the worst player on the hapless Bobcats last season. He then found his way to San Antonio and was eventually starting games for a team that didn't lose for 60 days. Those Spurs tend to know what they're doing. They zero in on specific skills, find great fits and insert them into their well-oiled system.
But preseason is often fool's gold, and it seems that this lesson should've been learned with Curry time and again. I like All-Twitter @netw3rk's analogy: "I love pre-season optimism about about Eddy Curry. It's like the beginning of a horror movie when everyone is saying 'what a great cabin!'"
Curry isn't 30 yet and still has NBA talent. There's a reason teams keep bringing him in and giving him a shot. Something is there. And you know if the Spurs like him enough to keep him, then he'll have earned that spot.
Our advanced computer model simulated Saturday's Thunder-Cavs game 10,000 times

The Jazz are reportedly looking into trading Rodney Hood before the Feb. 8 NBA Trade Deadl...

The Cavaliers are ready to reset everything if they have to. Their interest in Lou Williams...
It sounds like the Cavaliers are going to be active before the NBA trade deadline on Feb....

We've got all the scores, highlights and news for Friday night

George Hill, who is unhappy in Sacramento, could be a solution to Cleveland's backcourt si...