From Greg Oden to dance contests: Journey down the rabbit hole
Greg Oden's return to a basketball court can send you down quite the rabbit hole journey if you start searching.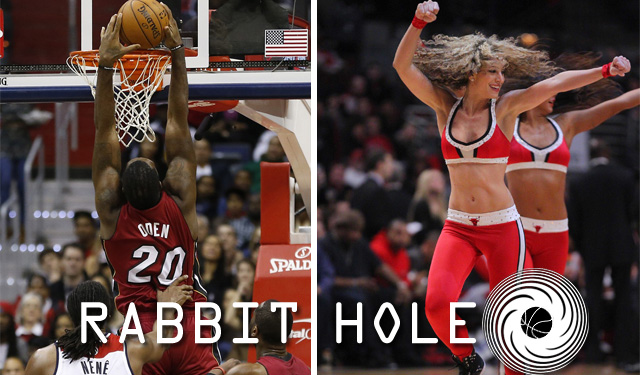 It's hard for me to not be beaming after what happened in the NBA Wednesday night. It's not something that happened to me at all. I wasn't even in the same arena of this momentous occurrence. But nonetheless, I found myself smiling uncontrollably about what had happened at the Verizon Center between the Miami Heat and the Washington Wizards. The return of Greg Oden was a very cool moment that transcended basketball for me. And that's going to kick us off this week as we try to kill an hour out of our Friday.
Let's journey down the rabbit hole:
First Stop: Greg Oden didn't just play; he looked great out there
Admittedly, I've been a huge Greg Oden fan since I first read about him in SLAM Magazine years ago. He was the next big thing, both figuratively and literally. As a junior in high school, he was already being projected as a future NBA All-Star. All of the skills were there, even with a bit of a raw offensive game. His post game was solid but his ability to be able to control what happened around the basket on both ends was what seemed to set him up for greatness.
We all know what happened. His body failed him and he failed the Portland Trail Blazers in the process. Years went by and we didn't hear much from Oden other than tales of depression, alcoholism, and naive hope that he could return to a basketball court some day and make a return -- no matter how insignificant it may be. When he played just four minutes in the preseason and dunked, I kind of lost my mind and got emotional. There's just something about seeing someone being doubted because of physical ailments, overcoming that through hard work and not giving up to re-realize a dream that is uplifting. 
Oden stepped on the court in a real regular season Wednesday night and played. He played really well in eight minutes. He played well and he felt well after doing it. It doesn't mean he'll keep it up but it certainly means he accomplished something that seemed impossible for years. Over at Heat.com, Couper Moorhead took a look at a couple of the defensive possessions for the Heat and what it could mean if by some chance Oden is able to continue to build on this throughout the season. Check out this .gif of Oden defending a side pick-and-roll that Coup pulled and then read the excerpt:
Theoretically, it's easier to adjust to this style of defense from what the HEAT normally do (though they already play this style of defense sporadically) because it primarily means scaling back and concentrating on positioning and closeouts, not thinking two or three help rotations ahead all the time, but it would still be asking the team to be able to switch things up on the fly. One scheme with most lineups and a completely different one when Oden is playing. It's not unrealistic, and a hybrid system like that could help the HEAT's defense along during the regular-season doldrums, but it isn't something that would happen overnight.

All of this will matter if Oden can gradually take on more of a workload, but for now it's all speculation. Oden did what many thought he would never do again in playing professional basketball again, and the next step is to simply do it again. One more game, and then another game after that. Just as Andersen experienced when he was signed last year, Oden will have to become a reliable asset. With reliability comes minutes, with minutes comes familiarity and with familiarity comes trust. Then we'll start to see what this all could mean.
It's easy to doubt Oden because it keeps your expectations down and history says you'll be correct. But some of us continue to keep spirits high when it comes to him staying on the court because it just seems so rewarding in a selfish manner. It's something to root for that seems more important than basketball, as pompous as that may sound. It's just something cool to root for. 
There isn't a ton to go over in terms of his career highlights with just 83 games played, but let's check out some Oden highlights and keep going.
Greg Oden did manage to build up a couple of highlights in his time
Let's check out his highlights from Wednesday night in eight minutes against the Wizards first:
It didn't change the world but it at least briefly changed the narrative around Oden's career. He's still been a disappointment when you compare what he is to what he was supposed to be, but finding a way back to the court is a big success over 1,500 days after his last game. 
When Oden made his debut at Ohio State in his one mandatory college season, he was a monster right away. Oden was playing with a brace on his right wrist and forced to shoot free throws left-handed because of it. He still shot better than DeAndre Jordan at the line with his off-hand and just destroyed the competition on defense (sure it's Valparaiso but still impressive).
This video from when Oden was a junior in high school was making Hakeem Olajuwon and Shaquille O'Neal comparisons, which sounds ridiculous now. But this is what the conversation was at the time because he was that incredible. Local Indiana papers were even assigning a beat writer to cover him as a junior. Not to mention, you can see him doing yard work. 
Unfortunately, the lofty comparisons didn't work out but we still saw him perform in an NCAA title game in his one year at Ohio State and he nearly led his team the championship if not for those pesky Florida Gators kids. 
The 2007 NCAA title game was pretty great
The 2007 NCAA title game between the Florida Gators and the Ohio State Buckeyes was pretty fun. It featured quite a few future NBA players and a couple of All-Stars in the game. The Gators were looking to grab their second straight NCAA title with this group and the goal was for Al Horford and Joakim Noah to contain Oden and make anybody else beat them. Here's a quick synopsis of the game:
I'm sure you all saw that one highlight that just blew the game away. No, it wasn't an Oden dunk or a big bucket by one of the Gators' many NBA players. It was the moment after Al Horford's fast break dunk in which we saw the biggest, best play of that game. 
Naturally, I'm talking about the Horford Shimmy: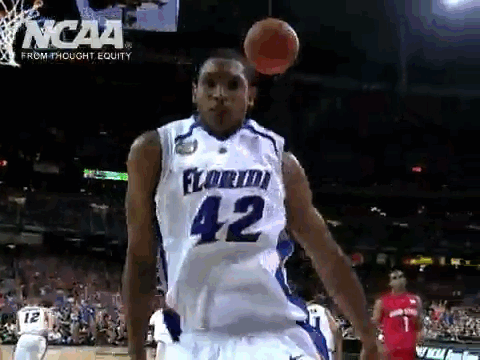 There's also an extended look at the title game of 15 minutes that has some longer stretches of action mixed in with highlights from both teams. This video is cool because you hear more of the talking points surrounding both teams so you get a refresher of what the narratives and theories were back during this game.
Don't forget about the celebration following the SEC tournament brought about one of the best celebrations in basketball history. Of course, I'm talking about Joakim Noah's big dance. 
The problem with videos is they stop playing; that's just a fact of life. You need a loop on things sometimes and that's why .gifs were invented.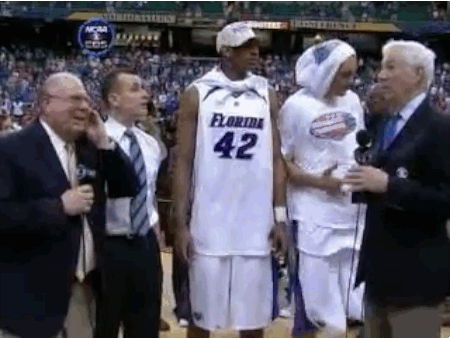 Joakim Noah probably deserves his own section
I think the biggest thing I respect about Joakim Noah is his honesty. He'll never tell you something he doesn't believe. He may hold back and not get into trouble with his thoughts but when he does say something you know it's going to be exactly how he feels. And he knows that his confidence in his celebration game is always high:
Don't believe him? Proof: 
Rebuttal:
Proof:
Rebuttal: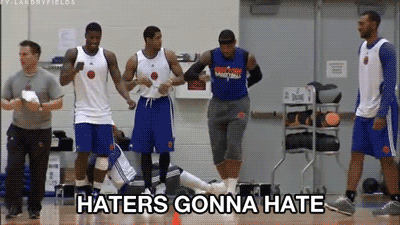 Proof:
Rebuttal:
We're done here:
Everybody dance now!
How can this not put you in a great mood?
Dance like nobody's looking this weekend, everybody. Or just dance like your teammate knocked down a big shot. 
Steve Kerr opens up about his back issues and more

OJ Mayo, banned from the NBA for positive drug test, is considering playing overseas

The King? 'LeBron, it turns out, is Aquaman,' or so the account via Dwyane Wade's wife goe...
From Penny to Thunder Dan to Pistol Pete to Agent Zero, guys who would be better in 2017

Griffin said recently he thinks it's more likely that LeBron James goes to New York than L...

Mayo was suspended for two years last summer for violating the league's anti-drug program