Jason Collins undecided on playing future, looking at next chapter
Free-agent big man Jason Collins remains undecided about continuing as a player, but it sounds like he's leaning toward moving on.
• 3 min read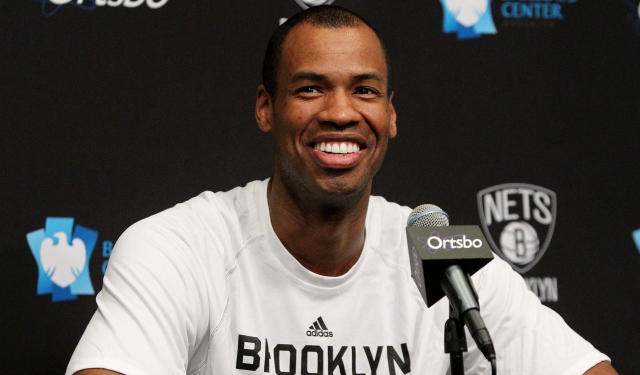 Offseason: Free Agency | Latest from Ken Berger | Rumors
Jason Collins hasn't made a retirement announcement yet, but it looks like he's moving on to bigger things, according to the Bay Area News Group's Marcus Thompson:
Jason Collins is probably done with professional basketball. And he should be.

He's still undecided about attempting a return for his 14th NBA season. And he does have some interest in becoming a coach or joining a front office. But right now, he is already fulfilled and has never been more relevant to the sports landscape.
The 35-year-old free agent, speaking at the Commonwealth Club Infoforum in San Francisco on Monday, told those in attendance that he can see his time as a professional athlete winding down:
"I used to be able to jump and touch the top of the white square behind the rim with ease," Collins, 35, told the crowd of nearly 600 Monday night at San Francisco's Castro Theatre for the Commonwealth Club's latest Inforum conversation.

"As the years go by, you watch your hand go lower and lower on that square. Father Time is undefeated against us all. ... I'm really grateful for my Stanford degree now. On the other hand, I can still dunk."
With the Brooklyn Nets last season, Collins averaged just 7.8 minutes per game in 22 regular-season appearances. In the playoffs, he was completely out of the rotation. That's not to say he couldn't make a roster, or that he wouldn't be valuable as a post defender and a veteran -- it's just that, if he does come back, he might hardly play at all. 
Collins, the first openly gay active NBA player, will reportedly make more from endorsements, including one from Nike, than he would get paid from a team anyway. He's using his platform to educate others, including speaking to players at the rookie transition program.
While discussing the need for a change in locker-room language, a player's question let him know how much work remains to be done.

"I had to explain what LGBT stands for," Collins said.

That drew a gasp from the crowd, followed by some snickering at the ignorance of it all. Collins didn't take the bait. He responded as a leader should. "It's all about education and exposure," he told the crowd. "Some guys have had no education and exposure to the LGBT community."
Here's what Sacramento Kings rookie Nik Stauskas had to say about Collins' speech, via Bleacher Report's Jared Zwerling:
"Jason Collins talked about just being respectful of everyone around you. The main thing is being mindful in the locker room with the guys because you may not know if someone is gay and you may say something that's going to offend them. You can't make those kinds of statements. It's about being aware that they're people just like us, it's just their sexual preference, and we have to respect them for that and not ridicule them.

"Jason talked about what he went through, how long he was hiding for and how sad he was when he heard some of his teammates making jokes and using words like 'gay' and 'f--' around him when he hadn't come out. He talked about how much it hurt him. Just hearing him makes you want to respect him and makes you not want to hurt anyone else like that."
If Collins decides that he wants to give it one more go in the league, there aren't many better candidates on the market in terms of guys who will be professional, help the young guys and not complain about minutes. He doesn't need the NBA, though, certainly not anymore, so it shouldn't be surprising if he walks away and focuses his energy elsewhere. 
DH12 is picked for free throws after a teammate gets ejected. He makes both, and lets Scott...

Bell was injured defending a Robin Lopez dunk and had to be taken off the floor in a wheel...

Trevor Ariza and Gerald Green are reportedly both suspended two games
We've got all the scores, highlights and news from the night's games

Jonah Keri talks with NFL and NBA broadcaster Ian Eagle

SportsLine simulated Wednesday's Nuggets-Clippers game 10,000 times