LeBron James calls Serge Ibaka's comments 'stupid'
LeBron James responds to Serge Ibaka's comments by calling them "stupid."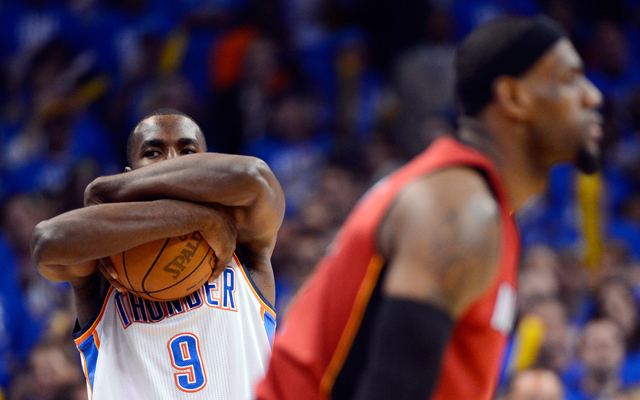 Maybe Serge Ibaka thinks LeBron James isn't a good defender because he doesn't block enough shots.
(Getty Images)
MIAMI -- "It's stupid."
That was LeBron James' reaction to Serge Ibaka's comments about his defense.
"I don't really care what he says, he's (pause) stupid," James said. "Everyone says something to me every series then [the media] tries to get a quote."
(Important to note that LeBron paused between "he" and "stupid." He either was deciding to calling him stupid, or it was like, "he's... [it's] stupid." So take that quote as you like.)
Attempting to backtrack a bit, LeBron clarified. "It's not toward him, though," he said. "It's not. I don't really care what he says. It's stupid."
Ibaka, who still struggles some with English and understanding questions, said Monday that LeBron wasn't that good of a defender.
"LeBron is not a good defender," Ibaka said about the player who received the most votes for the league's all-defensive team, which is selected by the coaches.

"He can play defense for two to three minutes but not 48 minutes."

"LeBron can't play (Durant) one-on-one," Ibaka said. "They're playing good defense like a team."
LeBron of course is known as one of the league's top defenders. He's not just a three-time MVP, but has made multiple All-Defense teams and finished in the top five for Defensive Player of the Year. Ibaka, who led the league in blocked shots by a hundred, finished runner-up for Defensive Player of the Year and was named first-team All-Defense.
"For me as a defender, I just try to make plays and try to keep my body in front of a great player," LeBron said. "First of all, I'm not playing 48 minutes and Kevin's not playing 48 minutes. I'm not guarding him for 48 minutes. When I'm on him, I'm just trying to make it tough for him to make shots, which he's going to make."
After exploding for 33 points in the fourth quarters of Games 1 and 2, Durant only had four in Game 3 as LeBron denied him the ball for much of it.
Durant was asked Tuesday at shootaround about Ibaka's comments and did an excellent job of spinning it around.
"Serge believes in me and he believes in what we do here," Durant said. "He's just taking up for me and taking up for our whole team. LeBron's a good defender. I'll tell him that. He's a good defender.
"But it's not about him, it's about us, what we can do," he continued. "We can't come into the game worried about how he's going to guard me, how he's going to guard Russ, how he's going to guard James. We can't worry about that. We just have to play our games and that's basically what Serge was saying. Just play my game."
This isn't the first exchange of words between the Heat and Thunder. After Durant and Chris Bosh got into it on the court two years ago, Durant called Bosh a "fake tough guy." Then this season after the Heat beat the Thunder in Miami, Udonis Haslem essentially called Kendrick Perkins the same thing.
Stephen Oh has his finger on the pulse of the Rockets and just made a pick for Wednesday night's...

Gasol doesn't seem opposed to the idea of a midseason trade

The Ball brothers better put their heads down and focus on basketball, according to Billy...
Paul George returns to Indiana for the first time since his trade to the Thunder

Also, LeBron James' historic season continues, while Kevin Durant reminds us who he is

The Rockets are looking for 11 in a row